Assemble Your Application
Assemble Your Application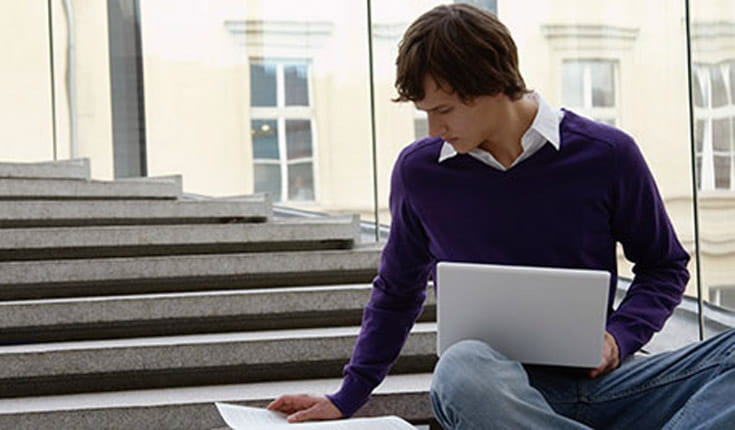 Your business school application is your first opportunity to stand out.
In this guide, we'll review six key areas of your business school application that ensure you highlight your most impressive achievements and develop an application that reflects who you genuinely are as a prospective student and person.
1. Academic Record
Your undergraduate transcripts are an important part of your graduate business application. Most schools gauge your academic skills by looking at your previous scholastic record and considering all aspects of your experience such as:
Where you received your degree
The difficulty of the degree/major requirements
The competition you likely faced as an undergraduate
Your academic performance or GPA, both cumulative and within your primary area of study
Any trends in your grades (if they improved or worsened)
Any academic study after your undergraduate degree
If you think your undergraduate record does not accurately reflect your academic ability, be ready to explain why.
2. Work Experience
Students with work experience contribute rich subject matter to their graduate programs and courses in many business schools rely heavily on class participation and group work. Additionally, when you are going through your internship and first post-graduate job search, your past experiences, along with the knowledge you have gained from your studies, will influence potential employers' interest in you.
Your Accomplishments: In measuring the value of experience, admissions professionals will look carefully for evidence of results and accomplishments. Make sure your résumé focuses on results rather than activities. Evidence of leadership, project management, and other management skills are also helpful.
Quality vs. Quantity: Schools vary widely in the amount of experience they require or encourage. If the quality of your work experience is good, the quantity may not be as important. On the other hand, be prepared to explain if you have changed jobs frequently. Frequent job changes may have exposed you to a variety of experiences but may not have helped you to develop leadership skills.
Full-time Work Matters Most: Summer internships and part-time work may expose you to the work environment, but often they do not provide the kind of experience, responsibility, and accountability schools want to see.
Lacking Full-time Work Experience: Look for programs that don't have absolute requirements for work experience. Those schools will still expect to see strong internship experience (more than one summer's worth).
To see whether your lack of experience will hurt your application, ask a school:
What kinds of jobs are held by your graduates without work experience?
What kinds of employers recruit your graduates without work experience?
What was the placement rate (timing and average salaries) of your graduates without experience, compared with the graduates with experience over the past few years?
How does the average number of employment offers extended to MBAs without experience compare with the number offered to MBAs with experience?
3. GMAT Scores
The GMAT exam lets you showcase the skills that matter most in the business school classroom and in your career. Schools rely on the GMAT score as a predictor of academic success during your first year of a graduate management program. Be sure to ask individual schools how scores will be factored into the admissions decision, as your GMAT score is only one measure schools use to evaluate you.
Minimum Score Requirements: Some schools require minimum scores. Most schools, however, publish a range of scores or an average score they generally accept. Know the requirements at a particular school to ensure your score qualifies.
Test Section Scores: Some schools emphasize certain sections of the GMAT exam more than others. Ask admissions staff about the typical Verbal, Quantitative, Analytical Writing Assessment, and Integrated Reasoning scores for admitted applicants to see whether the program values any sections more than others.
Multiple Scores: Unhappy with your first GMAT score? Before you take the test again, ask how the schools you are applying to consider multiple scores. Many, but not all, will consider the best score rather than the most recent. When appropriate, you might submit a short statement regarding your test score results and why you chose to retake the test.
Retaking the Exam: If you decide to retake the test, prepare more thoroughly or study in a different way (look for GMAT prep ideas here). You might also consider schools with students whose average GMAT score and overall application profile more closely matches your own.
4. Application Essays
Use the essay to present a clear and compelling picture of yourself, your motivations, and your abilities in your own voice.
Essays should:
Address the particular school/program to which you are applying
Explain how your interests align with the focus or curriculum of the school
Relate how the program is relevant to your career goals
Clearly explain any references to your background
Always answer the questions asked
Be reasonably specific and concise (mind the word limit if one is given)
Reflect your thinking and writing style
Highlight and reinforce other parts of your application
Be proofread by another person for content, delivery, and grammar
5. Recommendations
A solid recommendation provides credible testimony by supporting your ability to excel in your graduate business program and professional career. It should also confirm or elaborate on your credentials, strengths, and aspirations and help admissions staff develop a consistent, overall impression of you.
Who Should Write Them: Choose a good cross-section of people who can vouch for your dependability and who know about your plans for graduate business study, such as employers, colleagues, and peers. Avoid asking for references from people with important-sounding job titles who do not know you or your work. Schools may have different reference requirements – check with each school you are applying to before you select your recommender.
Follow School Policy: Each program requires a specific number of recommendations, usually two or three. Don't exceed that number without prior agreement from the admissions staff.
6. Interviews
Interview policies vary from school to school. Ask admissions staff about the interview requirements and how your interview will be used in the application process.
Learn About the School: Even if it's not required, an interview can be a great way to learn about the school's environment, facilities, students, and faculty. That knowledge can help you make a more informed decision about where to study.
Make a Solid Impression: An interview allows you to demonstrate your interpersonal skills and make a good impression. There is no substitute for presenting yourself in person and building rapport with a school representative. However, you should know that when you visit a campus, you are being informally interviewed by everyone from the receptionist to students you encounter in the hallway. It is important to be courteous and respectful to everyone.
Interview on Campus vs. Off Campus: By spending time and money to visit a campus, you demonstrate a serious commitment to the program. However, there may be legitimate reasons why you cannot visit the campus during the application process. Some schools offer phone, teleconference, or off-campus interviews at a corporate office or hotel. They may be conducted by admissions staff, alumni, or other school representatives. When necessary, an off-campus interview can provide important information regarding your candidacy.
Setting up an Interview: You are responsible for making arrangements to interview. If you are unable to visit the campus, check to see if an admissions representative will be in your area and available for interviews. Make sure you schedule your appointment early enough to complete the application and meet schools' deadlines.