Three Reasons Why Right Now Is a Great Time to Apply to US Business Schools
Three Reasons Why Right Now Is a Great Time to Apply to US Business Schools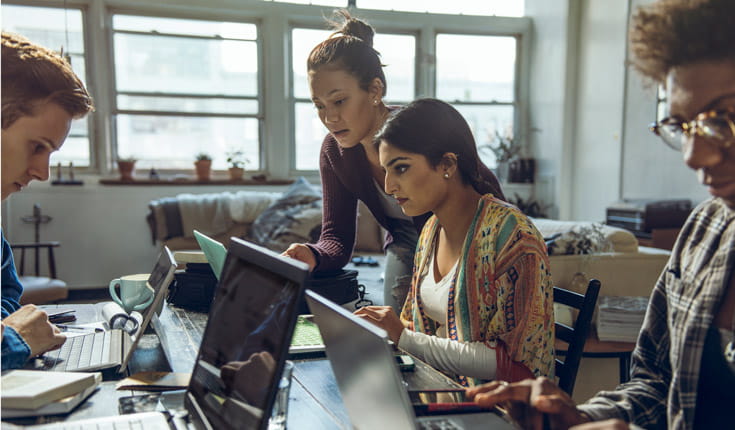 Graduate business school can open new doors of opportunity for internationally-minded students looking to experience a new country, expand their skill set, and increase their earning power.
Pursuing an educational opportunity in new country can feel intimidating, but it can be incredibly rewarding too. Here are three reasons why right now is a fantastic time to apply to a US business school.
Plenty of options for graduate business programs
One of the primary benefits of studying in the United States is access to the world's most diverse pool of graduate business schools. With over 4,000 programs in the United States that accept the Graduate Management Admission Test™ (GMAT™) exam, there are more options available to you than ever before. While the full-time MBA remains the most popular program type, many US business schools today offer a diverse array of specialized business master's programs, including in high-demand fields like data analytics, supply chain management, marketing, accounting, and finance. In addition, programs are not just limited to full-time formats. Part-time, hybrid, online, or even accelerated programs options may be a better fit for you.
What's more, US business schools are eager to recruit top talent from outside the United States to their programs. A 2019 Graduate Management Admission Council™ (GMAC™) survey of business schools found that nearly half of US programs conduct special recruitment initiatives for international candidates (47%). However, the same survey found that about half of US programs reported declines in international applications compared with the previous year (48%), including about a quarter of programs that said their international applications were down more than 20 percent. For non-US citizen prospective students considering the United States for business school, right now is an opportune time to apply and stand out in the admissions process.
Career opportunities in the booming technology and consulting sectors
Opportunity is ripe in the US economy right now. Among US employers who responded to GMAC's 2019 Corporate Recruiters Survey, 66 percent define their company direction for this year as expanding/growing, more than any other world region. Two sectors that are particularly hot right now are technology and consulting. Among survey respondents, 80 percent of technology companies and 75 percent of consulting companies say they're currently in growth mode.
These two sectors also happen to be the top two sectors for hiring international business school graduates right now. Findings from the Corporate Recruiters Survey show that 67 percent of US technology companies and 57 percent of consulting companies either plan to hire or are willing to hire international business school graduates this year.
For international students who want to pursue job opportunities in the United States after business school, both the Optional Practical Training program (OPT) and the H-1B visa are available avenues to explore.
OPT grants current students and recent graduates an extended one to three years on their student visa and ability to work within their field of study. Analysis from the Pew Research Center shows that between 2008 and 2016 there was 49 percent increase in non-STEM (science, technology, engineering, and math) students authorized to work under OPT. Among foreign graduates with a master's degree who were authorized to work under OPT, 22 percent studied business, management, marketing, and support services.
The H-1B visa allows US employers to temporarily employ foreign workers in specialty occupations. Recent changes to the H-1B process means that graduate students are now projected to be 16 percent more likely to be chosen to gain work authorization under this program. The new process involves a lottery selection process from a total pool of undergrad and graduate selectees, and then a smaller pool of only graduate students. These changes revolve around making the visa process more open to international students who bring a strong skill set and qualifications.
Although the process to receive work authorization through these programs seems intimidating, business school career services and international offices will provide you with resources and assist you.
Starting salaries at US companies are at an all-time high for MBA graduates
If earning more money is a motivator for you, then working in the United States is a fantastic option.
GMAC's 2019 Corporate Recruiters Survey found that the median starting salary for recent MBA graduates at US companies is at an all-time high of US$115,000, more than double the US$55,000 median they plan to offer to bachelor's degree new hires. More than half of US companies plan to increase MBA starting salaries this year, compared with less than half that plan to increase bachelor's new hires' starting salaries.
Median starting salaries for business master's graduates are also notably greater than those of bachelor's new hires. US companies plan to offer a median starting salary of US$85,000 to Master of Data Analytics and Master of Finance graduates, while the median for Master in Management graduates is US$80,000.
Starting your career with a master's degree pays off in the long run, too. Earning more early in your professional journey means you'll make a lot more cumulatively over the span of your career. After completing graduate school, pursuing work opportunities within the United States could be lucrative with an excellent return on investment.
Begin your journey
No matter where you are in the world, there are always opportunities to further your skills. Wondering how to continue your journey? Start here with the school search tool to find the program that fits best for you.