Three Big Reasons to Earn Your Executive MBA in India
Three Big Reasons to Earn Your Executive MBA in India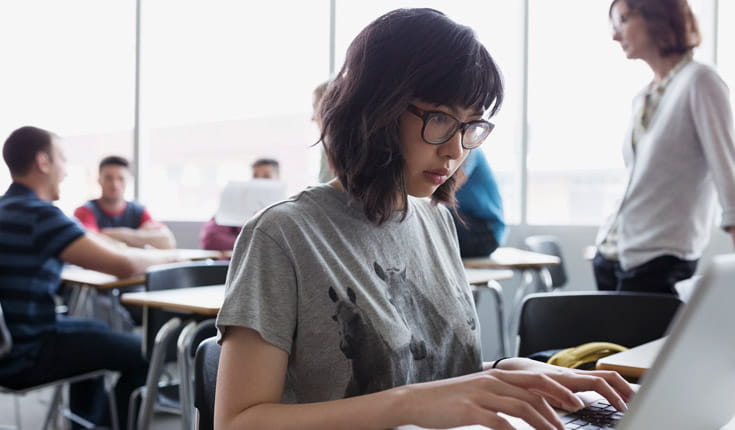 An executive MBA is a popular choice among experienced Indian professionals who want to boost their skills and break into upper management. Executive MBA programs attract driven professionals like you who have been working for a number of years and who seek training to enhance their leadership skills, business acumen, and industry-specific knowledge.
In Program Finder there are more than 250 executive MBA programs to choose from. Which is right for you and your goals? A key decision point for you may be the location of the program. While there are fantastic executive MBA options the world over, there are a number of reasons why earning an executive MBA domestically in India may be your best option to fulfill your goals.
Why earn an executive MBA in India?
If you feel like you're on the right career path and are ready to accelerate to the next rung of the corporate ladder, an executive MBA from one of India's leading graduate business schools may be exactly what you're looking for.
Here are three big reasons to earn your executive MBA in India:
1. Success: Find the career advancement in India you're looking for and boost your salary
Have you been stuck at the same level of the managerial hierarchy for longer than you'd like? An executive MBA can help bring energy to your career and help you get over the hump and earn that promotion you've been working towards. According to the Executive MBA Council's 2019 Student Exit survey, 40 percent of students received a promotion during the program and 53 percent reported increased responsibilities during the program.
The EMBA Council's survey also found that executive MBA graduates earned a 13.5 percent increase in compensation—including salary and bonuses—after graduation.
So, if growing your level of responsibility and salary are at the top of your priorities list, an executive MBA is certainly a great option for you.
2. Flexibility: Find the best option for you while staying closer to home and honing your skills
You've worked hard to get to where you are in your career, so it's understandable you don't want to take time away for your studies. Luckily for you, many executive MBA programs in India offer coursework around your work schedule, meaning you can stay in your job and work on your executive MBA in your non-working hours.
A major benefit of this is that you can apply the skills you're learning in your program to your work in real time. For example, in your weekend class you could learn a new management principle that you can turn around and apply to a workplace situation the following Monday. This ability to apply your new learnings directly and immediately will help you internalize and deeply understand key management principles in a way that simply learning the classroom never could.
Other programs offer their executive programs in a full-time, intensive format. This has its own advantages for driven, experienced professionals to consider. For one, you can complete the program faster, enabling you to take advantage of your degree sooner. Another is that it enables you to focus 100 percent on your studies, and not have all the stresses of your work distracting you.
A major advantage of opting to study in India versus abroad is that you will be able to stay closer to home, which in the time of COVID-19 may be a particularly attractive option. Staying in India will also save you travel time and costs, which can add up considerably over the course of earning your executive MBA.
But don't think that pursuing a domestic executive MBA will limit your ability to gain a global perspective or the opportunity for international travel. The coursework at leading programs in and India and around the world emphasize a global focus, stressing the interconnectedness of international business and the need for executives to be able to conduct business across cultures. In addition, the Executive MBA Council findings report that more than 9 in 10 programs now offer international travel as a part of the program.
3. Target your network building in India and join an elite group
A network is only as valuable as you make it and focusing your network development to among other driven Indian businesspeople like yourself is a smart way to maximize the return on your networking investment. A major benefit of opting for an executive MBA program in India is that most of your classmates will be in similar positions to you in Indian companies, giving you more of a shared background and increased likelihood of being able to leverage your relationship for your future career benefit.
MBAs—but executive MBAs in particular—are an elite network to be a part of, and many alumni report that it's the network you develop at business school that holds a significant part of the overall value of the experience. Executive MBA is typically lockstep, cohort model, wherein you go through the program with the same group of classmates. This creates a close bond forged in your shared experience, which is another huge networking advantage for executive MBA programs over other MBA formats, like self-paced part-time MBA programs and online MBA programs.
Find your Executive MBA in India on Program Finder
There's no shortage of excellent executive MBA options for you to consider in India. Explore Program Finder to find your best fit program. Here are a few to get your search started:
Indian School of Business – Post Graduate Programme in Management for Senior Executives
The PGPMAX is a 15-month global EMBA equivalent program that has been specially designed for senior executives and business owners, to help them adapt and stay updated to the dynamic, fast-changing business landscape of today with minimal disruption to their work and personal life.
Location: Hyderabad, India
Format: Part-time, executive schedule
Total tuition cost: 39,63,000 INR
COVID-19 updates: Check out ISB's COVID-19 updates page for the latest information.
IIM Ahmedabad – Post Graduate Programme in Management for Executives (MBA-PGPX)
Carefully designed for bright, enthusiastic, and aspirational executives with substantial professional experience, the PGPX programme attracts top talents from diverse industries, cultures, and geographies. Each year, the PGPX programme participants are hand-picked to ensure a rich, diverse, and well-balanced in-class learning experience for all participants.
Location: Ahmedabad, India
Format: Full-time
Total tuition cost: 28,00,000 INR
COVID-19 updates: Check out IIM Ahmedabad's COVID-19 updates page for the latest information.
IIM Bangalore – Executive Post Graduate Programme
An intensive one-year residential programme created specifically for professionals with remarkable track records and 5 to 12 years of work experience in a wide range of industries.
Location: Bangalore, India
Format: Full-time
Total tuition cost: 27,50,000 INR
COVID-19 updates: Check out IIM Bangalore's COVID-19 updates page for the latest information.
Are you ready to take your career to the next level? Explore more of your executive MBA options in India on Program Finder.