Six Reasons to Study Business Abroad and Start Your Career in China
6 Reasons to Study Business Abroad in China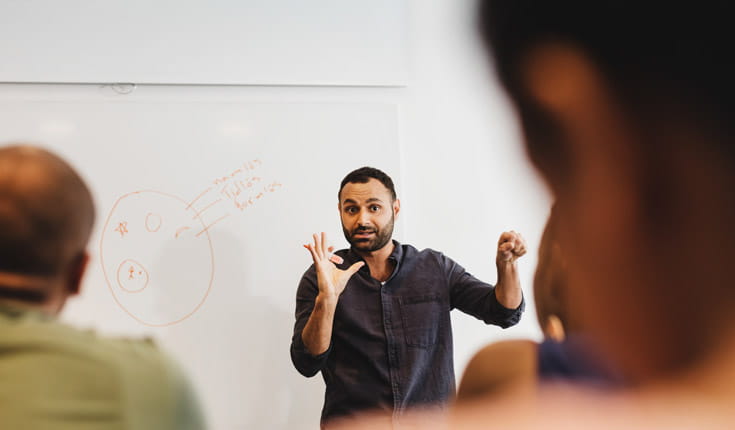 What if I told you one of the best ways to start your career in China is actually to leave China and study business abroad? That's the path thousands of Chinese business master's graduates have taken in just the past few years to successfully launch their careers in a wide variety of fields, including technology, finance and accounting, consulting, products and services, and more.
While there is a lot of uncertainty in the world right now, the value of specialized business master's degrees from leading business schools outside of China continues to be high and it remains a worthwhile investment that will pay off over the course of your career.
Start your career in China after earning a business master's degree abroad
Here are our top six reasons to consider studying business abroad before starting your career in China.
1. Access elite job opportunities in China's booming economy
An MBA or business master's degree from a leading international business school like Stanford Graduate School of Business, Columbia Business School, London Business School, INSEAD, or Hong Kong University of Science and Technology can open doors to highly competitive job opportunities that graduates of Chinese schools may not have access to. Chinese graduates of foreign business schools are especially prized by Chinese companies, not only for the quality of the education they receive but also for the added international perspective they bring to their work.
Increasingly, Chinese graduates who studied business abroad are returning home to China to take advantage of the wide range of career opportunities in China's booming economy, particularly in the tech industry. Large tech companies like Tencent and Alibaba are expanding rapidly, creating plenty of opportunities for driven young business professionals. A flood of venture capital into China's tech startup scene has opened up even more jobs and provided chances to make it big by starting with a company that could become huge in a couple years' time.
2. Gain in-demand skills at a leading specialized business master's program
The top schools abroad offer specialized business master's degree programs like a Master of Finance, Master of Accounting, or Master of Data Analytics, designed specifically for students like you who are just out of your undergraduate studies and have little to no professional experience. These programs are especially popular with international students, and they typically offer a lot of support as you transition into living in a new country and adjust to new surroundings.
After just one year of study in one of these programs, you'll gain not only a highly-sought-after credential, but also an in-demand skillset that will set you apart in the hiring market and allow you to start your career on the right foot.
You could also choose to extend your stay overseas by pursuing an internship or full-time employment in your country of study after completing your program. This will further solidify your global experience and give you an even richer international background to draw on when you later return to China.
3. Get promoted faster and earn more money
Earning a business master's early in your career can put you on the fast track to management positions, demonstrating that you are serious about your career and have the maturity and business savvy to make smart decisions on behalf of the organization.
What's more, data shows that Chinese graduates from foreign universities earn more than graduates from Chinese universities. A past study of business school alumni salaries found that international Chinese graduates who live and work in China earn a salary 5.6 times that of the average worker. In addition, 7 in 10 Chinese citizens who earned their degree outside of China say that their business school experience made their financial situation better or much better.
How much can you earn with a business master's degree? Use our interactive salary calculator to find out!
4. Solidify your English language skills
Truly mastering a foreign language like English is very difficult to do without an immersive experience like living and studying in an English-speaking country. What's more: to advance your business career and rise to leadership positions, you need an English language education that teaches you how to "speak business" in English—not just understanding it.
Going abroad and committing to a year of business study in a country like the United States, United Kingdom, Canada, or Australia will undoubtedly take your English skills to the next level and help advance your career in China. Studying with an international cohort at an elite school will give you the confidence you need to command a boardroom and deliver impressive presentations to your superiors.
5. Gain the global mindset you'll need for leadership positions
Rising to a leadership position in many top Chinese companies requires having a deep understanding of international business practices and being able to manage talent across cultural barriers.
Studying business abroad and earning a business master's degree from an elite school like Columbia Business School, MIT Sloan, Imperial College London, or the Chinese University of Hong Kong will not only signal to your superiors that you're management material but it will also give you the knowledge you need to make wise business decisions that benefit your company and reflect well on your judgment.
6. Join a globally elite alumni network in China
The path from China to the world's most elite business schools is a well-worn one, as thousands of talented young Chinese students have made the journey in the past few years alone. That means when you go abroad to earn your MBA or business master's degree and return home to China, you'll be among an enormous alumni network of Chinese graduates who had similar experiences.
This shared experience bonds this elite group of educated young professionals and makes membership in this cohort even more special. You can join them by taking the leap abroad and earning a graduate business degree.
Earning a top score on the GMAT exam in China can help you stand out to business master's admissions committees
The world's leading specialized business master's programs accept the GMAT exam because it's a proven predictor of your ability to succeed in their classrooms. Applying with a competitive GMAT exam score demonstrates your commitment and motivation and helps you stand out in the admissions process.
Are you ready to take the GMAT exam in China? Register for your exam today.
Challenge yourself and your friends to the GMAT™ Mini Quiz! We've selected eight real questions from past exams for your GMAT Mini Quiz challenge. You will have the chance to try out four Verbal Reasoning and four Quantitative Reasoning questions.