How to Study in Mainland China and Hong Kong SAR
How to Study in Mainland China and Hong Kong SAR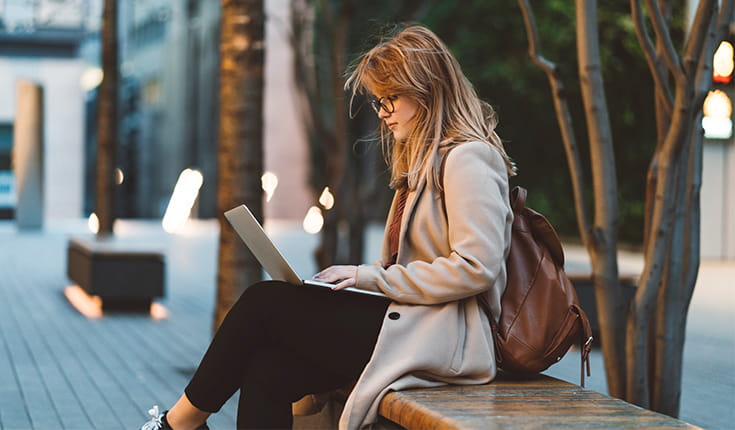 Mainland China and Hong Kong SAR have traditionally been very popular destinations for students looking to study business abroad. Every year, almost 500,000 students travel to China for their studies, while Hong Kong attracts over 30,000 students each year.
People choose to study in Mainland China and Hong Kong SAR for many reasons, whether it's the chance to learn more about Chinese culture and history or to study at one of the many top-ranked business schools in Asia.
Studying abroad is an exciting opportunity to explore a new culture and boost your resume while getting a top business degree. However, traveling across the world to study can also be a stressful process.
If you're wondering how to study in Mainland China and Hong Kong SAR, this guide will take you through the whole process, including Chinese student visas, the best places to study in Mainland China and Hong Kong SAR, and the costs of studying abroad.
Why study in Mainland China and Hong Kong SAR?
Mainland China and Hong Kong SAR are exciting destinations to study abroad. As you study business abroad, you'll also get to explore thousands of years of history, unique landscapes, and an entirely different culture. All of this will make your study abroad experience rewarding.
Studying in Mainland China and Hong Kong SAR is also an opportunity to learn Mandarin – one of the most-spoken languages in the world, and the key to a successful international career. One in six people in the world speaks Mandarin, making the language a gateway to learning more about other cultures and countries.
China is also a popular destination for international students thanks to its affordable tuition fees. On average, fees for undergraduate and graduate programs vary between $2,000-$10,000 per year, while you can also get an MBA for far less than in other popular business study destinations like the United States and the United Kingdom.
Top business schools in Mainland China and Hong Kong SAR
As one of the world's biggest economies, China offers plenty of opportunities for business students. Whether you want to explore innovative industries like fintech in cities such as Beijing, Shanghai, or Shenzhen, or just widen your knowledge of Chinese business practices, China is a great place to study abroad.
Meanwhile, Hong Kong SAR is an equally rewarding destination for business students because of its status as a global financial hub. Hong Kong ranks third in the Global Financial Centres Index (GFCI), just behind traditional stalwarts New York and London. As such, if you're planning on pursuing a career in finance, there's nowhere better to study.
Mainland China and Hong Kong SAR are also home to some of the world's best business schools. They include CEIBS – which placed the highest of any Chinese business school in the Financial Times Global MBA ranking – Fudan University School of Management, Tsinghua University School of Economics and Management, HKUST Business School, and CUHK Business School.
Careers in Mainland China and Hong Kong SAR
When it comes to pursuing a career in China and Hong Kong after graduating, there are plenty of opportunities. Hong Kong is home to many of the world's largest financial institutions including the Bank of China and Bank of East Asia, and other companies like Cathay Pacific Airways and Tencent have offices there.
In China, graduates can pursue careers in technology, real estate, insurance, and e-commerce. Some of the biggest Chinese companies – including Alibaba and Huawei – also operate globally, so you could also get experience in international business after landing a job in China.
How to apply to study abroad in Mainland China and Hong Kong SAR
Applying to universities or business schools in Mainland China and Hong Kong SAR is much the same as for other destinations. In most cases, once you've found the program you want to study, you'll apply online directly through the university. However, you can also apply through CUCAS, an online platform that allows you to apply to any Chinese university.
You'll need some important documents for your application including an academic transcript, certificate or diploma from your last graduation, a valid passport, Chinese or English language proficiency certificate, financial proof that you can support yourself during your studies, and two professional references.
For MBA programs in Mainland China and Hong Kong SAR, you'll also need to submit a GMAT test score with your application. The GMAT is the most widely-accepted standardized exam for graduate business courses in China.
Once you've received your letter of acceptance from your university or business program, you can apply for your Chinese student visa. There are two types: the F visa for students who plan to stay less than six months, and the X visa for students who will stay more than six months. The application fee for the Chinese student visa is generally around $150, but will differ depending on the country you're applying from and your nationality.
If you're studying in Hong Kong, you'll also need to apply for a student visa after being accepted to a business school. Your visa should take six weeks to be processed, so it's best to apply early.
Cost of living
Your living costs while you study abroad in Mainland China and Hong Kong SAR will vary depending on where you study. In general, though, studying abroad in Asia is much more affordable than in Western destinations. China ranks 78th out of 135 countries for its cost of living, and though Hong Kong is more expensive – appearing at 13th on the ranking – it still beats Singapore, Switzerland, and Ireland.
We've already covered how much tuition fees are in China, but what about in Hong Kong SAR? Well, while fees are a little higher than in mainland China, it's still an affordable place to study business abroad. On average, yearly undergraduate and graduate fees range between $11,500-$34,000 and an MBA could set you back around $70,000 – still much less than in the US.
If you're worried about how to study in Mainland China and Hong Kong SAR on a budget, here's an example of monthly costs for everyday items in Mainland China and Hong Kong SAR.
Mainland China
Rent: $450-$900
Groceries: $100-$150
Transport: $30-$50
Restaurant meal: $1-$5
Gym membership: $45
Health insurance: $10
Data gathered from china-admissions.com, pandabuddy.net, numbeo.com
Hong Kong SAR
Rent: $650-$2,000
Transport: $60
Restaurant meal: $6.50-$10
Gym membership: $80
Data gathered from studyinhongkong.edu.hk, findaphd.com, numbeo.com
Chinese scholarships and loans
China is a very affordable country to study abroad in, but many students will still find that they need financial assistance. In this case, there are plenty of organizations that offer Chinese scholarships to international business students.
The Chinese Government Scholarship is the most popular, but individual Chinese cities like Beijing and Shanghai also offer scholarships. If you're studying in Hong Kong SAR, there are also a wide range of scholarships you might apply to. Make sure to also check the websites of the business school you're applying to, as many will have their own list of scholarships for students.
Finding loans to study in Mainland China and Hong Kong SAR is more difficult. However, because tuition fees and living costs are lower than in other destinations, you should be able to find a scholarship to cover most of the cost of your studies.