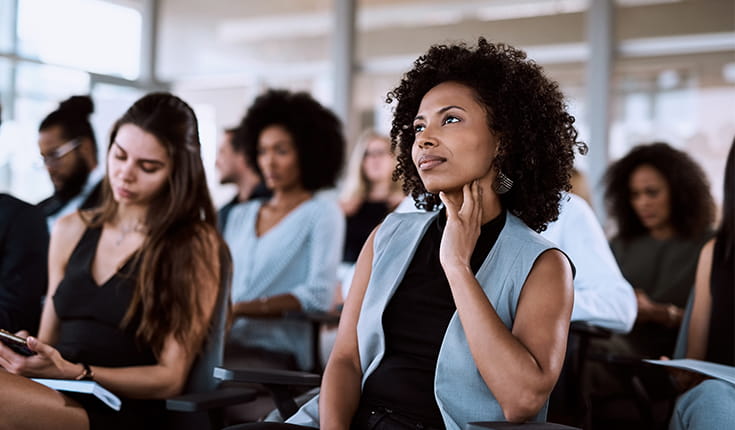 Canada is a spectacular destination filled with breathtaking landscapes, lively cities, and diverse cultures. It's easy to see why 22 million tourists travel to the country every year.
However, Canada is also one of the best places to study business abroad. The country boasts top-ranked business schools and the headquarters of some of the world's biggest companies, including Boeing Canada, Flickr, Cirque du Soleil, and Shell.
The country also has attractive graduate visa options for after your studies, meaning you could turn your study abroad experience into a full-time career in no time.
If you're considering jetting off to study business abroad, it's best to be prepared. With this guide on how to study in Canada, you'll be ready to make the most of your time.
Why study in Canada?
Canada is one of the world's leading destinations for international students. Every year, over 600,000 students choose the country for their study abroad experience, both at the undergraduate and postgraduate levels. This makes Canada the third-most-popular destination for international students after the United States and Australia.
Nearly 50% of these students head for Ontario province, home to cities like Toronto, London, and Ottawa. However, British Columbia and Quebec are also attractive options for international students.
Many students who study abroad in Canada do it to explore the unique culture. With French-speaking cities and a multicultural population, there's no other place like it. Outside of the larger cities, there are also many incredible National Parks to explore, from the idyllic landscapes of Banff to the sandy beaches of Prince Edward Island.
Canada is also an ideal place to start your career. It's one of the happiest countries in the world (beating the US, the UK, and France), and many expats praise the quality of life you can enjoy in Canada.
Top business schools in Canada
Canada is one of the most popular destinations for business students – especially among MBA applicants. As one of the world's largest economies, there are plenty of career opportunities for business students, in both global multinationals and young and exciting startups.
In general, the biggest industries in Canada are banking, energy, FMCG, and IT. However, there are also fast-growing startup scenes in innovative areas like cleantech, big data, and AI. Startup hubs in Canada include Montréal, Québec City, and Edmonton.
The country is also home to plenty top-ranked business schools. Rotman School of Management at the University of Toronto takes the top spot among Canadian business schools in the Financial Times Global MBA ranking, with McGill University: Desautels, Ivey Business School, and Smith School of Business also appearing in the ranking.
How to apply to study in Canada
If you're wondering how to study in Canada, you'll be glad to know that the application process is the same as for other international business schools. This means that to complete your application form you'll need typical documents like a university or high school transcript, resume, letter of intent or personal statement, and two academic or professional references. You'll apply directly through your chosen university or business school, so while individual application forms may differ slightly, they all have similar requirements.
If English isn't your first language, you'll also need to prove that you have sufficient English language skills to study in the country. The most popular English language exams for entrance to Canadian universities and business schools are IELTS Academic, PTE Academic, C1 Advanced, and TOEFL iBT. Remember that Canada is a bilingual country, so you could also take your business course in French.
You should also be aware that for postgraduate business courses like an MBA, your application will also require a GMAT score or another standardized exam. You can take your GMAT abroad or at one of the global testing centers.
Once you've been accepted to a Canadian institution, you can apply for your study permit, which costs CAN$150. However, you should be aware that your student permit is not the same as a Canadian student visa. Once you've been accepted for your study permit, the government will also issue you with the required Canadian student visa.
To receive a study permit, you need to prove that you have enough money to pay for your tuition fees and living expenses. For institutions outside Quebec, this figure is CAN$10,000 per year, while in Quebec the figure is CAN$13,134.
Only specific institutions in Canada can admit international students – these are called designated learning institutions (DLI). If your chosen university or business school isn't on the list, then you will be refused a study permit, so make sure to check your school is on the DLI list.
Cost of living
While Canada isn't the cheapest study abroad destination, it's still more affordable than other countries like Switzerland, Singapore, France, Australia, and the United States.
Living in a city is bound to be more expensive than in a small town; some of the most expensive places to live in Canada are Vancouver, Toronto, Victoria, and Calgary. However, these cities are also some of the best places to study in Canada, so you'll have to weigh up your budget against your requirements for your study program.
International students in Canada are also required to take out health insurance. This is called the University Health Insurance Plan (UHIP), and costs around CAN$750 per year.
To give you an idea of the cost of living in Canada as an international student, here are some approximate monthly costs for everyday items and bills.
Rent: CAN$250-800
Groceries: CAN$300
Transport: CAN$90
Restaurant meal: CAN$10-25
Gym membership: CAN$50
Data gathered from mastersportal.com and numbeo.com
Canadian scholarships and loans
Tuition fees in Canada for international students are approximately in line with other international business programs; however, they will differ depending on the university or business school you choose to study at.
On average, tuition fees for postgraduate programs vary between CAN$20,000-CAN$70,000 per year. For an MBA, fees will be much higher, at over CAN$100,000 per year.
When faced with these tuition fees, you might be wondering what kinds of Canadian scholarships and loans you can apply for to relieve the financial pressure. Your first stop should be your chosen university or business school, as they should provide some financial assistance for international students in need, including full and partial scholarships.
There are also Canadian scholarships from larger organizations, including the Government of Canada and the Trudeau Foundation.
International student loans are more difficult to find than scholarships, but there are companies who offer loans to students without co-signers. For example, you could enquire with MPOWER or Prodigy Finance, both of which offer loans for students at Canadian universities.