What Employers Say About Online MBAs
What Employers Say About Online MBAs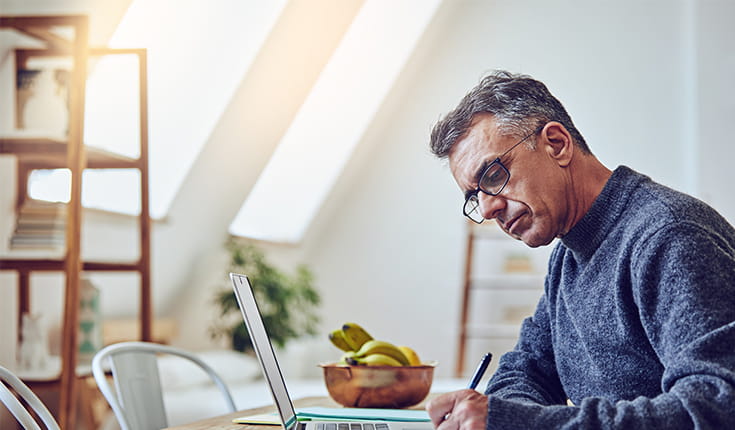 There's no doubt Online MBA programs are more popular (and more plentiful) than ever before. According to GMAT score sending data, 50 more Online MBA programs accepted GMAT scores in the last testing year compared to five years earlier. In addition, 84 percent of Online MBA programs reported an increase in applications in GMAC's 2020 Application Trends Survey.
As a working professional weighing your options for business school, you may be wondering: what do employers think about Online MBA programs, and are Online MBA programs respected in the same way as in-person programs?
How companies view Online MBA programs
As a part of the Corporate Recruiters Survey 2021 from the Graduate Management Admission Council (GMAC), recruiters from companies that regularly hire MBA and business master's graduates were asked to rate their level of agreement with the statement: "My organization values graduates of online and in-person programs equally."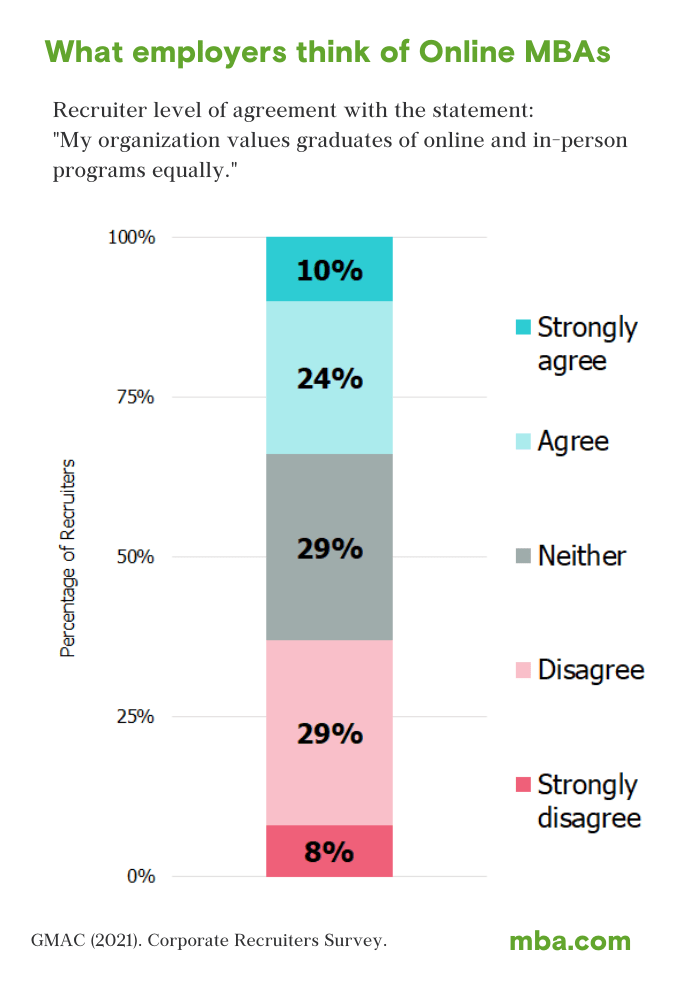 Overall, about 1 in 3 recruiters agreed with the statement (34%).
"As business schools continue to evolve modalities and more candidates are able to access MBA and business master's programs through online delivery, this presents the graduate management education community with an opportunity to align expectations and outcomes for graduates and corporate recruiters," says Sangeet Chowfla, president and CEO of GMAC, the author of the survey report and the maker of the GMAT exam.
By industry, recruiters from the finance and accounting industry (41%) are more likely to view graduates of online programs as equal to their on-campus peers, compared to their recruiting counterparts in consulting (25%) or technology (28%).
How to choose an Online MBA program
If you've decided an Online MBA program is the right path for you, how do you go about choosing one from the hundreds of choices? In narrowing your options, you should look out for these indicators of program quality:
Requires an admissions test. An indicator of a quality program is that they require an admissions test, like the GMAT™ exam or Executive Assessment. This ensures the program is committed to enrolling top applicants.
❓ A key question to ask: Do you require the GMAT exam or Executive Assessment, and if not, what does that say about how you evaluate applicants?
Accreditation. Ensuring an Online MBA program is accredited helps you confirm that the program is meeting basic educational standards. Look for programs to have accreditation from organizations like AACSB, Association of MBAs, and EFMD Equis.
❓ A key question to ask: "Is your Online MBA program accredited by AACSB, and if no, why not?"
An actual campus. Choosing a program that's a part of an established business school with an actual campus is a good piece of general advice.
❓ A key question to ask: "Do Online MBA students get access to all the same resources as on-campus students?"
Employment outcomes. See what data Online MBA programs publish about the career and salary outcomes of their most recent graduating class. Think about your goals and how their published outcomes relate to them.
❓A key question to ask: "Do graduates of your program go on to secure promotions with their current employers or are they able to get better jobs elsewhere?"
Teaching quality. There's no substitute for engaged, quality instructors. Do some research around who teaches the program's core courses and check out their credentials. Either a Ph.D. or significant professional experience are a must.
❓ Key questions to ask: "What access will I have to instructors outside of class? Do the same instructors teach in the online program as the on-campus program?
Once you've narrowed your options based on these criteria, the "match making" begins. No two MBA programs are exactly alike, and finding your best fit program as a working professional takes some work (and a little wisdom from industry experts).
In our free guide, Finding Your Best Fit Program: A Guide for Working Professionals, we give you the expert tips and guidance you need to confidently narrow your options and identify the programs that make the most sense for your needs, preferences, and career goals.
Get exclusive, insider advice on:
The key questions you need to ask yourself to ensure optimal preference-to-fit alignment
The best tools to use to understand what your options are
How to build out your program list and what mix of programs should be on it
Best practices for connecting with schools and getting your questions answered
Developing specific, tailored responses to "why this program?"