MBAs are for Non-Business Majors Too
MBAs are for Non-Business Backgrounds Too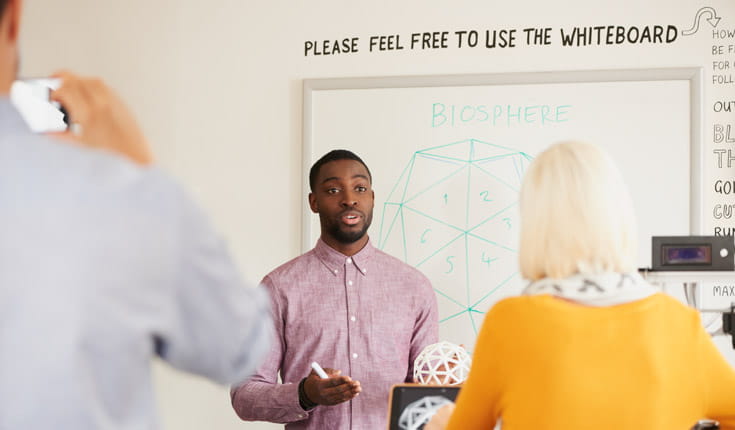 An MBA is more than just a degree. It is a valuable tool to build a career and life that is professionally and personally rewarding. Today's MBA degree is agile and can be applied across many different industries and job functions. How you shape your business school experience to help you achieve career goals in a wide array of industries, from healthcare to fashion, is really up to you.
Skills that translate to any industry
MBA degrees provide a broad understanding of general business principles and leadership skills that naturally translate to the modern workplace. The curriculum's bird's-eye view approach will teach you how successful (and unsuccessful) organizations are run, how their internal operations are connected, and how to hone these processes to improve productivity. You'll also learn how to work on multicultural teams and communicate with diverse peers. Along with a diploma, you'll leave with the business acumen and interpersonal skills to make savvy decisions on behalf of your employer—valuable traits to any organization, regardless of their mission.
Sign up to receive advice, tips, and exclusive offers to help you on your journey.
87% of grads believe the skills developed in b-school moved them further along in their career.
Exposure and experience
Practical experience can't be replicated, and during your MBA program you'll participate in consulting projects that take you out of the classroom and into the real world. These opportunities not only expand your worldview but teach you how to work toward a shared goal by applying the skills you've learned to uncover real, feasible solutions. Your program is also likely to offer other interactive experiences, such as internships and study abroad programs. Exposure to different companies and cultures can spark interest in new trades or career tracks that you haven't yet considered.
86% of grads say their program prepared them for leadership positions.
Increased marketability
Today's global workplace is no longer easily categorized into specific industries, functions, or skill sets. Most employees are cross-trained in multiple areas and have multiple job responsibilities. Your MBA degree will help you merge your undergraduate degree and prior work experience with practical business, management, and leadership skills. You can choose to apply these principles to your chosen field or to make a career switch. Either way, your degree further enhances your marketability to employers, and increases your chances of moving up the ladder.
74% of employers said they offered internships to graduate b-school students.
Network of support
One of the most valuable assets you'll gain with during your MBA program is a network. You will meet professors, peers, and professionals, all of whom have valuable insights to share. Take advantage of this opportunity to network with different individuals and expose yourself to distinct outlooks and methods for success. Make relationships in new industries and consider alternate job functions, foster connections with people in areas that interest you, and/or find associates to partner with on new ventures. Your MBA network will give you the connections you need to find mentors, make a career change, and learn about unique job opportunities.
72% of grads felt their program helped develop their professional network.
Many MBA programs seek out diverse candidates from different backgrounds and disciplines who are pursuing a variety of career paths. It enhances the classroom experience by creating better opportunities for shared learning through varied opinions, viewpoints, and ideas. What's the one common characteristic among MBA students? They're people who are willing to learn and grow as individuals, both personally and professionally. If that sounds like you, learn more about getting your MBA degree by creating a profile on mba.com.
Sign up to receive advice, tips, and exclusive offers to help you on your journey.