MBA in Data Analytics vs Masters in Data Analytics 
MBA in Data Analytics vs Masters in Data Analytics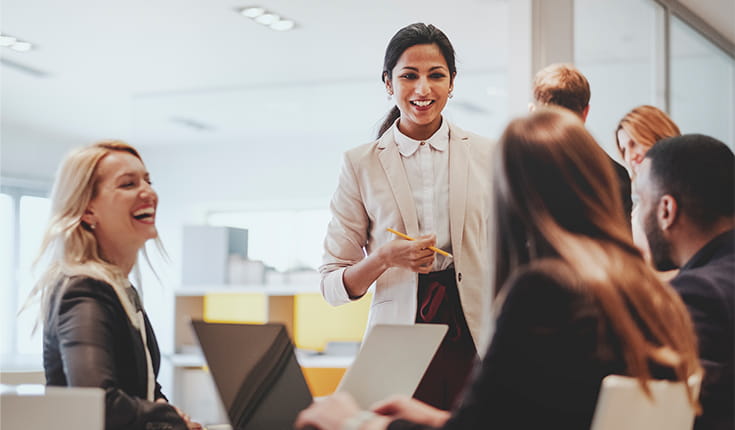 Data is part of our everyday life, despite it being invisible. The world continues to forge more ways to use technology to better our living experiences so we need more experts who can support this work using the science of data. American Express, Google, Apple – these top companies all employ a multitude of data driven people to keep on top of the evolving business landscape.
A job in data analytics could take you to the frontlines of technology development, or to a far-flung part of the world, the work and study opportunities are varied, but is it the right choice for you?
What training do you need for a career in data analytics?
Alongside this key knowledge in programming, and working your way through a data set, there are a more hidden array of skills that will also aid you in a data analyst career. Boosting your salary often requires a promotion into a management role and being able to lead a team of your own is essential in achieving your career targets.
If you are able to bridge that gap between the technological skill set and management competency, it makes you an appealing candidate to employers who are looking to hire new business leaders. Acquiring soft skills in business administration and business planning during your studies, alongside analytics skills, will set you up well for a future data analytics career.
Who is the Data Analytics MBA for?
An MBA in data analytics does just that. It marries the core curriculum of the MBA program with a specific knowledge of data analytics elective courses, to give you the best of both worlds. The MBA core courses will focus on gaining practical skills in project management and other key business administration tools whilst the data analytics concentration will hone your knowledge of topics like predictive analytics and using artificial intelligence in data mining.
A Data Analytics MBA is best suited to someone with a few years of professional experience in the field. It is also an excellent stepping stone for someone looking to make a career pivot and deepen their knowledge of data analytics.
The rigorous and time intensive program of an MBA in data analytics is less suited to someone who has recently graduated from their bachelor's degree, without much professional experience.
However, there are select number of MBA programs that cater specifically to people who have recently completed their bachelor's degree, such as the Baylor MBA program at Baylor University, Texas.
What is the difference between a Data Analytics MBA program and a Data Analytics Masters?
MBA in data analytics
The Data Analytics MBA teaches the fundamental skills of business management. Its core courses cover topics like entrepreneurship, organizational behavior, operational management, finance and economics.
The elective courses for a Data Analytics MBA will include courses that focus on data analysis skills such as data mining, financial analytics and business forecasting.
Together this creates a generalist education of business administration with the added benefits of specialist knowledge of data analysis with education in topics such as data management and handling unstructured data.
Most USA business school MBA programs are two years in length with a combination of elective and core courses spread across the two-year study period.
An MBA can be an intense study period which means it is difficult to work full time alongside studying. However, there are options for an online MBA program or part time MBA available.
Master of Data Analytics
Whereas a Data Analytics masters doesn't offer the generalist business education of the MBA, but instead the students primary focus is on data science topics like predictive analysis and data mining, with some optional additional modules that may deal with other business administration topics.
Masters degrees can vary in length but are more likely to be one year in length. However, Masters programs are more suitable to someone who has recently completed their undergraduate degree, with less professional experience often required during the admission process.
Choosing an MBA with a Data Driven Specialization
The Data Analytics specialization MBA program comprises of core modules that cover the basic MBA pillars: leadership, management and strategy, alongside a wide choice of elective choices that focus on different aspects of data and business analytics.
The titles and syllabus of courses varies between MBA programs, but here are some elective and core course titles you may expect to see:
Core Courses
Managerial decision making

Supply chain management

Business, social Responsibility, & the environment

Operations management

Risk management
Elective Courses
Data visualization for decision making

Digital Marketing and analytics

Big data analytics and digital technologies

Strategic planning

Business intelligence and Data mining

Quantitative analysis
Register for the GMAT Now!
Register
Data Analytics MBA options to consider
An MBA Data Analytics program is one of the most popular MBA choices to study, therefore there are a wealth of schools to choose from, all catering to different needs.
An MBA degree experience can vary from your prior higher education experiences such as your undergraduate degree. You may have also been in the professional world for a while, so the priorities you are looking for within an institution may differ.
Here are some of the top MBA Data Analytics programs to aspire to:
USA
NYU Stern School of Business, New York University
NYU Stern offers students the opportunity to study in one of the largest business hubs in the world. Stern School of business offer an MBA with a business analytics concentration that focuses on key data skills such as: Data Mining for Business Analytics and Data Visualization.
The Stern School focuses on the relationship between data and decision making in various business structures. It teaches students to make informed decisions on data analytics, preparing them for a range of data analytics careers.
Tepper School of Business, Carnegie Mellon University (CMU), Pittsburgh, Pennsylvania
The Tepper School of Business was one of the first US universities to offer a data analytics specialization in their MBA offering. The program at CMU is research focused and offers courses like statistical decision making and probability management alongside quantitative research methods.
With a renowned set of academics who are pushing the latest information into the hands of their students, The Tepper School of Business is a great place to study.
Europe
HEC Paris, Jouy-en-Josas, France
HEC Paris is a prestigious European university, not to mention a beautiful city to study in. HEC is one of the only European institutions offering data and business analytics courses within their MBA program. They partnered with data giant IBM in 2013 to develop their MBA in Data Analytics program.
The MBA program at HEC specializes in strategy, which data analytics courses are a large part of. HEC Paris also hosts its own business analytics club for students which accelerates the ability to network with both current students and alumni and offer multiple informational events with careers advice across the semesters.
University of Amsterdam Business School, Amsterdam
The business school at UVA offers an MBA program with a specialization in big data and business analytics, which is similar to the MBA data analytics specialization offered at the US business schools. As well as attracting an international student base that builds great network connections for those enrolled, UVA also offers its MBA students access to their Startup Village.
This additional community is an incubator program that provides support to business students who are working on innovative and high technology focused startup ideas.
India
Indian Institute of Management, Bangalore
The IIM in Bangalore offers a Global MBA with specialization in Business Analytics. The elective courses offered are similar in content to that of the data analytics options offered in the USA based schools. It is ranked in the top 150 business schools for their MBA programs, in 2022 (Financial Times, 2022). The international draw of the IIM Bangalore means students will be working in a global cohort, creating lifelong networks of friends and professional associates.
How much does a Data Analytics MBA cost?
The cost of an MBA with data analytics program can vary widely. In order to make informed decisions on where you would like to study, it is important to consider the costs. Federal financial aid and scholarship options are available at a number of universities. An online MBA program may cost less than a traditional two-year MBA degree program studying in person. Some examples of tuition fees are:
A two-year MBA with data analytics concentration at NYU Stern School of Business costs $82,326 per year whereas the MBA with business analytics concentration at IIM Bangalore, India costs roughly $30,000.
The two-year program offered by the University of Amsterdam costs approximately $45,000 for the two-year, part-time program, that focuses on weekly evening classes alongside coursework.
An online MBA program can often be more affordable to students, however, it does also vary between different online degree options. The two-year Global MBA offered by ESMT Berlin costs around $30,000 and gives students flexibility by offering up to 5 years to complete their studies. The Tepper business school at CMU offers their MBA degree program both online and in person. The online MBA costs $81,900.
What are the career paths for graduates of Data Analytics MBA Programs?
The most beneficial reason of choosing a Data Analytics MBA program is its versatility. The degree offers you the opportunity to improve or gain new skills in the expansive world of data and business analytics. This opens up a huge range of jobs following your graduation. Some of the most popular are:
Data Analyst
A data analyst is the umbrella term for the most common jobs MBA Data Analytics graduates will apply to. However, the role can vary widely between different business sectors and individual companies. Some key skills often listed in job profiles are:
Data mining

Programming languages (R/SAS)

Data visualization

Database querying languages

SQL databases
Big Data Analyst
If you are more of a big picture thinker, then a big data analyst job may be for you. A big data analyst deals with market trends: identifying, collecting and analyzing large data sets to understand hidden patterns and then applying data to future trends.
Alongside the skills that a data analyst requires, like familiarity with Hive, Apache Spark and other similar programs, is a strong set of critical thinking and creative problem-solving skills. These are the same kind of soft skills the MBA fosters in its students.
Business Intelligence Manager
Business Intelligence Managers take on a managerial role, as the title suggests. They normally oversee a team of analysts and sometimes also other employees like developers too.
A business intelligence team is tasked with creating intelligence reports by analyzing the company's raw data in order to create actionable insights.
These reports are fed to other business executives to create future business plans, aims and goals relating to things like risk management and strategic planning. Similarly, to a big data analyst, this role combines a deep knowledge of analytics with management skills.
How much can you make with an MBA in Data Analytics?
The range of graduate opportunities explained above all offer their own salary ranges, and it is possible to move from an analyst position into managing a large business intelligence team which would, of course, increase your salary.
Glassdoor lists the 2023 average salary of a big data analyst in the US is around $97,000. The average salary of a business intelligence manager with an MBA qualification is around $135,000 according to salary.com.
If you are looking to continue your career post MBA in Europe, a data analyst job in Amsterdam can earn you on average, €62,500 (approximately $68,000). Whereas a business intelligence manager will raise your salary to €79,300 ($86,200).
If you are planning to work in India, a data analyst job has the average salary of ₹488,503 ($60,000), whereas a business intelligence manager may earn up to ₹1,627,784 ($199,000).
So, is a Data Analytics MBA degree program right for me?
An MBA degree is a large undertaking, particularly if you are considering relocating in order to study. However, it does also open up access to new job titles, with higher salary expectations and a more desirable candidate in the job market.
As a student with prior professional experiences, the time you spend on your MBA is an investment in your future self. So, if you are looking to make a career pivot towards data analytics or want to take the next step towards leadership roles, then an MBA with a data analytics concentration, may be the right choice for you.
Register for the GMAT Now!
Register