Is An MBA in Leadership Right for You
Is An MBA in Leadership Right for You?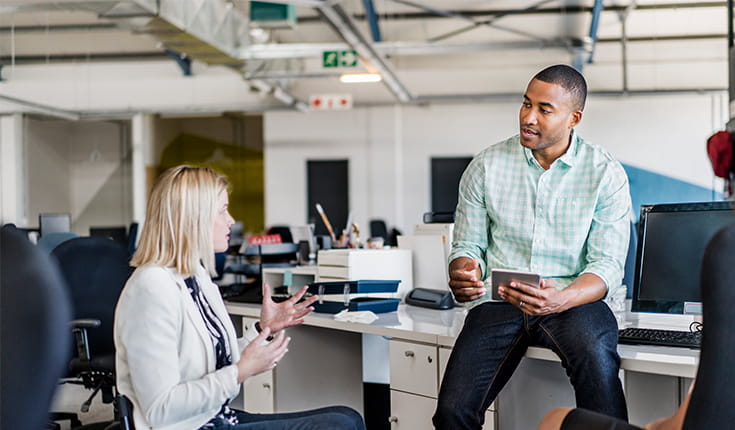 The business world has faced heavy turbulence over the last few years and with it, the definition of what it means to be a good leader is evolving.
Today's business leaders need to be armed with a strong skillset to take on unpredictable challenges, while being equipped for ethical decision-making in difficult times.
If you're ready to take on such challenges, a leadership MBA program might be a good option.
Here's everything you need to know about such a program.
What is an MBA in Leadership?
A typical MBA program will always focus on developing leadership skills but when you choose to study an MBA that specializes in leadership, you'll go above and beyond the standard training.
During a leadership MBA program, your classes and experiences will focus on team building, organizational management, critical thinking, and ethical decision making.
You'll combine leadership theory with hands-on practical experience designed to help you discover your personal leadership style and understand how to adapt to different situations.
Who is an MBA in Leadership for?
If you're someone who wants to accelerate to managerial positions, is passionate about leading change, or even want to run your own business, then an MBA in Leadership could be for you.
You'll need to have some leadership experience under your belt already, but leadership MBA programs will have a magnified focused on developing your skills in critical thinking, project management, and innovation to help future-proof your career in today's evolving business world.
MBA in Leadership course structure
During an MBA in Leadership, you'll still study the core classes that an MBA degree is known for such as finance, strategy, accounting, and marketing, but you'll look at each of these business practices through a leadership lens.
For example, core courses on the MBA Leadership program at Bath Spa University include:
Strategic Management
Corporate Financial Management
Strategic Marketing Management
Leading Change and Innovation
So, while you'll still be achieving a broad foundation of understanding in key areas of business, this program is more specifically designed for those currently in – or aspiring to – managerial positions. You'll study each area of business with a view from the top, and learn what it takes from a leader for each to operate smoothly.
Leadership MBA programs will also have a focus on developing your soft skills. You'll learn how to manage diverse teams, negotiation skills, how to lead through crisis, how to communicate effectively, and innovation skills.
If you would rather not opt for a specialized MBA in Leadership, many generalist MBA programs will offer the option to choose electives or specializations in leadership during the latter part of the program.
This is perhaps a better option if you want to first gain hard skills in areas such as financial modelling, data analytics, and business strategy, which are part of a generalist MBA degree.
MBA in Leadership subjects
There are many different aspects to becoming a successful leader and this can look different depending on your personal definition of 'success.'
Does success mean fostering a positive company culture? It is all about increasing profits? Or does ethical management matter to you?
This is something you have to consider both when choosing a business school in which to study your MBA degree and when selecting your courses. It's important to look for a program that aligns with your values and to choose electives which will help you fill in the gaps in your skills.
MBA in Leadership electives
After studying the core courses during your MBA, many business schools offer a wide range of elective modules for students to hone their skills towards a more specific career path or to further develop their skills in a specific area.
At Oxford Saïd Business School, MBA students can choose electives specializing in leadership and organization. These include:
Digital Transformation: Leading Real-World Change
Leading Social Innovation
Managing Negotiations
Family Business
As part of your degree, you are able to choose multiple electives focused on leadership development or you can select those that sound most interesting to you and pair them with courses in other areas such as finance or business analytics.
MBA in Leadership specializations
Different from electives, an MBA specialization is a selection of courses dedicated to a specific area.
A MBA specialization in leadership will be focused on developing core skills to prepare you to take on a leadership role in your career.
At NYU Stern School of Business, MBA students can choose a specialization track in Leadership and Change Management. Some of the courses you would study in this concentration include:
Collaboration, Conflict, and Negotiation
Managing High Performing Teams
Managing the Growing Company
Leadership Models
Other US business schools that offer a leadership specialization track include University of San Diego Knauss School of Business, Emory Goizueta Business School, and Boston University Questrom School of Business.
Online and part-time MBA in Leadership
Studying an MBA degree online or part-time is a great way for busy working professionals to upskill and study without taking time away from their job or family life.
You'll also be able to apply the skills you're learning in your MBA courses to your current role, helping you to make better business decisions and encourage organizational development.
Studying an Online MBA doesn't mean sacrificing on academic quality either.
At Lincoln International Business School, the MBA Leadership program is 100% online. The digital learning environment gives students the chance to connect through discussion groups, forums, virtual group activities and workshops.
Pepperdine University also offers an Online MBA program with a specialization track in Leadership and Managing Organizational Change. This program also includes a weekend immersion in Los Angeles where students meet for workshops tackling business ethics and leadership challenges.
MBA in Leadership cost and ROI
It's no secret that an MBA can be expensive. According to the BusinessBecause Cost of MBA report 2022, the average cost of studying an MBA one of the world's top business schools is US$189,000.
In the US, the prices are even higher, especially when considering that most MBA programs are two years.
The most expensive leadership MBA program in the US is that at NYU Stern which costs US$246,506 in total.
For a more affordable program, the MBA Leadership program at Bath Spa University costs just US$20,300 in tuition fees.
However, while the cost of studying will set you back, accelerating to top leadership positions will likely also come with a generous salary which will contribute towards a good return on investment.
What's more, you will learn cross-industry business leadership skills, meaning that you'll open doors to a wealth of career opportunities when you graduate.
MBA in Leadership career prospects
Having high-level leadership skills makes you an asset in any industry. As the business world evolves and priorities in sustainability and technological advancement are at the top of the agenda, it's more important than ever to understand what effective leadership looks like in order to lead this change.
In the 2022 GMAC Corporate Recruiters survey, 62% of respondents named leadership skills as most important for business school graduates to have. Plus, 61% said interpersonal skills were important, 60% cited strategy and innovation skills, and 56% said decision-making.
All of these skills are ones you'd learn if you specialize in leadership during your MBA.
After studying a leadership MBA graduates are well-suited to a host of managerial careers such as:
Financial manager
Human resource manager
Project manager
Management analyst
Marketing manager
Investment manager
Healthcare manager
You could even land top C-Suite positions or launch a startup.
Average salaries for MBA in Leadership grads
According to GMAC the average starting salary for MBA grads in the US is US$115,000.
However, fast-tracking to leadership positions can boost your salary prospects even more.
According to US News, financial managers can earn a median salary of £131,710, medical and health services managers earn a median salary of $101,340, management analysts earn a median salary of $93,000, and business operations managers earn a median salary of US$97,970.
Eligibility criteria and admissions process for an MBA in Leadership
To enroll on an MBA program, you'll need to have completed a bachelor's degree and be able to provide copies of your degree certificate and academic transcripts.
If you are a non-native English speaker applying for an English speaking MBA, you will also need to provide evidence of your language proficiency. This may involve taking the TOEFL, IELTS, or DET exam depending on where you are applying to.
You'll also need to show that your academic ability matches up to what is required of you when studying an MBA. This is done by submitting a GMAT or GRE score, or your average GPA. Make sure to take a look at the average acceptance scores for your target schools so you know the threshold you need to reach.
Alongside this, your MBA application consists of a resume, letters of recommendation, and essay answers. Typically, an MBA program requires a minimum of two years' work experience and for an MBA in leadership, you'll need to make sure you show how you have demonstrated leadership skills in your career so far.
You may also be required to pay an application fee.
When assessing your eligibility for the program, business schools take into consideration all aspects of your application. So don't worry if you don't perform as well as you'd hoped in your tests, you can still prove yourself by acing your admissions essay.
If you're successful in your application, it's likely you'll then also be invited to do an interview before securing your place.
For more information on how to successfully navigate the MBA admissions process, check out this free-to-download Full-Time MBA Application Guide.