Is an MBA in Business Strategy Right for You?
Is an MBA in Business Strategy Right for You?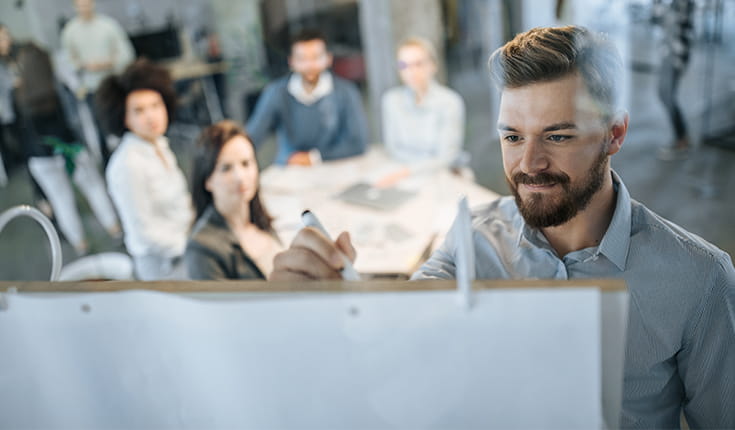 If you see yourself as a change-maker and a visionary, the MBA in Business Strategy might be the ideal fit for you.
According to a report from Strategy&, PwC's strategy consulting arm, companies that had leaders who were most committed to (and confident in) their strategies grew faster and were more profitable than their peers. Only 37% of those surveyed in the report felt their company had a well-defined strategy, and more than 20% said their company had no list of strategic priorities. The report describes nearly four in 10 companies as "strategically adrift", in that they lacked direction.
In today's increasingly competitive business world, the importance of business strategy can't be ignored or downplayed. While turning profit and satisfying stakeholders are both key business objectives, they aren't achievable without an effective business strategy. Pursuing an MBA in Business Strategy can equip you with the tools and confidence to do just this, while also positioning yourself as a highly competitive candidate in the job market.
So, is this degree the right fit for you? Read on to find out.
What is an MBA in Business Strategy?
An MBA in Business Strategy is a program that teaches students how to make big-picture management decisions that improve a company's overall performance. It requires a mastery of business theory about what factors influence a company's success or failure.
The core curriculum will likely cover the fundamentals of managing business development and growth; understanding corporate innovation; implementing strategy; and engaging in business analytics. Throughout the course, students will develop their skills in communication and liaising; decision-making and problem-solving; as well as strategic thinking, and compliance with regulations.
MBA in Business Strategy syllabus
The syllabus for an MBA in Business Strategy does vary depending on the school and specific program, but it typically includes courses that cover the following topics to name a few:
Technology and innovation strategy
Intellectual capital management
Strategy formulation and implementation
Regulatory compliance
Competitive strategy
Managing existing businesses
Corporate strategy and decision making
Management consulting
Often, the MBA in Business Strategy takes a multidisciplinary approach and teaches about successful consulting, decision-making in the global context, enforcing corporate policies, and making strategic decisions. It also equips you with the practical skills to interpret data and various reports and forecasts to make well-rounded, future-oriented decisions.
As the syllabus varies from school to school, it's worth considering the following factors before enrolling onto an MBA in Business Strategy course:
Which specialization do you prefer – for example, corporate, regulatory, or competitive business strategist?
Would like to focus on technology or marketing topics?
Are communication and consulting more critical for your career?
Would prefer to be an entrepreneur or manage an existing business?
What's the course duration for an MBA in Business Strategy?
Typically, the full-time MBA in Business Strategy program takes between one-and-a-half to two years to complete, depending on the business school you choose. However, completing your degree will likely take much longer if you opt for a part-time course.
In terms of program delivery, most business schools offer this MBA on-campus, however, there are options for online and hybrid learning approaches available too.
If you currently have a job you wish to continue alongside your education, then a part-time or online MBA in Business Strategy may be more suitable. However, a full-time program could offer a more immersive experience – if you have the time to invest.
What are the eligibility criteria for MBA in Business Strategy courses?
The eligibility criteria vary depending on the school and the country in which you choose to study. While some universities require prior work experience, others may require consistent academic background. Many programs in business strategy also assess your communication ability, so group discussions may well be a part of the evaluation.
Online and part-time courses often welcome people from different academic backgrounds. However, a common thread for consideration among most business schools offering MBA programs in business strategy is the requirement for a threshold GMAT score.
What are the career prospects after an MBA in Business Strategy?
An MBA in Business Strategy makes students marketable for a variety of high-level positions within businesses, not just consulting roles or positions with 'strategy' in the title. Experts point out that the program provides students with exceptional training for future C-Suite executives, whether that's leading within an established company, or in a startup.
Companies hiring MBA in Business Strategy graduates
Some top companies that hire MBA in Business Strategy graduates include global giants like Deloitte Consulting LLP, Amazon, Intel Corporation, AT&T, and IBM.
Salary prospects of an MBA in Business Strategy
The salaries for roles after this degree vary widely. In the US and Canada, the median salary of a business strategist is US$95,000.
Europe presents a more complex picture. In Spain, a corporate strategy analyst may earn 3,400 Euros per month. This figure increases to 6,210 Euros in the Netherlands. Business analysts in the UK typically earn around £64,487 – which is 52% above the national average income.
In the Middle East, salaries vary depending on location. Wages are higher in Dubai and Abu Dhabi compared with smaller towns in the United Arab Emirates (UAE). However, business strategists can expect to earn around AED 20,000 a month in the UAE.
In Asia, the average annual salary of a business strategist in India is 1,110,000 INR, increasing to 3,290,000 INR at top companies for those with MBA's from the top business schools.
In general, although business strategists do not require specialized certification or licensing, those with an MBA in Business Strategy can expect to stand out and command higher wages.
Where can you study for an MBA in Business Strategy?
Prominent schools to study for an MBA in Business Strategy include:
North America
Wharton, University of Pennsylvania, offers a course called MBA Strategic Management Major, while Stanford University offers an MBA in Strategic Management. Both are top-rated universities and offer full-time programs. Duke University in North Carolina provides an Accelerated Daytime MBA Concentration in Strategy.
Europe
HEC Paris offers a 16-month MBA program in Business Strategy, whereas Warwick Business School (WBS), University of Warwick in the UK, offers a 24-month Executive MBA with a concentration in Strategic Leadership. Similarly, ESMT Berlin in Germany offers a 15-month MBA program in Strategic Leadership.
Asia Pacific
The Nanyang Technological University offers a 12-month MBA program with a concentration in Strategy & Innovation. The Indian School of Business (ISB) offers a Postgraduate Program in Management (PGPM) in Strategy and Leadership. Korea University Business School (KUBS) has a 12-month full-time Global MBA in Strategy.
What is the cost of pursuing an MBA in Business Strategy?
Pursuing an MBA in Business Strategy costs around the same as other MBA programs. However, the exact investment depends on the university and location.
Most universities do provide scholarships and other forms of financial aid.
Does that mean an MBA in Business Strategy is right for you?
If you are interested in a management career involving strategic decision-making, corporate strategy implementation, and a senior role in an organization, an MBA in Business Strategy might be a good choice. The program will help you take on organizational leadership roles and apply analytical and decision-making skills, while earning a good salary.
However, if you are looking for a career in marketing, accounts, or another area of business operations, you can also look at other specialized MBA programs. A good suggestion would be to reflect on what you want to achieve from your post-graduation degree and decide accordingly.