Is An MBA In Business Operations Right for You?
Is An MBA In Business Operations Right for You?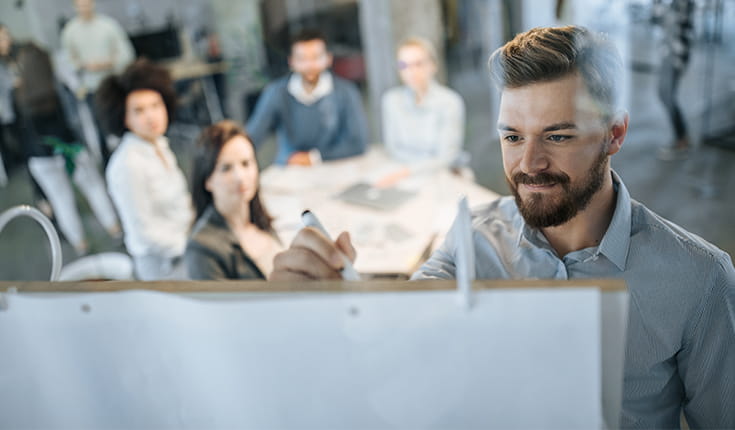 From improving company performance, developing business strategies, to managing budgets – successful operations are critical for businesses.
The term 'business operations' refers to the key processes that underpin the inner workings of a business and help it to function as efficiently as possible.
This includes several essential functions from production, supply chain management, quality control, human resources, customer service to finance.
In the competitive modern business landscape, companies look for employees with operational expertise. This makes it a critical area that business schools look to develop either within a general MBA degree, or through specialist programs in business operations.
So, if you to specialize, what will you study on an MBA in Business Operations? And what career opportunities are available for MBA in Business Operations grads?
Here is everything you need to know.
What is an MBA in Business Operations?
An MBA in Business Operations is a degree focusing on the operational aspects of business management, combining the fundamental MBA curriculum with specialist modules such as Operations Management, Supply Chain Management, Data Analytics, Strategic Planning and many other relevant topics.
Studying an MBA in Business Operations will help you to develop an understanding of how operations function within a business, and how these operations can be optimized to attain organizational goals.
Many business schools offer MBA programs in Operations or Operations Management. Some offer the program as a standalone specialization, while others offer it as a concentration within their general MBA program.
Who is an MBA in Business Operations for?
An MBA in Business Operations is suited to those who work in operations and wish to deepen their knowledge of industry trends and gain a competitive edge in their career.
Or, the MBA suits aspiring operations managers wanting to gain the skills necessary to excel in a leadership position.
It is also popular with business owners and entrepreneurs looking to strengthen their operations knowledge to enhance their business performance.
Even if you have no prior knowledge of operations, this master's degree can set you up with the skills needed to transition your career into the operations management sector.
Why study an MBA in Business Operations?
An MBA in operations will teach you everything you need to know about the various processes that are essential to the stability and success of a business.
The range of topics covered in an MBA in operations will teach you how to develop business strategies, spanning from product design, logistics, marketing to finance.
MBA in Business Operations Course structure
Your MBA in Business Operations will equip you with the foundational skills in operations management which you will need to successfully operate a business and optimize its processes.
Your program will typically begin with a period covering core business concepts to provide you with a grounding in key business practices. This includes areas like accounting, finance, marketing, HR, organizational behavior, and ethics.
At MIT Sloan for example, students are taught core elements of operations research and statistics. This includes modelling analysis, data-mining techniques, consulting issues in operations and system optimization.
Tepper School of Business focuses on building its students' analytical and leadership skills on the MBA in Business Operations. Students can choose from a wide range of electives such as Supply Chain Management, Operations Strategy, Risk Analysis, and Demand Management.
Enrolling in a MBA in Business Operations program could also provide you with the opportunity to gain real-life industry experience, while working alongside a diverse cohort to expand your knowledge and gain a global perspective.
Students at MIT Sloan work on real-world business projects and take part in experiential learning opportunities such as internships, global study trips and entrepreneurship programs.
Often the final part of your MBA in Business Operations program will include a thesis or capstone project, requiring you to delve into your own project or research.
MBA in Business Operations: Electives and specializations
You can often choose to specialize in a specific area of operations for a final project at the end of your MBA program. This will give you a chance to choose the area of business operations that interests you the most and to expand your knowledge of it through an extended project.
Although project specifics vary between business schools, an option might be to develop a comprehensive strategic operations business plan for a new or pre-existing business. Or, you might conduct original research related to supply chain management.
This is opportunity to demonstrate how you would think critically and apply your learning of strategic and operational concepts to real business-related scenarios.
MBA in Business Operations: typical electives
The core part of an MBA in Business Operations or Operations Management will cover a range of business functions. At Tepper School of Business, students on the MBA in Operations Management can choose from a broad variety of electives such as:
Demand Management

Price Optimization

Supply Chain Management

Risk Analytics

Operations Strategy

Sustainable Operations

Service Management

Six Sigma Tools and Techniques
When studying an MBA in Business Operations you can expect to cover other critical topics such as:
Capacity Planning

Technology Adoption

Sustainability

Logistic Management

Transportation Management

Supply Chain Coordination

Process Mapping

Statistical Analysis

Supply Chain Risk Management and Analytics

Global Operations
Where can you study an MBA in Business Operations?
As demand for individuals with advanced skills in operations grows, MBA programs in Business Operations or Operations Management can attract high-level applicants.
Kellogg School of Management, Northwestern University offers an Operations Management program as part of its full-time MBA program.
Similarly, Tuck School of Business, Dartmouth College, offers an Operations Management Science electives as part of its MBA program.
MIT Sloan offers an MBA program with a focus on Operations. While Haas School of Business, University of California, Berkeley, offers an Operations or an Operations and Information Technology Management specialism as part of its MBA program.
MBA in Operations cost and ROI
An MBA in Operations Management is a significant financial investment.
The MBA program available at MIT Sloan School of Management costs around US$90,000 a year in fees for its two-year duration, while tuition costs for the Tepper School of Business' MBA program are US$72,800 per year.
Graduates from MBA programs can however expect to see a good return on their investment. MBA grads from Tepper School of Business reported an average 136% increase on their pre-MBA salary, earning an average salary of US$148,000.
Armed with an MBA in Business Operations, you can expect to open doors to high paying roles within operations.
The networking opportunities made available to you during this degree will also connect you with a strong professional network, which can contribute to your long-term career growth.
With this degree you can also expect to excel in leadership positions which may come with increased salaries. The average salary of a general operations manager in the US ranges from US$96,500–125,000.
Career prospects after an MBA in Business Operations
An MBA in Business Operations can enhance your career prospects across various industries. With an MBA in operations you'll be able to effectively manage critical business functions such as operations, supply chains, and logistics.
Typical career paths for MBA in Business Operations grads include:
Operations manager

Supply chain manager

Logistics manager

Process improvement manager

Operations consultant

Project manager

Operations executive

Area operations manager

Inventory control manager
Top companies hiring MBA in Business Operations grads
MBA graduates can expect to receive job offers from a variety of companies.
Almost 97% of the last pool of MBA grads from MIT Sloan received job offers within the first three months after graduating with an MBA.
At MIT Sloan, for example, recruiting companies from the MBA program include:
Amazon

Netflix

Pfizer

SAP

Samsung

Microsoft

L.E.K Consulting

Google

Deloitte consulting
MBA in Business Operations: Admissions process
Most business schools in the US hold specific eligibility requirements for their MBA programs.
Schools will typically require you to hold a bachelor's degree from an accredited university. If you are a non-native English speaker applying for an English-speaking MBA, then you will have to provide proof of your English proficiency. At Kellogg School of Management, international candidates must provide proof of a TOEFL or IELTS.
You will also be expected to take standardized tests such as the GMAT or GRE exam, but it is best to check the specific requirements of your shortlisted schools to check which exams the school recognizes.
Along with your test scores, schools tend to require you to send an application form including a resume, CV, personal statement, and essay.
Tepper School of Business, for example, requires a resume, educational transcript, test scores, language proficiency exam, essay, personal recommendation, application fee and video essay explaining your goals, which is then followed by an interview.
You should utilize the application process as an opportunity to convey why you want to attend the business school and how the program aligns with your career goals.
Pursuing an MBA in Business Operations will set you up with the skills needed to drive effective and efficient business operations and services, making you a valuable asset to a range of companies.
For more information on how to successfully navigate the MBA admissions process, check out our free-to-download MBA Application Guide.