Why You Should Get An MBA in Cyber Security Management
Why You Should Get An MBA in Cyber Security Management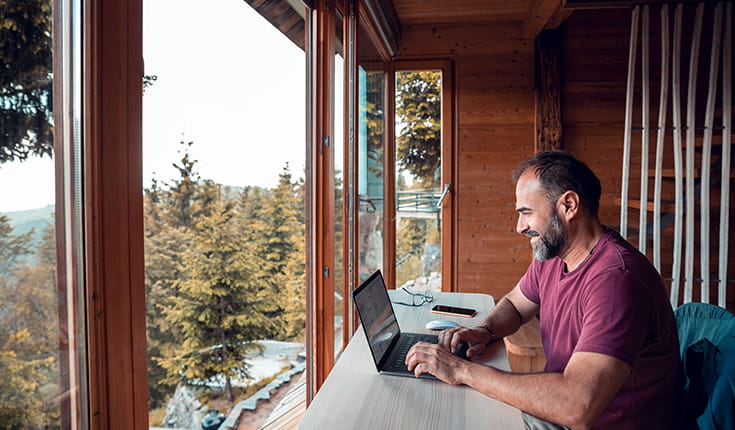 Cybersecurity is a fast-growing industry. As the number of yearly cyber attacks grows, organizations are realizing the importance of protecting data and technological assets. As a result, cybersecurity professionals and increasingly in demand.
A growing number of business schools are capitalizing on the demand for cybersecurity experts by creating specialized MBA programs that focus on cyber security management. These cyber security degrees follow a similar curriculum to traditional MBAs but with additional courses on data security and preventing cyber attacks.
One of these specialized cyber security degrees is the MBA program in Cybersecurity at the Florida Institute of Technology Nathan M. Bisk College of Business. The 100% online MBA program
To find out more about why these innovative MBAs in cyber security are so popular, we spoke to Dr. Christian Sonnenberg, associate dean of online and off-campus programs and an associate professor in Information Systems at Nathan M. Bisk College of Business.
In your opinion, is it important that senior managers are also knowledgeable in cyber security in today's business world? Why?
It is extremely important in today's business environment that managers and leaders of an organization be familiar with cybersecurity and its foundations. A cybersecurity attack can be devastating to a company, causing significant damage to resources and reputation.
As the scope and impact have increased, so has the need for cybersecurity to be seen as a holistic endeavor across the entire business, not just purely a technical one. Ultimately, managers need to balance the welfare and security of their users and systems with the underlying costs and effects on stakeholders.
A business leader needs to be aware of what cybersecurity methods and countermeasures bring to the table so they can make informed strategic decisions that might affect the entire company.
Every form of security protection is a method of risk management and reduction; no system is ever fully 100% secure. The good business leader knows where to get the most for their money and devote resources towards proper methods that minimize risk and maximize investments.
What are the benefits of pursuing an MBA with a cyber security focus?
An MBA in Cybersecurity provides working professionals with a combination of technical foundations and business skills necessary to take on management roles in an organization. It serves as a hybrid that allows both non-technical business workers and technically skilled developers to engage in a common goal. This has the added benefit of allowing each type of individual the opportunity to impart their own personal experiences in their respective industries to other students.
It also has the benefit of being, at its core, an MBA, with all the advantages that come with it, including overall higher marketability, salary potential, and networking opportunities.
Having a specialization in Cybersecurity further increases potential salary gains, and it positions students in a high-demand field with extensive opportunities for growth and advancement.
How technical is the MBA in Cyber Security in comparison with a traditional MBA program? What's the split between traditional MBA topics and cyber security modules?
The MBA in Cybersecurity is more technical than a traditional MBA but not as technical as a Business Master's purely devoted to the field.
All MBA students begin our program through a series of core business courses, starting with our "Essentials of Business Development" series designed to give students the prerequisite knowledge in foundational areas such as accounting, finance, statistics, economics, and management.
After taking a few core courses in these foundation disciplines, MBA Cybersecurity students then take a series of technical cybersecurity modules in their field, including host-based security, network security, and enterprise security.
Overall, students take 8 courses in the business field and 4 in the technical domain for a total of 12 classes or 36 credits. Students with prior undergraduate business experience may elect to waive two introductory courses in place for other, more technical electives.
Unlike other, more technical degrees, the MBA in Cybersecurity does not require any prerequisite programming knowledge. All technical projects are designed to introduce students to the material from the ground up.
How do students learn on the MBA? Are there many practical projects involved?
MBA students learn through a mix of assignments, discussions, and projects. Every week, students will engage with their classmates over topics relevant to the security industry and share articles and material on the latest attacks.
Throughout their technical courses, students then engage in a variety of hands-on projects. For example, in our Introduction to Security Management course, students will use a packet sniffer to monitor network activity, employ cryptography tools to make and break encryption, and walk through an entire mockup website testing for and analyzing various security vulnerabilities.
In the final strategic management capstone course, all MBA students then work in teams on a comprehensive strategic plan, identifying opportunities and threats that their given firm is facing. This ties in their technical understanding from the cybersecurity electives with the overall business acumen needed to be a manager in the industry.
What career options are available to graduates of the MBA in Cyber Security?
An MBA in Cybersecurity opens up doors to higher-level administrative positions in an organization, either advising or directly implementing security policies and strategies.
Some of these roles include Security Business Analyst, Security Consultant, Security Policy Advisor, Information Security Analyst, and Security Engineer.
It largely depends upon how much an individual prefers to work in the technical realm and how much business oversight they wish to have. Ultimately, with enough time and effort, graduates may move into top-level positions such as Chief Information Security Officer or Chief Technical Officer.
Do you expect that more professionals will pursue specialized cyber security MBA degrees and cyber security degrees in the future?
An MBA Cybersecurity degree is one of the most highly rewarding degrees available for graduate students today, and one of our most popular degrees at the university.
The potential return on investment in the industry makes it a solid choice for individuals that wish to leverage the power of an MBA with the technical expertise of the security field. Its position as a hybrid blend of both areas means that students can enter it from different avenues: those that have prior business experience that wish to supplement it with cybersecurity knowledge, and those working in a technical field but wishing to rise the ranks into higher-level administration.
As the US Bureau of Labor Statistics confirmed, the growth rate of jobs in this industry for the next 10 years is roughly 35%, significantly higher than the average for other industries. Given this environment, we foresee this degree to remain a popular one for years to come.
Why do you think business professionals should consider a business degree with a cyber security specialization?
Business professionals are responsible for the effective and efficient use of company resources across a wide variety of functional areas, including that of cybersecurity. While the industry has prioritized the need for successful security measures, there remains a shortage of highly qualified security professionals to take on and manage these tasks. The industry now knows that information security is not purely a technical area and requires a broad understanding of the impact on resources and the organization.
A purely technically skilled security programmer might know how to encrypt a database, but they may not have a broader understanding of the scope of the data inside and how it is used across the organization.
Managers need to not only grasp the technical aspects but how to assess and address risk across different types of attacks and platforms, all while managing a limited budget. The planning and strategy necessary to effectively orchestrate resources for these risks are what makes such a degree so valuable to business professionals.