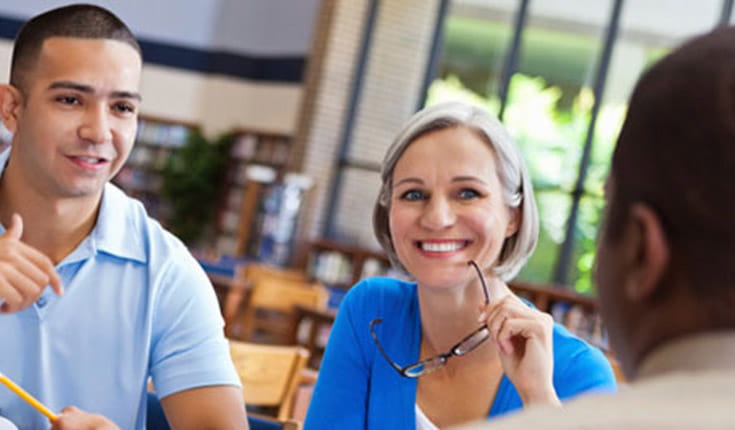 Have a question about a program? Turn to a school's admissions staff.
Schools are there to help. From the application process to job placement, staff and administrators are a valuable resource for students.
Recruiting and admissions professionals are responsible for marketing their school to candidates and evaluating applications. So, whatever your question, they can find an answer. Wondering what the culture of a school is like? Trying to determine if their school is a good fit for you? Ask a school's admissions office to answer questions regarding the campus culture, such as:
How would you describe the student body?
How do staff and faculty contribute to program culture?
Can you connect me with alumni from my anticipated career track or area of study?
One of the best opportunities you'll have for connecting with admissions staff is at school recruiting events such as those found on our Events page.
Admissions personnel are eager to meet prospective students and answer your questions at information sessions, business school fairs, and forums or receptions. If you attend a larger, multi-school event, be prepared that admissions staff will likely be more focused on marketing their schools as opposed to evaluating individual applicants. Because they will have limited time to talk, be prepared to ask questions that are not covered in the schools' informational materials.
Quick Tips for Connecting with Staff:
Do your research. Evaluate schools and programs beforehand and decide which ones appear to be the best fit.
Be prepared. Admissions staff may ask about your background, goals, and interests so they can offer you the best advice.
Ask questions. Don't be afraid to ask clear, well-focused questions, such as:
"As a prospective student studying [your intended concentration], with an interest in [the career area you want to work in], what might recruiters in my desired industry be looking for in terms of specific courses and electives?
"What parts of your application do you weigh most heavily?"
Steer away from questions that don't reinforce your interests and demonstrate your commitment:
"Why should I come to your school?"
This question makes you sound unfocused and unprepared for graduate school.
"What are my chances for admission?"
This is an impossible question to answer, as multiple factors are considered in admissions decisions.