School Expert Q&A: School of Inspired Leadership
School Expert Q&A: SOIL Institute of Management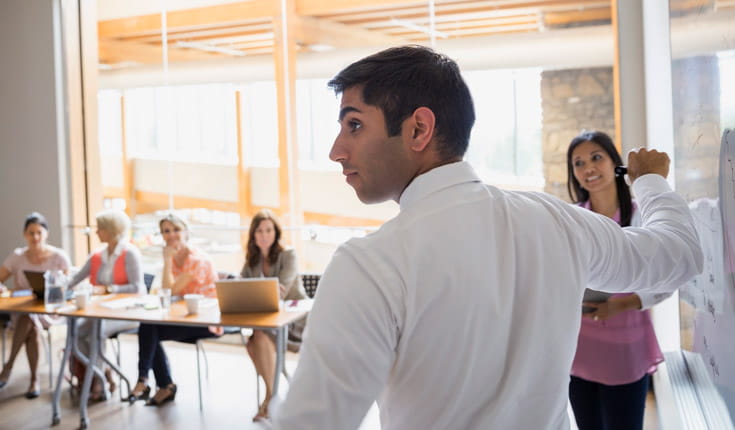 About the Program
Name of the school: SOIL Institute of Management
School location: Gurgaon (Delhi NCR), Haryana
Year school started: 2008
Name of the program: 1-year PGPM Business Leadership, 2-year AICTE Approved PGDM Business Design, 1-year PGPM Human Resources
For GMAT accepting programs, click here
NMAT
Admission Criteria
NMAT score range: Exam cut off accepted- 170+
Work Experience requirement, if any? PGPM Business Leadership: Graduates with 2+ years of work ex, PGPM Human Resources: Work exp is preferred, but it is not mandatory, PGDM Business Design: Fresh college graduates as well as students with 0-2 years of experience.
Interview Process: At SOIL, we focus on a Profile-based admission process and not an exam based one. We understand that the traditional method of selecting students based on academic & test scores does not give a clear view of the candidate. The following parameters are accounted during a SOIL evaluation: Work ex (if any), extra-curricular activities, performance in PI, academic performance & most importantly, the capacity to think, learn, action, communicate and relate to others.
Group Discussion Process: SOIL Institute of Management has designed its admission and interview process in such a way that it helps the candidate to assess their personality in a holistic manner. SOIL is one of the few B Schools which doesn't have a Group Discussion as part of its Admissions process. It instead conducts a group exercise based on live leadership and projects during this round.
Any other requirement in the admissions process? Committed to making a difference in people's lives, has good communication & analytical skills, a completed Bachelor's degree in any discipline from a recognized institution with at least 50% in graduation, greater than 60% in 10th & 12th Standard Examinations, PGPM Business Leadership requires work experience
Application Process
How does one apply for the programme? Online application portal: Apply online on the official website
What is the Application fee? INR 2000/-
Where do I get a copy of the Application form? You can access the online application form the official website
When does the application process start? July 2021
What is the last date to apply? For PGPM Programs: March 2022; For PGDM Program: May 2022
Admission Process
What was the NMAT score cut-off for accepted students? 170
What constitutes work experience? Work experience at any corporate, NGO or Govt organisation
When should I expect an invitation for an interview? Within 2 weeks of submission of the application
Who should I contact if I have a question regarding my application? For PGPM Programs - admissions@soilindia.net | 9654467153
For PGDM Program – pgdm@soil.edu.in | 9910170759 or 9717280018
Applicants will have to go through the following process:
For PGPM Programs
1. Submit Online Application form
2. Complete SOIL Talent Assessment Test (STAT)
3. Pre-Interview Assessment
4. Personal Interview round
5. Admission Results
6. Scholarship & Enrolment

For PGDM Program:
1. Submit Online Application form
2. Attend Design Thinking Workshop
3. Personal Interview round
4. Admissions Results
5. Scholarship & Enrolment
Fees & other expenses
What is the estimated cost for the entire program for a student? 1-year PGPM Business Leadership – INR 16.5 L; 1-year PGPM Human Resources – INR 13.5 L; 2-year PGDM Business Design – INR 12.5 L
What is the cost of living for the duration of the programme? Hostel Fees & Other expenses of about INR 10000 per month during the duration of the program
Are there other costs to be taken into consideration? If yes, what are they? Optional Paid trips – Himalayan Outreach, Global Immersion, Discover India train journey
Financial Support Option Available to Students
What are the scholarship options available for NMAT by GMAC students? In order to encourage talent & support students with limited means, SOIL offers 5 types of Scholarships. The number of seats under each scholarship category are limited. Students seeking scholarships are advised to apply early in the admissions cycle as a majority of scholarships are available in Round 1 & Round 2.
— Need-Based Scholarships | Applicants with family income (excluding applicant's income) of less than INR. 5 lakh per annum
— Merit-Based Scholarships | Exceptional Students with a proven track record in academics.
— Capt.Vikram Batra Scholarships for Defence | Students from the Armed Forces, Students whose parents have served in the Defence Services of India
— Outstanding Work In NGOs/Teach for India/AIESEC Scholarships | Students who are a full-time employee of any Registered NGO or Non-profit Organisations working in social space from last one year or more
What are the criteria for determining scholarship applications? Criteria mentioned above. Each scholarship application is reviewed by the scholarship committee and a holistic view is taken for each decision.
What are the options of availing a loan? SOIL is recognized by most government and private banks in India for education loan sanction purposes. For those seeking educational loans, we are pleased to share that we have partnerships with reputed banks who provide educational loans at nominal interest rates: Axis, HDFC Credila, Avanse
What is the amount of loan that a student is eligible for and what are the documents required? 100% education loan is available.
— Documents: Marksheets, PAN Card, Co-Applicant ITR, SOIL Offer Letter
At what rate of interest is the loan available? It varies 8.75% - 9.10%
What is the date from which loan repayment begins? 6 months after graduation. Depends on bank
What is the maximum period in which a loan is to be repaid? 7-10 years
Does the Institute/School help in getting loan? Yes. Finance department at SOIL has a loan officer that helps with sanction of loan
Curriculum/Faculty/Student Exchange/Hostel Accommodation Facilities of the School/Other Details
How many intakes in a year and when? Single intake
Size of the intake: 250 Students
What are the specializations available? Marketing, Finance, Analytics, Human Resources
What is the geographical representation of the candidates at your school? Any student exchange programs available at your school? 18 states represented: 50% North India, 16-17% South & East India respectively, remaining pan India
What % of the batch finds jobs within 3 months of graduation? 100%
What is the mean starting salary of a class after graduation? Average CTC of our PGPM batch is 10 Lacs PA | Highest CTC is 17.9 Lacs | 126% Average Post MBA Salary Increase
What are the key sectors represented in recruiters for this programme? IT & ITES, Technology Services, Automobile, Manufacturing FMCG BFSI, Consulting and more
Share with us the names of some top recruiters for this programme: Aditya Birla, Anand, Capgemini, Exide, Hero Fin Corp, Infosys, Airtel, Hero, Fabindia, Dr Reddy's Lab, Tata Steel, Accenture, NIIT, Volvo Eicher, Genpact, Mahindra, Aditya Birla Group, Mckinsey, Intellect Design, among others
Does your school run any initiatives to promote classroom diversity? Yes! We have a specific scholarship for women called 'Women in Leadership' Scholarship. We also have special scholarships for diverse candidates like children of Defence personnel, students who have worked in NGOs and so on. Extra weightage for women candidates during admission process scoring is given. We welcome applications from graduates of all streams and encourage students from engineering, commerce and liberal arts background.