The Most Cutting-Edge Innovation MBA Programs in India
The Most Cutting-Edge Innovation MBA Programs in India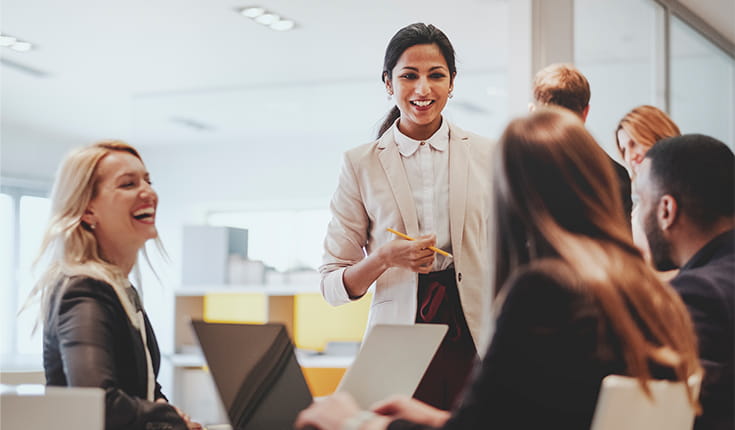 Creating a successful business is not just about having a vision, it's also about having the skills and capabilities to execute your idea. Entrepreneurs require a combination of skills to manage people and projects, build valuable products, understand market conditions, and create a strong customer base.
In GMAC's Prospective Student Survey 2023, half of the students say they would prefer a business degree that is focused on either entrepreneurship or innovation. An imperative part of a business administration curriculum – the study of innovation is offered to students across many management programs in India. These programs combine classroom lessons, workshops, and mentors, and provide incubators and accelerators to create the entrepreneurs of tomorrow.
But where should you go if you want to study for an MBA in innovation? We've researched some of the most innovative programs on offer in India. On these programs you'll develop the skills needed to put you in the best position after you graduate.
Are you thinking about studying abroad for your innovation degree? Then check out some of the most innovative degrees in the US.
1. Global Executive Program in Entrepreneurship and Innovation at SDA Bocconi Asia Center
SDA Bocconi Asia Center is located in Mumbai and offers Post Graduate courses designed by the SDA Bocconi School of Management, Italy. The institute claims to offer 'rigorous academic work meets corporate practical experience' and is accredited by EQUIS, AMBA, and AASCB, placing it among the top management schools in the world.
SDA Bocconi Asia Center's Global Executive Program in Entrepreneurship and Innovation offers students deep insights into lessons from European and Italian family-owned businesses. During the program, students spend around 8 days in Europe and 4 days in Dubai and Abu Dhabi learning about the economic environment and how companies operate in those regions and gaining international entrepreneurial experience. The institute also hosts TedEx Bocconi bringing in speakers like Sarah Sham, Principal Designer at Essajees Atelier, and Nidhi Yasha, the founder of NY Studio, a globally acclaimed costume destination in Mumbai.
The course is 12 months long and focuses largely on luxury businesses and companies. During the program, students learn about innovation and growth in luxury companies, how the luxury segment varies with countries and regions, and how they can build strategies for different markets.
Every year, top companies like Deloitte, EY, ICICI, Vodaphone, KPMG, and Nykaa make their way to SDA Bocconi to bring top management talent into their companies.
The Italian University has produced a huge list of notable alumni, such as Chiara Ferragni, one of the top influencers in the world, and Mario Monti, former Italian prime minister. Ashna Goel, a former student of Bocconi Mumbai went on to build MilkinOats, a popular dairy-free alternative brand.
To join the programme, you need at least a minimum aggregate average of 65% marks of 10th, 12th, and UG. You'll also need at least three years of work experience or a family-owned business. The program fee is 18 lakh rupees plus GST, although this might vary from year to year.
2. MBA in Innovation, Entrepreneurship, and Venture Development at DTU Delhi
Delhi Technological University has a very vibrant innovation and entrepreneurship culture. Students regularly participate in Students Formula SAE and the development of unmanned aerial vehicles with mentorship opportunities from the likes of Lockheed Martin.
The MBA program for Innovation, Entrepreneurship, and Venture Development is spread over two years and has classroom lessons, workshops, and capstone projects to help students implement what they've learned.
The university has an Entrepreneurship Development Centre and an Innovation and Incubation Center. These centers conduct regular workshops on entrepreneurship and connect successful entrepreneurs with students.
The program offers students an option to exit after the first year. If they have acquired the requirements for successful completion of the first year, they may be awarded a Certificate in Entrepreneurship, Innovation, and Venture Development.
The program includes industry visits, guest lectures from faculty from IIMs and JNU, as well as experts from IMF, World Bank, Niti Ayog, and other organizations. The institute has produced a large group of companies including blockchain startups, consulting firms, ed tech companies, and more.
The acceptance into the program is based on graduation marks, case studies, personal interviews, and the availability of seats. The total tuition fee will be around 2.87 lakh rupees, although this might vary from one year to the next.
3. MBA in Innovation and Entrepreneurship at Symbiosis Pune
Symbiosis Pune is one of the premier business schools in India. The institute has numerous achievements in its name and was awarded the diamond rating in Indian colleges and universities by QS I-GAUGE.
The students of the institute consistently win awards at national and international levels. Teams from the institute have regularly become finalists and semi-finalists at competitions and events conducted by Tata, Reliance, Amazon, Godrej, and other companies.
Symbiosis Pune's MBA in Innovation and Entrepreneurship is a two-year program spread over four semesters. Students complete at least one project every year and the program includes subjects such as artificial intelligence and machine learning for business management, Industrial Automation and Robotics lab, and even Venture and Private Equity funding.
Eligible candidates are chosen based on an aptitude test followed by a selection process at the institute that includes written tests, interviews, and group exercises. The academic fees for the program come close to 16 lakh rupees, although this might differ from year to year.
4. Post Graduate Diploma in Management in Innovation, Entrepreneurship, and Venture Creation at XLRI
XLRI Xavier School of Management was established in 1949 and has had a long history of imparting management education to students across India. The school collaborates with multinational companies across the world such as Capgemini, Aditya Birla, Kotak, and others to offer students perspectives on management approaches and styles and help them build their own ventures.
Their two-year Postgraduate diploma in management in Innovation, Entrepreneurship, and Venture Creation is designed to help students understand and solve problems and build businesses around their solutions. The program welcomes the younger generations who want to take their family business in new directions by leveraging modern technology and resources.
The institute has an illustrious list of alumni, from Leena Nair, the first female CHRO at Unilever to Arun Maira, former India chairman for Boston Consulting Group, and Sandip Sen, global CEO and executive director of Aegis Ltd.
Candidates can apply online and will be selected based on their academic record, work experience, and statement of purpose. Shortlisted candidates will be asked to appear for an interview before the final selection. The total course fee is around 15 lakh rupees; however this might vary from one year to the next.
5. PGDM in Innovation, Entrepreneurship, and Venture Creation from EDI
Entrepreneurship Development Institute at Gandhinagar is one of the top institutes in the country for learning about innovation and entrepreneurship. It was ranked number one by the Atal Ranking of Institutions on Innovation Achievements in 2021 and has been recognized as a 'Centre of Excellence' by the Ministry of Skill Development and Entrepreneurship, Government of India.
EDI's Post Graduate Diploma course in innovation, entrepreneurship, and venture creation offers entrepreneurs and family business successors the skills to bring their ideas into reality. The program provides a combination of theoretical learning and first-hand experience and mentorship for students through a two-year period.
EDI has an incubator on campus named Centre for Advancing & Launching Enterprises (CrAdLE) supported by the National Science and Technology Entrepreneurship Development Board. The incubator has incubated 103 startups and raised a total funding of more than thirty crore rupees. In 2020, Tesco ChargeZone, an EV charging startup from CrAdLE raised $3mn in series A funding.
To get admission into the program, candidates need a graduate degree with a minimum of 50% aggregate marks along with scores from a recognized aptitude test. Qualified candidates will be further screened through a personal interview.
6. MBA in Entrepreneurship from Amity
Amity University is ranked among the top 3% of universities in the world for management programs. The university, located in Uttar Pradesh, has state-of-the-art infrastructure and an experienced team of faculty to help students become top management professionals.
Amity University's MBA in Entrepreneurship is a two-year program that teaches students the different aspects of managing a business from human resources and accounting to strategic management and research methodologies.
The program offers students a lot of flexibility to learn and grow their skills. The second year of the course is largely electives such as Entrepreneurship Process & Behavior, Family Business Management, Corporate Entrepreneurship, and projects combined with a single core subject. The university also offers value-added courses on business communication and behavioral science and students are required to study a foreign business language to help them conduct business overseas.
For admission to the program, candidates will be required to take a management aptitude test, followed by a personal interview. The total program fee is around 11.6 lakhs but is subject to change from year to year.
Build your business the smart way with an MBA.
Passion can drive you to innovate, but you need the skills to move it in the right direction. An MBA or a PGDM in innovation and entrepreneurship can help you acquire the skills to build your business and scale up at the same time.
These programs are more than classroom or theory lessons and often work with incubators and accelerators to connect future entrepreneurs with investors, industry experts, and mentors. A management program designed around entrepreneurship can help you take your business in the right direction.