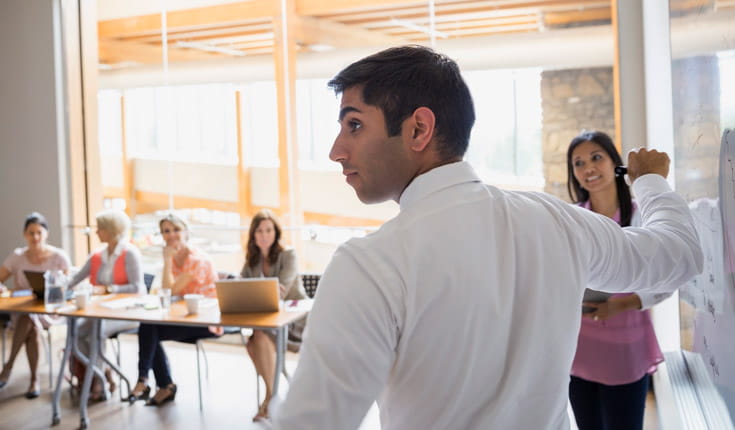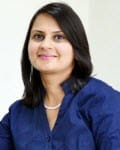 Get answers to your questions about graduate management education from admissions professionals across the globe.
Pallavi Jain is the director of Admissions (Human Resource Management) at the International School of Management Excellence (ISME). Pallavi holds a post-graduate diploma in Management from Symbiosis Institute of Management Studies, Pune, and a post-graduate degree in HRM from Wharton, USA.
Prior to ISME, Pallavi worked for Rallis India Limited, Mumbai and New Delhi, as an assistant manager engaged in establishing training and mentoring programs for newly inducted management trainees. While in the US, she was involved in staffing NVT Quality Consultants on projects and coordinating training programs. As director of Admissions at ISME since 2005, she handles the admissions, orientation, training, and marketing functions of the school.
Pallavi has been active outside her education and academic career. She played a pivotal role in coordinating and organizing written tests, group discussions, and interviews at Symbiosis, Pune. She also participated in community activities by working as a volunteer in the Role Models Program at Carnegie Mellon University.
Pallavi answers your questions below.
---
About the Program
Name of the school: International School of Management Excellence (ISME)
School location: CAP 01, Export Promotion Industrial Park near ITPL, next to Big Bazaar Whitefield Bangalore 560 066
Year school started: 2005
Global Ranking: International Achievers Award for Education Excellence—Thai Entrepreneurs Summit held at Bangkok, Thailand
Name of the program: Post Graduate Programme in Management
Admission Criteria
GMAT™ score: The GMAT score is one of the criteria for admission.
Work experience requirement: Not mandatory.
English proficiency requirement: Understanding of spoken and written English.
Letters of recommendation: Not required.
Interview/Group Discussion: Group discussion and personal interviews for all students.
Selection Procedure for Indian Citizens Applying through GMAT Scores
Eligibility: Admission to the PGPM programme requires a Bachelor's degree (in keeping with the 10 + 2 + 3 system) with minimum 50 percent marks, or an equivalent qualification in any discipline recognized by the Association of Indian Universities (AIU). Candidates appearing for final examinations toward a Bachelor's degree (or equivalent) are also eligible to apply.
Stage I: All candidates who apply to ISME with a GMAT score will be called for an interview, subject to their application form being complete.
Stage II: Group Discussion (GD) and Personal Interview (PI): Candidates will be invited to the ISME campus for group discussions and personal interviews. Outstation students will be invited at the respective locations where the interviews are taking place. Experienced students will be given additional weightage.
Application Process and Timelines
Application: Download an application form at www.isme.in. The application form is also available at Career Guidance Centres such as: TIME, IMS, Career Launcher, Bulls Eye, Erudite, Career Forum, and PT Education.
Application fee: Rs. 1200.
When does the application process start? January for all candidates.
What is the last date to apply? For all students the last dates to receive an application are as follows:

1st round deadline: January 28
2nd round deadline: February 25
3rd round deadline: April 15
Admission Process
What is the range of GMAT scores for accepted students? There is no specific score range for the candidates applying with a GMAT score, but a GMAT total score over 550 is preferred.
Is there a requirement of 16 years of study prior to applying? The requirement is for minimum 15 years of study (10+2+3).
What constitutes work experience? Working for any recognized organization for remuneration.
Is there a minimum cut-off for TOEFL/IELTS/PTE test scores? NA
Who should letters of recommendation come from? NA
When should I expect an invitation for an interview? For all students, within 15 days of receipt of their application.
Who should I contact if I have a question regarding my application status? Write to the admissions office at: admissions@isme.in or contact@isme.in
Fees and Other Expenses
What is the estimated cost for the entire program for a student? Rs.5,60,000/- for the entire course duration.
What is the cost of living for the duration of the program? On-campus cost is included in the above.
Are there other costs to be taken into consideration? If yes what? Yes, personal expenses related to entertainment, travel, books, and security depost.
Are there any job opportunities on campus that can be pursued while the programme is on, to lower the overall cost impact? No.
Available financial support for students? NA
What are the scholarship options available for the students? ISME Merit Scholarship.
What are the criteria for determining scholarship applications? Students who are offered admission to the ISME PGPM programme are automatically considered for a merit-based scholarship. Scholarships of up to Rs. 1,00,000 (One Lakh only) are selectively awarded to students based on a holistic review of the application for admission and to recognize outstanding full-time students who have achieved positive academic records in the 10th, 12th, and undergraduate program.
What are the options of availing a loan? ISME is committed to assisting students in finding the necessary financial resources for their education and will assist in providing the necessary information for obtaining a bank loan. ISME has institutional approval from banks such as Bank of India, Central Bank of India, Canara Bank, and HDFC Credila. Students in the past have received loans from SBI, Union Bank of India, Punjab National Bank, Bank of Baroda, Oriental Bank of Commerce, and many other nationalized banks.
What is the amount of loan that a student is eligible for and what are the documents required? It depends upon the loan requirement of the student and what security the student provides to the bank for processing.
At what rate of interest is the loan available? What is the date from which loan repayment begins? What is the maximum period in which a loan is to be repaid? Most banks are charging interest rate at 13.75% p.a. The loan repayment begins usually after one year of completion of the course. Usually the banks offer around 84 equated monthly installments.
Does the Institute/School help in getting loan? Yes, ISME provides the necessary documents required for bank approval.
Curriculum/Faculty/Student Exchange/Hostel Accommodation Facilities of the School
How many intakes in a year and when? Once in a year in July.
Size of the intake? 120
What is the % of foreign students in an average class/intake? NA
What are the specializations available?

Major specializations include:

Marketing
Finance
Human Resource Management

Minor specializations include a combination of:

Marketing/Finance
Finance/Marketing
Finance/HR, HR/Marketing
Operations Management / IT

What percent of the batch finds jobs within 3 months of graduation? 100 percent.
What is the mean starting salary of a class after graduation? Mean salary of Rs. 4,50,000/- per annum.
What are the key sectors represented in recruiters for this programme?

FMCG/Brand Management/Marketing Companies
Advertising Agencies
Marketing Research Companies
Media
IT sector
Banking sector
Consultancy
Consumer Durable
Education sector
HR
Manufacturing sector
Pharmaceutical sector
Telecom sector and Service sector
Retail