GMAC Members Set New Standards for Business School Rankings Data
GMAC Members Set New Standards for Business School Rankings Data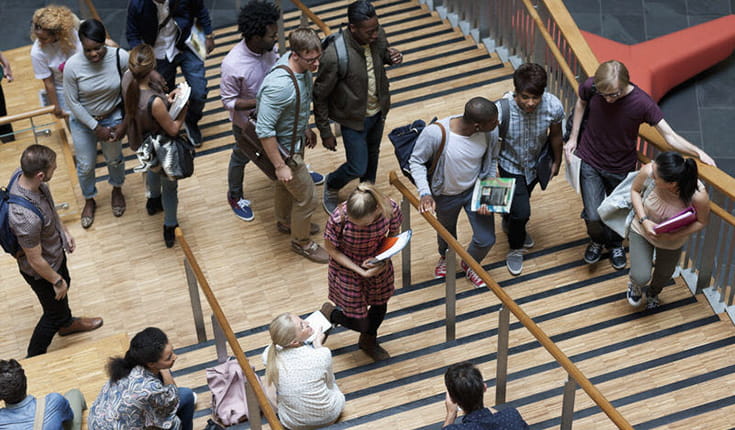 Have you ever wondered what rules schools follow when they submit data for business school rankings? Last month, US member schools of the Graduate Management Admission Council (GMAC) voted to endorse the GME Admissions Reporting Standards—a newly revised document of industry-wide standards for public reporting of admissions statistics for business school ranking publications.
This endorsement vote is the culmination of a multiyear, school-led initiative to update reporting standards that were last endorsed in 2013. A total of 10 representatives from business schools comprised the task force that revised the standards, led by Marci Armstrong, Professor of Practice, Marketing, and Director of the Brierley Institute for Customer Engagement at the Cox School of Business at Southern Methodist University.
"What these standards do is send a very important signal," says Armstrong. "It's a signal to the wider business school community—including prospective students, current students, and alumni, as well as employers and rankings organizations—that we want to have apples-to-apples, oranges-to-oranges comparisons between programs. Adherence to these standards creates trust that all schools are on a level playing field, and that, as an industry, we're behaving ethically and that we came together to do it."
Why new business school ranking data standards are needed
Since the last standards were endorsed back in 2013, the graduate business school landscape has changed dramatically. From the successful launch of a myriad specialized business master's programs and online MBAs to the global spread of graduate business programs, the industry has innovated and grown globally. While the traditional full-time, two-year MBA remains the most sought-after graduate business degree, it no longer represents the only path to successful business careers.
As a result, schools voiced their opinion to GMAC—the global mission-driven organization of leading graduate business schools and operators of the GMAT™ exam—that they should revisit the standards and provide an update.
"Schools asked for the old industry standards to be revised as they were outdated and no longer accurately reflected the breadth of graduate programs at business schools," says Nita Swinsick, Assistant Dean of Recruitment and Admissions at the Georgetown University McDonough School of Business and member of the task force.
Beginning in January 2019, GMAC responded to requests that they be more active in setting and maintaining industry standards for reporting admissions statistics by forming a new task force. This group was charged with reviewing the MBA Reporting Criteria and setting new GME Admissions Reporting Standards that align with today's best practices.
How the MBA ranking data standards help applicants
Every year, thousands of prospective MBA applicants check out the latest MBA rankings to get the scoop on who's up and who's down as they deliberate about where they'll submit applications. These revised standards help ensure that the information disseminated about GME programs is reliable, accurate, useful, and comparable for prospective students and for media outlets collecting data to rank GME programs.
"Prospective students are at the heart of why the standards were updated," explains Georgetown McDonough's Swinsick. "The standards enable candidates to compare schools, and even different programs within the same school, with the confidence that they are basing their decision-making on accurate comparisons. However, this is only true for schools that have endorsed and agreed to adhere to the reporting standards. Therefore, the greater the number of schools that adhere to the standards, the greater the value gained by prospective students."
Schools adopting the standards are asked to indicate adherence when they publish their data on their websites. GMAC will review (and revise as needed) the standards on a two-year cycle. GMAC will convene a new task force in the first half of 2022 to begin the revision process.
Want to learn more about what goes into the most popular MBA rankings? Check out the mba.com User's Guide to Full-Time MBA Rankings for insight into the methodologies of the five major business school rankings, information about how they change year-to-year, and other useful analysis.