How GMAT Focus Edition Reduces Test Anxiety 
How GMAT™ Focus Edition Reduces Test Anxiety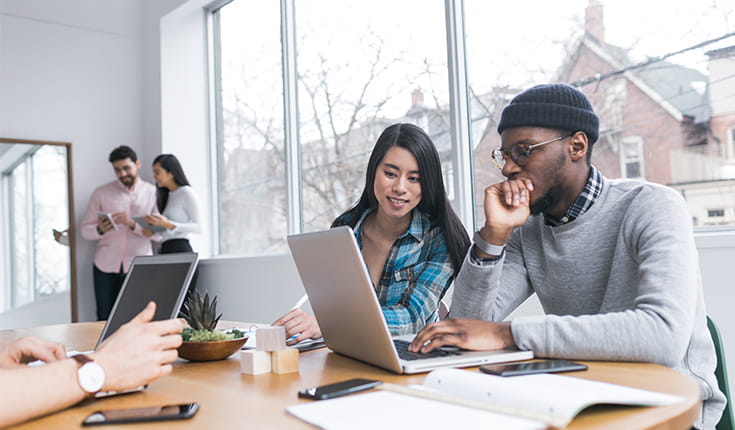 Are you someone whose heart starts beating faster and fingers begin shaking when you think about taking a standardized test? Then you might have test anxiety.
Feeling stressed before an exam is normal, but test anxiety can make sitting for exams like the GMAT far more difficult. And that's not ideal when you're counting on a good GMAT score to get you into your top-choice business school.
But test anxiety doesn't just affect you in the exam – it can derail your prep, too. One study found that students with test anxiety performed less well on exams because they prepared less thoroughly and absorbed less information than those without test anxiety.
So, if you're planning on sitting for the GMAT soon and are wondering how to alleviate some of your test anxiety, the GMAT Focus Edition was designed with you in mind.
The GMAT™ Focus Edition is a streamlined version of the previous GMAT Exam that offers test takers greater control and helps reduce exam day pressure – so you can focus on doing your best.
What is the GMAT Focus Edition?
Redesigned in partnership with leading business schools and prospective business school candidates, the GMAT Focus Edition is the next evolution of the GMAT Exam that tests candidates on the most relevant skills needed for success in the business school classroom and their future careers. This updated version of the GMAT features just 64 questions focused on skills like problem-solving, critical thinking, and data literacy.
If you've taken the previous GMAT Exam before, or are familiar with it, you'll notice some significant improvements in the GMAT Focus Edition. For example, the Focus Edition now consists of just three sections:
Quantitative Reasoning
Verbal Reasoning
Data Insights
Test takers get 45 minutes for each section, plus one optional 10-minute break, making the total length of the GMAT Focus Edition 2 hours and 15 minutes. That's compared to 3 hours and 7 minutes for the previous GMAT exam.
Additionally, with a renewed focus on just the skills that business schools and employers say are critical for success – like problem solving, critical thinking, and data literacy – we removed certain content areas from the GMAT Focus Edition. These include sections like Sentence Correction and the AWA, plus questions that require Geometry to solve.
These changes make the exam more focused, with less content for students to prep and more questions focusing on relevant business skills. Plus, the exam has been designed to reduce test anxiety in GMAT takers, allowing more students to achieve their preferred GMAT score and get to their top business school.
How Can GMAT Focus Edition Reduce Test Anxiety?
As well as a streamlined exam structure, the GMAT Focus Edition contains a variety of tools and other updates that makes it a much more comfortable experience for students with test anxiety. Let's look at those changes and how much of a difference they can make to your anxiety as you prep for the GMAT, and on exam day.
Change responses
The new Question Review & Edit tool in the GMAT Focus Edition gives you more control over the answers to your questions by allowing you to edit responses later. With this tool, you can spend less time on questions you're unsure about, knowing you can go back to these responses and update them.
As you answer questions in any of the three exam sections, you can bookmark questions to review later. Once you've answered all the questions in that section, you'll see the new Question Review & Edit screen, where you can read through all the questions and answers you've bookmarked.
Provided you've got time left, you now have the opportunity to edit up to three of your answers. Review responses and make changes if needed: Question Review & Edit means you can take more time to ensure your answers are as flawless as possible, ensuring a more successful exam experience.
More time to answer questions
The GMAT Focus Edition is nearly one hour shorter than the earlier version of the GMAT exam, which will be a relief for test-takers with anxiety who struggle to stay focused during long exams.
In addition to the Focus Edition having fewer questions than the previous version, it has increased the average time per question to 2.1 minutes – 25% more time than the new GRE General Test.
Personalized section order
You can answer the three sections in any order, giving you more control and flexibility over your GMAT experience.
For example, if you feel strongest in your data analysis, you might answer the Data Insights section first. Or, if you'd rather get Verbal out of the way at the beginning because you feel the least confident about it, you can do that.
You can also take your optional 10-minute break whenever you choose: after the first section, or after the second.
This flexibility means you can adapt the exam to exactly how you've prepared for it, giving you more opportunities to perform better.
More control of score sending
On the Focus Edition, test takers can select which schools they want to receive their free score reports after they've taken the exam, knowing exactly how they have performed. Contrastingly, for other exams like the GRE, test takers must pick which schools receive their free score reports before they've even had a chance to answer their first question.
Once again, the GMAT Focus Edition puts the test taker first, providing an experience that lets you focus on doing your best without worrying about your score going to schools yet.
What GMAT Experts Say About the GMAT Focus Edition
Hailey Cusimano is the Director of Tutoring at Menlo Coaching, where she coaches business school applicants to GMAT success. In her view, the changes made to the GMAT for the new Focus Edition will particularly benefit those students who find preparing and taking exams difficult.
"Almost every student I work with is already balancing their GMAT preparation against a very aggressive full-time job," Hailey explains. "So, looking at something that's one, a little more short and sweet, and two, gives more opportunity for flexibility bodes very well for test takers."
In particular, Hailey mentions the Question Review & Edit tool as one way the new GMAT Focus Edition will result in more exam success for test-takers with test anxiety.
"The GMAT has never been testing students on being flawless in their understanding of English grammar and math, but being intentional, thoughtful, and resourceful when they aren't 100% confident," she adds. "The added Review & Edit function helps reinforce that potential and keeps students from getting in their own way.
"The changes to me pretty universally seem to make this exam more friendly without necessarily making it easier for these ambitious, hard-working students who are taking it."
Are you ready to take the GMAT Focus Edition? Register now for exam appointments starting November 7, 2023.