3 Ways the Executive Assessment Test Is a Step Towards a More Rewarding Career
3 Ways the Executive Assessment Test Is a Step Towards a More Rewarding Career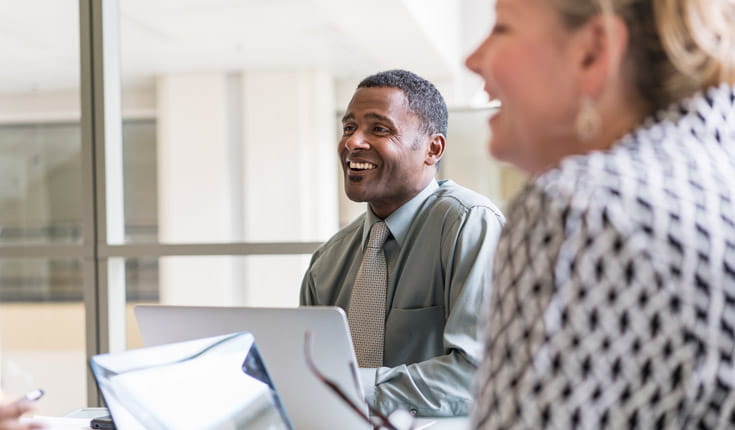 If you're looking to advance your career, then the Executive Assessment (EA) from GMAC™ can help.
The Executive Assessment is used in the admissions processes of many Executive Masters of Business Administration (EMBA) programs at top business schools around the world.
With the Executive Assessment, followed by an EMBA, you'll be well on your way to a career that is more rewarding. Whether you want a promotion, greater job satisfaction, or a pay increase, find out how the Executive Assessment can help get you there.
1. Pursuing an EMBA can help lead to greater job satisfaction
Greater job satisfaction is a common reason why many professionals pursue an EMBA. Of course, what makes a career satisfying varies from person to person. What is consistent, however, is that an EMBA, which the Executive Assessment can help you get into, helps graduates find the career that is right for them.
For example, you may be looking for a career where you can take on more leadership roles. Our research shows that EMBA alumni most value their program because it prepares them for leadership positions. Alternatively, you may be looking to start your own business. We have found that 13 percent of EMBA alumni become entrepreneurs, which is a higher rate than average for graduate business school programs overall. Furthermore, 96 percent of EMBA alumni say their program was personally rewarding, while 89 percent say it was professionally rewarding.
2. The Executive Assessment followed by an EMBA can open up opportunities for career growth
Many EMBA students are currently looking to advance in their current careers, as opposed to switching careers entirely. The Executive Assessment test, which requires minimal preparation and takes just 90 minutes to complete, has been designed for busy professionals who are looking to grow in their careers.
As Skip Calvert who enrolled in the Darden Executive Program says, "I would absolutely recommend my colleagues taking the EA, especially for executives that don't have the ability to study, you know, four to five hours a night."
Our research proves that an EMBA has a direct impact on career advancement. For example, 89% of EMBA alumni say the skills they learned in business school advanced their careers and two thirds say that they received more promotions upon graduation.
However, it's not just after completing their EMBA that graduates are promoted. According to the Executive MBA Council (EMBAC), 39 percent of EMBA students receive promotions and 54 percent receive increased responsibilities while enrolled in their programs. As EMBA student and working mother Jenn says, "The Executive MBA program really gives me the opportunity to continue with my career progression while going to school." Companies recognize the value that EMBA graduates bring to their organizations, which is why they are often eager to retain them and offer them opportunities for career growth.
Interested in finding out more about how an EMBA can lead to a promotion? Check out Are You After A Promotion? Report Shows an EMBA Could Be Your Ticket To Success.
Similarly, simply taking the Executive Assessment is an opportunity to improve your job skills, which can make it easier for you to grow in your career. As EMBA student Eliza says, "The Executive Assessment helped me brush up on my basic algebra skills, my basic arithmetic skills, because for so many professionals, you start using Excel and calculators for those types of things, and this helps you build up those problem-solving skills and, kind of, brush the dust off some of the things that you maybe hadn't been looking at for the last couple of years."
3. Salary increases are common for those who pursue an EMBA
Last, but certainly not least, taking an executive assessment test in order to get into an EMBA can lead to significant increases in compensation. According to EMBAC, EMBA graduates receive an average 14.6 percent increase in compensation. On average, students saw their total compensation rise from US$174,498 when they started their program to US$197,719 after completing it.
Given that EMBA graduates frequently take on more leadership responsibilities, are more likely to start their own businesses, and are often offered promotions, it is hardly surprising that they also see substantial salary and bonus increases. That may be just one reason why 94 percent of EMBA alumni say they would pursue their program again knowing what they know now.
Are you ready to accelerate your career?
Find out how a business career advancement test can help.