In-Person MBA Events Are Back! Top 5 Tips to Maximize Your Experience
In-Person MBA Events Are Back! Top 5 Tips to Maximize Your Experience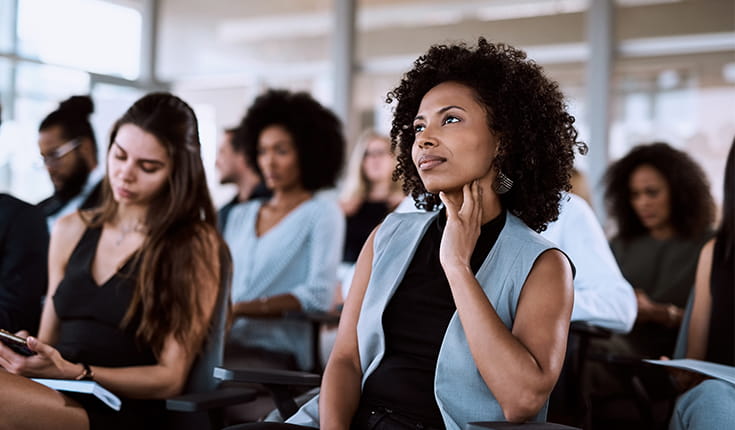 The wait is over! In-person MBA admissions events are back in 2022—just in time for you to take advantage of all they have to offer on your journey to business school.
Meeting with school representatives at MBA events can be one of the most important steps in your business school application process. You'll glean critical information about your target programs that's not available online, including what attending the programs is actually like and whether the school is culturally a good fit. This face-to-face experience is invaluable and will help you decide which b-schools match your personality, circumstance, and goals.
Attending one of the The MBA Tour's upcoming free in-person events is the perfect way to meet with several different schools without having to travel to each campus individually. The MBA Tour events boast a number of great features, including:
Meetups – Small group meetings between school reps and up to six candidates.
Admissions Panels – Presentations on topics of interest led by school reps.
MBA Talks – In-depth presentations (with a Q&A session!) on programs led by school reps.
Resume Clinic – One-on-one sessions for you to hear firsthand how to improve your application.
Networking Mixer – Network with school reps, alumni, event partners, and fellow applicants in a relaxed setting.
⏳ Register FREE for an event in your city!
How to prepare for MBA events: Top 5 tips for success
A little bit of preparation can go a long way to really maximizing your experience at a The MBA Tour event. Here's our top tips for MBA events in 2022.
1. Develop your MBA story and elevator pitch
You'll be in front of admissions personnel from many different schools and programs, so be ready to discuss your motivations and goals for pursuing b-school.
Leveraging the best practices of personal branding can elevate how you craft your personal narrative and help you more effectively make your pitch for why you should be admitted to your top choice programs.
mba.com's free guide Tell Your Story: Personal Branding for MBA Applications provides you with step-by-step, expert guidance on how to position your personal brand for your applications and MBA events to ensure you tell an authentic and compelling narrative that differentiates you from other qualified applicants and sticks in the minds of school representatives.
According to admissions consultant April Thanarat of MBA Key: "Every applicant needs a strong and clear MBA elevator pitch: a concise statement of your personal brand that quickly and genuinely conveys who you are, what you stand for, and what you want to do." Read her top pieces of advice for your MBA elevator pitch.
2. Do your research
Once you've identified the event you'll be attending, research the list of participating schools and come equipped with questions for the representatives.
According to The MBA Tour, "Good questions include those surrounding program offerings, school culture, study abroad options, and internship and recruiting opportunities."
Your questions should align with your goals and be tailored to the different audiences.
Ask schools about their culture, strengths, and career outcomes.
Ask current students about their classmates and professors, what they like most about the program, and what's been most surprising.
Ask alumni about their career services experience, how they've utilized the school network, and how their degree has improved their career.
👀 Read more: 7 Questions to Ask During Business School Admissions Events
Remember to avoid questions that can be easily answered on the school's website.
3. Dress the part
You're there to make a good first impression and before you say anything, you'll be evaluated based on how you look and how you carry yourself. So, you might ask: What's the dress code for MBA events?
The answer: Professional. This means women should wear a nice pants suit or career dress, and men should don a jacket and tie. Everyone should opt for comfortable shoes as you're likely to spend several hours on your feet. In addition to your clothing, make sure you conduct yourself courteously and professionally, much like you would during an interview.
Part of how you present yourself includes your MBA resume (and maybe even business cards), so ensure these are up-to-date, accurate, and reflective of who you are as a candidate.
4. Plan your logistics ahead of time
The last thing you want is an unplanned interruption to derail you on event day. Plan out your transportation in advance; know which buses or trains you'll take, where you'll park, or how far you have to walk. Give yourself plenty of travel time and save the address in your phone in case you need to find an alternate route along the way.
Make the most of your experience by attending presentations, meeting with schools you haven't yet considered, and connecting with current students and alumni. You can stay organized by keeping a notebook with school information and statistics as well as notes about what you've learned at the event.
Finally, it's a good idea to bring water and snacks to help keep your energy up throughout the day.
5. Follow up
Meeting a school representative at an MBA event is only the beginning of your interactions and relationship with them. After you've had a chance to introduce and "pitch" yourself, ask for their contact information.
The rule of thumb is to send a thank-you email within 24 hours of meeting. In your email you can identify yourself, thank them again for their time, and tell them you want to stay in touch. After that you'll want to maintain the conversation through the application process.
👀 Read more: Email Etiquette for MBA Admissions: 4 Essential Tips
Find your best fit MBA program
In-person MBA events are a great way to engage with a wide range of business schools, all in one place. Your ultimate goal for these interactions should be to assess your fit for their programs… but do you know what information to look for and what to ask to get a sense of your fit?
Our free guide, Finding Your Best Fit Full-Time MBA Program, gives you the expert tips and guidance you need to confidently narrow your options and identify the programs that make the most sense for your needs, preferences, and career goals.
Become an mba.com Insider
Create your free account to access exclusive content, application resources, free Official GMAT™ prep, and more!