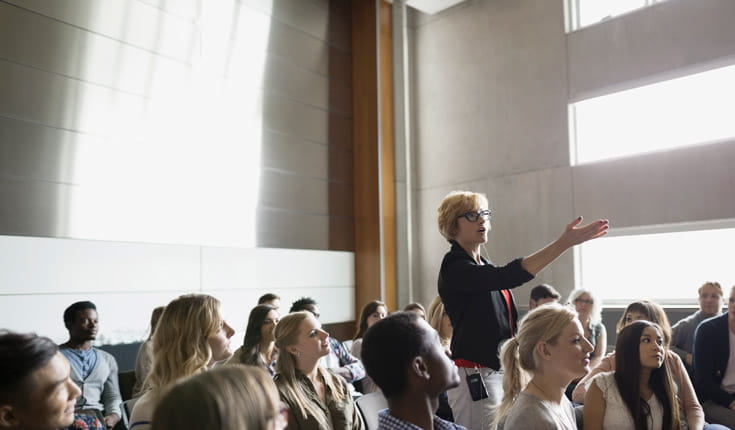 With each March comes International Women's Day and along with it, the opportunity to recognize women around the globe for their achievements. As such, we're highlighting a few notable female professionals who are making an impact in their respective industries—from fintech to education and beyond. With their innovative ideas and admirable accomplishments, these trailblazers serve as an inspiration for all women pursuing their goals in business.
Fintech: Rebecca Liebman, LearnLux
When Rebecca Liebman was still an undergrad, she realized there was a major gap in our educational system—schools were not teaching their students real-world financial literacy. On a mission to democratize access to financial guidance for all Americans (particularly millennials), Liebman co-founded LearnLux in 2015. Through online educational tools and an in-house team of certified financial planners, LearnLux partners with companies to educate their employees on personal finance matters that they may not have learned in school, such as how to manage a 401K or health savings account (HSA).
In 2016, Liebman was named on Forbes "30 Under 30" list. In 2018, LearnLux secured $2 million in seed funding from high-profile investors, including Ashton Kutcher and Salesforce chief executive Marc Benioff. When she started the company, Liebman didn't let the fact that she was a young woman intimidate her; she used it to her advantage. "I was a 20-year-old woman in fintech, one of the most male dominated spaces. Initially, I would go to events and it would be all 60-year-old men, and no one looked like me or thought like me," said Liebman. "I knew I already thought differently about the industry and I think the reason we're so successful and will beat incumbents in the market is because we come from such a different perspective."
Education: Dr. Tererai Trent, Tererai Trent International Foundation
Born in rural Zimbabwe, Dr. Tererai Trent dreamed of getting an education. Despite being married at a young age and having three children by the time she was 18, Trent was determined to overcome her circumstances and the traditional women's roles and norms of her culture. Undeterred, Trent taught herself to read and write from her brother's schoolbooks. Today, she holds multiple degrees and is one of the most internationally recognized voices for quality education and women's rights.
With the firm belief that education is the pathway out of poverty, Trent founded Tererai Trent International in 2011. The foundation's mission is to lead the development and growth of an improved education system supported by socially engaged business models that boost local economies while improving community livelihoods. Gender equality is one of their founding principles. "As a child growing up in poverty, I witnessed how my community consistently prioritized boys over girls in education," said Trent. "These experiences made me want to write a story that decisively validates the value of giving educational opportunities to girls." To date, the Tererai Trent International Foundation's 12 schools have provided 39,000 students in rural Zimbabwe access to education.
Sustainability: Emma Rose, FinalStraw
Early on, Emma Rose discovered her passion for sustainability and protecting the environment. During her time as an undergrad at the University of California, Santa Barbara, she became an anti-plastic activist and petitioned for a ban on single-use plastic bags. Fast forward to 2018, when Rose created the world's first reusable, collapsible straw, known as FinalStraw. To promote her product and jump-start her business, Rose turned to crowdfunding. And it worked. Within 50 hours, her viral Kickstarter campaign raised $200,000. And after 30 days, it raised an impressive $1.89 million.
One of Rose's secrets to success has been surrounding herself with a strong team. "When you trust your team, you can give them the freedom they need to do their jobs autonomously and there is no need to micromanage," said Rose. "Find people who go above and beyond and solve problems that you didn't even know you had." With a successful flagship product, the company is just getting started in their crusade against single-use plastics. They're currently designing an entire line called Foreverables, which will be travel-friendly, easy-to-use alternatives to single-use plastics, such as cutlery. Up next? FinalFork.
Real Estate: Adena Hefets, Divvy Homes
At age 32, Adena Hefets co-founded real estate tech company Divvy Homes with an admirable mission in mind: to make homeownership accessible to more people. Since co-founding Divvy Homes in 2017, Hefets has raised tens of millions, giving more people the opportunity to own a home and build wealth. How? Divvy finds cities where they think owning a home makes financial sense and then offers renters the ability to transition to homeownership with the company's three-year program.
"To me, homeownership is one of the core values of being an American. I think the American dream has been shared across the board and there are just certain buckets of populations, specifically those under 35, minorities, and women who haven't been able to access this dream for the past decade. Divvy serves to offer them an alternative way to get there," said Hefets. And so far, they've helped a number of Americans achieve that dream. Since its launch, the company reports that it has helped get hundreds of people into their own homes by helping save these households on average $5,000.
Human Resources Technology: Georgene Huang, Fairygodboss
In 2014, Georgene Huang found herself in a predicament. After a management shakeup at her company, she was let go from her executive role. At the time, she was two months pregnant. While she was interviewing for a new position, she wanted to ask questions about work-life balance and maternity leave policies but, fearing negative judgement, she kept her pregnancy a secret.
After going through that experience, Huang wanted to hear from other career-minded women about how they overcame similar challenges. In 2015, Huang founded Fairygodboss, a career community dedicated to helping women get the inside scoop on culture, benefits and job reviews from other women. "The idea that we're helping women make better career and job decisions and avoid bad places to work is inspiring," said Huang. Today, millions of women visit Fairygodboss for career connections, jobs, community advice, virtual events and hard-to-find intel about how companies treat women.
Here's to women supporting women. These women are doing amazing things in business and while they deserve to be recognized for their accomplishments, we shouldn't stop there. It's also important to support our fellow women—in business school and beyond. Here's how you can start doing just that.
Want to read more inspirational stories about powerhouse women? Create an mba.com account to explore more.