From Economics to Banking with an MBA
From Economics to Banking with an MBA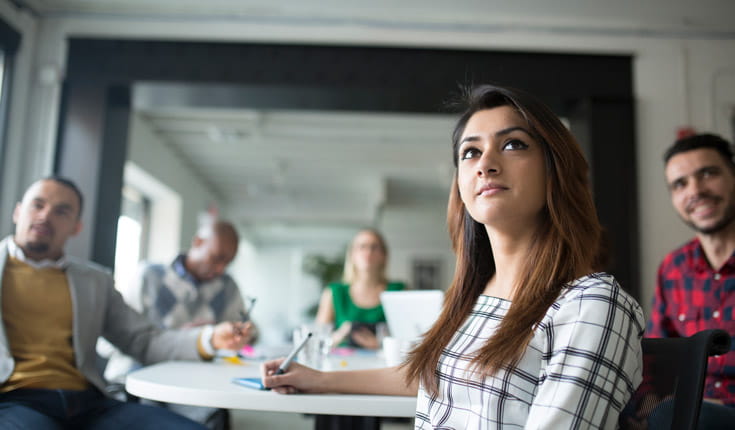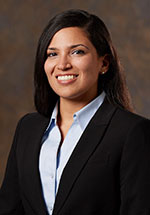 "I worked on some big projects and realized I could have an even more consequential impact in a different role. That changed my mind about the future, and I began thinking seriously about getting an MBA."
Name: Nilvea Malavé Torres
University: Carnegie Mellon University
School/College: Tepper School of Business
Program and graduation date: Full-time MBA, 2019
Undergraduate program:
University of Puerto Rico, Economics & Sociology
Upon completing a summer internship with the Global Leadership program at MetLife in New York City, MBA student Malavé Torres reflects on the opportunity. "It's been an amazing experience. My background is not in insurance, but banking, so the internship rounded out my experience and helped me understand how MetLife works with different countries." If she returns to MetLife following graduation, she'll complete a rotational five-year program, with at least one rotation in another country to ensure that the company's future leaders can think beyond the conditions in the U.S. to understand different markets across the globe.
How did your undergraduate degree provide a foundation for where you're headed after the MBA?
I earned an undergraduate degree in economics and sociology and a master's in economics, and my plan was to then get a PhD in economics. While I was finishing my masters, though, I worked in research in the strategy group at Banco Popular de Puerto Rico, and that expanded my understanding about what you can do as a professional in banking. I worked on some big projects, and realized I could have an even more consequential impact in a different role. That changed my mind about the future, and I began thinking seriously about getting an MBA.
I want to return to Puerto Rico eventually, but I'm planning to stay in the States for a few years to maximize my career progression, learn more, and grow my network before going back. Puerto Rico has been going through a depression for the last 12 years or so, and with Hurricane Maria, the situation has become worse. I want to help, but I'll be able to do that better after developing connections outside the island first.
What was most helpful to you throughout your business school decision and application process?
I heard about Forté and listened in on some webinars that helped me see myself in a career that utilized an MBA. Once I decided to pursue it, I applied for the Forté MBALaunch program and completed it in 2016—that is nine months in an online support group, where you participate in webinars and online meetings, study for the GMAT together, practice essay writing, and have access to a second-year MBA student mentor. Our mentor was super helpful, giving us advice on dealing with stress and feedback on our essays. My group members were all from different countries, and we all went to different schools in different cities, but we became very good friends. I'm really grateful because the MBALaunch program helped me stay on track. I had wanted to apply a year earlier, and I tried doing everything myself, but it was very difficult—with my work hours and activities, it was easy to procrastinate.
Why did you choose the specific program that you did?
I really liked the mini-semester concept at Carnegie Mellon Tepper School of Business. It makes it easy to do more than one focus area, and I'm doing finance, strategy, marketing, and operations. That sounds like a lot, but there is a lot overlap. I have enjoyed it—and I survived my first full-blown winter! When I got to Pittsburgh, I surveyed what clothes everyone was wearing and got good advice on a winter jacket. It's easy to adapt if you have the right gear.
What do you hope to do with your MBA? What career trajectory do you see for yourself?
It's tough for me to look out too far. In the very long term, I would love to have my own consulting company. But that's very far away. I'm not a typical MBA with all these very delineated milestones. For me, it's more about the experience, and I don't have a master plan. I just want to get as much experience in financial services and strategy as I can, and grow my network to the point where I'm able to return to Puerto Rico.
When you are not studying, where are you most likely to be found?
Do I do anything else!? Right now, I'm doing a lot of volunteer work—I'm on the Graduate Business Association Board, serving as the diversity and inclusion officer. I'm also the rep to the Graduate Student Assembly, which is a Carnegie Mellon-wide organization. I love art, so I take time to go to music events and galleries; and when it's nice, it's great hiking in the mountains around Pittsburgh.
How did you fit studying for the GMAT™ exam into your busy schedule?
Forté's MBALaunch was so helpful, and I found a lot of useful resources through that program, especially taking advantage of the test section-specific tutors every couple weeks. I also bought some prep books, used the GMAC resources online, and did practice exams. It's very good to familiarize yourself with the test questions before taking the test for the first time. When I finally took the test, I never felt like I was getting questions I hadn't seen before.
What is your best GMAT study tip?
Create a routine—and don't leave it for the last couple weeks to start studying. My MBALaunch mentor was very emphatic about simulating the testing environment when practicing—carve out three hours in a row, do not have the TV on, leave your phone in a different room, and have nothing open on the computer except the test.
---
About Forté
Forté is a non-profit consortium of leading companies and top business schools working together to launch women into fulfilling, significant careers through access to business education, opportunities, and a community of successful women.