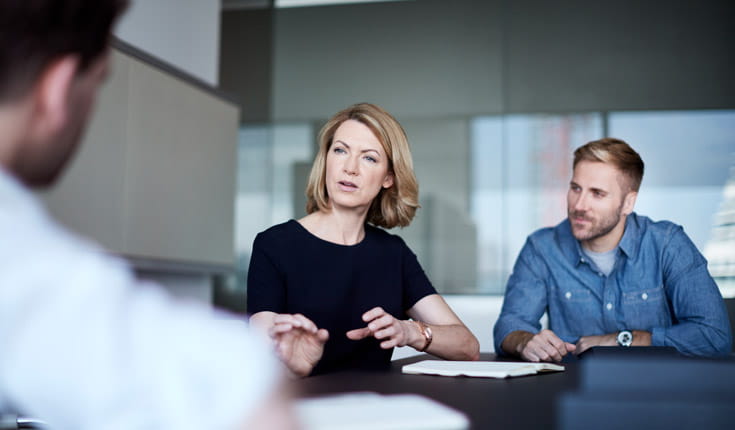 It's been a topsy turvy year. The global COVID-19 pandemic, paired with the economic uncertainty that came with it, has upended so many of our lives. As has been the case in past periods of economic recession, many see this as an ideal time to take some time away from their career, upskill at business school, and emerge with a highly marketable degree to secure a higher-level position. The question on many of their minds, though, is: is an MBA worth it?
Is an MBA worth it?
For many, many, people this year, the conclusion they reached is a resounding yes. According to the findings of the Graduate Management Admission Council's (GMAC) annual Application Trends Survey, 2 in 3 MBA programs reported increases in applications this year versus the previous year (66%).
What's more, application gains were seen by most MBA programs in several different formats. Most programs saw application increases among full-time MBA programs (69% of programs), part-time MBA programs (70%), and online MBA programs (84%).
Read more: MBA Applications Spiked in 2020—What's That Mean for 2021?
What makes an MBA particularly attractive right now to many is the fact that the degree itself is in the midst of a rapid evolution to teach the skills you'll need to be a leader in the new normal. Read more about how business schools are pivoting to teach skills for the post-COVID world and learn about the one skill employers need more than ever during COVID-19.
Why employers love MBAs
Two of the top reasons applicants pursue an MBA is to improve their career opportunities and earn a higher salary. So, who better to ask about if an MBA is worth it than companies that make hiring decisions and set salary levels?
Each year, GMAC's Corporate Recruiters Survey polls recruiters from some of the world's leading organizations to get their views business school hiring. If we were to summarize employers' opinions on MBA hires from this year's survey in one word, it would be confidence. Nine in 10 global corporate recruiters say they're confident in graduate business schools' ability to prepare students to be successful in their organizations. The top reasons for this confidence are MBA grads versatile skillset, their strategic thinking ability, their strong communication skills, and they're prepared to take on leadership roles.
The benefit of that confidence to you? A higher salary. This year's survey results show that employers plan to offer new MBA hires a median starting salary of US$115,000 this year—notably higher than the median for direct-from-industry hires ($95,000) and bachelor's degree hires (US$65,000).
Read more: Employers Explain Why MBA Salaries Are So High
MBAs versatile skillsets make them extremely attractive to employers. The broad-based, generalist curriculum of MBA programs span the spectrum of topics relevant to business leadership, providing students with a solid footing in the principal concepts that will underpin their career development for decades into the future.
"Business school challenges students to juggle many responsibilities and still excel. You learn what to do, and what not to do, because in the real world you cannot do all things," said a recruiter from a Fortune Global 100 health care company in the United States.
Why alumni value their MBA experience
But don't just take it from employers—ask alumni if they think an MBA is worth it. They've already been through the experience, paid their tuition, and seen the outcome of their time and energy firsthand. What do they have to say?
Among MBA alumni, an overwhelming 93 percent say they would still have pursued their MBA knowing everything that they know now. In addition, 96 percent assess the value of their degree as good to outstanding. Here's more detail of how alumni value their MBAs:
Return on investment. An MBA pays off many times over in the long run. A recent survey found that 9 in 10 alumni report a positive ROI, recouping their investment in just a few years following graduation. It's not uncommon for full-time MBA graduates to double their salaries in their first job after business school, and more than 2 in 3 professional MBA graduates agree that they've received more promotions or title changes than peers without a degree.
Interactive tool: Estimate your post-MBA salary.
Career opportunities. Your MBA can accelerate your trajectory on your current career path, give you the chance to pivot into a new role or industry, or launch your own business. The vast majority of alumni agree that their MBA prepared them for their chosen career and has offered them opportunities for quicker advancement.
In-demand skills. MBA students learn a broad-based management curriculum that has been proven over the decades and is constantly updated to meet the demands of modern business. Nine in 10 MBA alumni agree that the skills they developed in business school moved them further along in their career.
Interactive tool: Explore the skills an MBA teaches.
Network support. You can't underestimate the importance of relationships to career opportunities and being a part of an extensive MBA alumni network can get you in the door at leading organizations. A recent survey found that more than 9 in 10 MBA alumni say they would recruit an alumnus from their program for a job at their company.
What's the right MBA option for you?
In many ways, an MBA is both timeless and cutting edge. The core principles remain the same, but the delivery and connections are designed to prepare students for the modern workplace. As you consider MBA programs types—including full-time, part-time, executive, and online—here's a great article to help you evaluate which program is right for you.
Are you ready to get serious about your MBA applications? Create an mba.com account and gain exclusive access to free GMAT prep materials and content.