Get the Biggest Return on Your MBA Investment
Get the Biggest Return on Your MBA Investment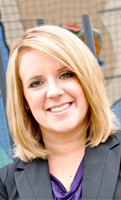 The ROI on an early career MBA doesn't stop with your first post-MBA job.
Aimee Akimoff is Director of Recruitment, Atkinson Graduate School of Management, Willamette University.
A great full-time early career MBA experience can be a positive turning point in your career. It can launch your professional career and lead to dramatic career transitions. And the return on investment (ROI) from the growth attained in the MBA does not stop with your first post-MBA position. It continues throughout your career as you enjoy more job opportunities, more career satisfaction, more flexibility, and greater earning potential.
The ROI value of an MBA is well documented. In fact, GMAC's global studies of MBA alumni consistently show a high rate of satisfaction with their MBA experience as it relates to personal development, career opportunities, career satisfaction, and salary. But for most prospective MBA students the questions are more personal: How can I ensure that the time, money, and energy I invest in my MBA experience will help me reach my goals? How can I ensure I get the ROI and growth I want from an MBA?
The answer to these questions should put your mind at ease. You have the power to positively influence the ultimate value and ROI of your MBA. Why? Because your "return on investment" will be highly related to the level of personal investment you apply to your MBA experience. Your investment in choosing the right program, deciding when to get your MBA, and the actions you take during your MBA experience can pay off in big ways.
1. Choose the program type designed to support your goals. Full-time MBA programs and part-time MBA programs are designed to meet different goals. A match between your goal and program type is the first step in ensuring your MBA ROI. If your goal is to achieve your first professional position or career change, choose a full-time MBA program that builds your knowledge, experience, network, and career management skills. Most part-time programs are not designed for you. They are designed for experienced practicing managers seeking career advancement or enhancement.
2. Select the specific MBA school and program that supports your goals. Your career opportunities will be determined not by your MBA credential, alone, but on the new skills and knowledge you develop while you earn the degree. Choose a full-time MBA program that emphasizes breadth and depth of knowledge, experiential learning, internships, networking, and career services. Although many MBA programs admit early career students, only a handful are actually designed for early career students.
An early career MBA is a great option for students who want to jump-start their career
.
3. Get your MBA early in your career. Attaining your MBA early in your career has career, economic and strategic benefits. With an early career MBA, you don't have to wait until you have significant work experience to move forward and you don't have to settle for a degree that is not an MBA. An early career MBA is a great option for students who want to jump-start their career and avoid interrupting their family, personal and professional activities later in life. Financial ROI for a graduate degree is generally higher when you complete your degree earlier in your career. Post-MBA starting salaries are markedly higher than most people can attain without an MBA. In addition, an early MBA provides more years of your work life in which you can earn higher salaries, experience more job opportunities, and enjoy greater career satisfaction. If you're having difficulty choosing between starting your MBA or an alternative plan, ask yourself this question: "In which of these opportunities will I grow most toward my goals in the next 21 months?"
4. Participate fully in all aspects of the program. A great MBA experience is about much more than knowledge. Knowledge is a given (it must be developed), but what makes you a successful MBA student and professional is the ability to build your knowledge and the professional tools needed to help organizations and people meet their missions.
Build your resume of professional experience and confidence in your decision-making by actively participating in client projects and internships.
Develop your network and professional tools by participating in networking, mentoring and leadership programs.
Be an active team member, give presentations, communicate with others, and push yourself outside of your comfort zone to build new tools.
Choose courses to support broad strategic management decision-making as well as developing expertise in one or more functional areas.
Constantly utilize the career services and career management program.
5. Understand the paradigm and expectations of an early career MBA program. In an Early Career MBA program, your career and professional reputation start on the first day of the program, not at graduation.
Actively contribute to your teams and fully meet your responsibilities.
Learn to accept and grow from that feedback.
Contribute to the learning of others and learn from everyone you meet.
Pay attention to your online and social media professional reputation.
Challenge yourself and expand your comfort zone.
6. Manage your financial resources to get the most out of your investment. Overall, the growth you experience from your MBA can help you achieve a future of personal and career satisfaction, and the flexibility to pursue a variety of professional opportunities.
Invest your energy in your personal and professional growth.
Expect to utilize educational loans to fund a major part of your degree. Borrow wisely, borrow what you need, but not more than you need.
Willamette University's full-time MBA program is specifically designed as an early career MBA for students seeking their first professional position or career change. We are happy to answer your questions. Contact us at mba-admission@willamette.edu or through our website.