Social Responsibility in Business: The Restructuring of American Corporations
The Socially Responsible Restructuring of US Corporations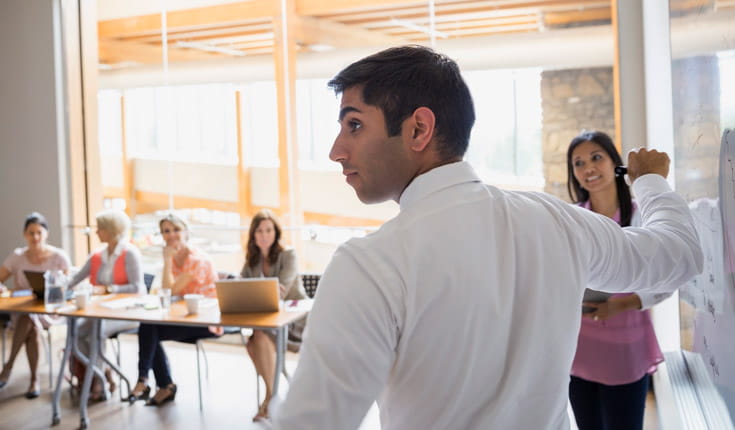 For decades, American corporations have existed solely to advance the interests of shareholders. Now, amidst growing concerns of corporate responsibility, businesses are shifting away from exclusively considering their bottom line and towards maximizing the well-being of employees, communities and the environment.
Business Roundtable, a non-profit organization that consists of CEOs from some of the largest US companies, recently released a statement calling for "an economy that serves all Americans." The 181 CEOs who signed the statement pledged to shift from a focus on shareholder primacy to a model of corporate purpose that is centered on advancing the interests of all stakeholders.
This shift sends a signal that US corporations are committed to a future of business that is for and by the people. For future leaders considering an MBA or business master's degree, it's important to understand the impact that this change in corporate philosophy will have.
Supporting workers
Corporations understand that their employees perform at their best when they feel secure at work and at home. The signatories to the Business Roundtables' statement reaffirmed their commitment to provide their workers with good jobs, fair pay and benefits, and other forms of support.
Data from the annual Corporate Recruiters Survey from the Graduate Management Admission Council™ (GMAC™) shows that the vast majority of US companies that hire business school graduates provide benefits such as health care (93% of responding US companies) retirement plans (90%), and other benefits such as paid parental leave (61%).
The Roundtable website highlights many examples of businesses putting employees first, including EY's generous 16-week paid parental leave period, and Goldman Sachs' new parents program that helps employees transition back to the workplace after having children.
Investing in employees' education
Corporations are committed to educating their employees and helping them grow professionally. The Corporate Recruiters Survey from GMAC found that two in three responding US companies offer professional development funding for employees, including for MBA and business master's programs.
The Roundtable cites examples from several companies, including the Hearst Corporation, which provides workers with access to more than 3,200 courses in diverse topics, including technical skills for new high-demand job functions. Similarly, Raytheon's Relaunch program allows professionals who are returning to their jobs after extended leave to engage in a 12-week long paid course that helps them reenter the workforce.
Rebuilding the communities
Employees make up the foundation of even the largest corporations, and businesses now recognize the impact that investing in their base can have. For example, the Roundtable points out that in times of crisis, companies such as KPMG, Silver Lake, and the UPS Foundation provided support to various natural disaster relief funds. Similarly, companies like Walmart and JPMorgan Chase are known for their consistent contributions to community revitalization and urban development projects.
Companies are beginning to appreciate the impact that having the support of local communities and consumer bases can have. By working from the ground up, corporations demonstrate that their value stretches far beyond their annual revenue. Just as US corporations are committed to their communities, so are many business school candidates. A recent survey of mba.com registrants found that nearly one in three candidates say they are motivated to pursue a business degree to increase their impact on their communities.
Laying the groundwork for the next generation
The Roundtable's statement makes clear that corporations see it as part of their responsibility to prepare students with the skills they need to meet the demands of the 21st century economy.
Many companies are already investing in pre-graduate education. For example, Oracle recently instituted Oracle Academy, an Oracle-sponsored computer science program in high schools across the globe. In addition, General Motors (GM) connected retired GM managers with local high school students to complete service projects and mentorship programs in underprivileged communities.
This year more than 90 percent of Fortune Global 500 companies plan to hire recent MBA graduates. Start your search by checking out schools that could fit your path.