My Entrepreneurial Journey and Why I'm Now Pursuing an MBA
My Entrepreneurial Journey and Why I'm Now Pursuing an MBA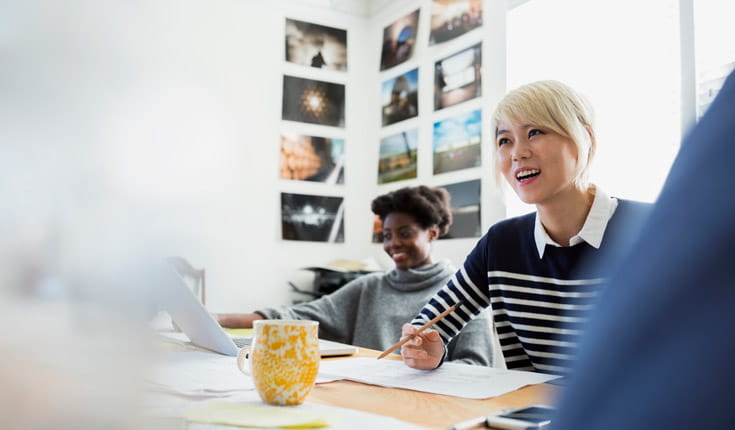 I often get asked how I knew I wanted to be an entrepreneur. To be frank, for most of my life I didn't. I began college as an aspiring physician, a student in Hofstra University's dual-degree BS/MD program that would allow me to graduate in eight years with a Bachelor of Science and a Doctor of Medicine.
Discovering entrepreneurship as an undergrad
My first experience with entrepreneurship came my freshman year by watching Hofstra's annual business pitch competition, which showcased 10 students pitching their ventures to a panel of investor judges. As an avid watcher of Shark Tank growing up, I couldn't imagine anything cooler than pitching your own company in front of investors. Albeit, my university's pitch competition wasn't quite as exciting as receiving an investment from Mark Cuban, but I was still in awe that students my age were already building their own companies. I wanted to do that too.
With encouragement from my mentor, Sina Rabbany, the Dean of Hofstra's School of Engineering and Applied Sciences, I reached out to Hofstra's Center for Entrepreneurship and scheduled a meeting with Stacey Sikes and Sharon Goldsmith, the Center's Executive and Vice Deans. It was after this meeting that I officially began my entrepreneurial journey and founded Cress Health, a startup that would create digital technologies to help individuals enhance their mental wellness. I decided to partner with my best friend from high school, Justin Kim.
Do you want to know how to become an entrepreneur? See how to get started with business programs for entrepreneurs.
Mentorship and making my first pitch
Like most first-time founders, I was armed with an idea and a passion for making the world a better place. But given that my background had primarily been medical in nature up to that point, there was a huge knowledge and experience gap that I had to overcome. I wouldn't have been able to bridge this gap without the tremendous support I received from mentors such as Rick Kolsky, an adjunct professor at the Kellogg School of Management, which gave me the crucial guidance I needed to navigate the early stages of my venture. In just a few short months, I had pitched at more than five business competitions and won nearly $40,000 in non-dilutive seed funding and in-kind services, including the Graduate Management Admission Council's 2019 "Think Like an Entrepreneur" competition. This seed funding was pivotal in allowing me to build out my minimum viable product and establishing my initial traction.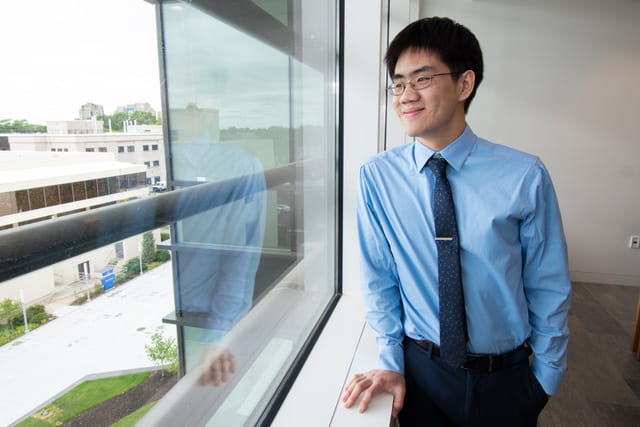 Image of entrepreneur Michael Lai. Photo credit: Philip Hinds, Hofstra University
The impact of COVID-19 on my journey
Although Cress Health originated as an addiction recovery venture, I quickly pivoted to what soon became an even more pressing problem: healthcare worker burnout. With the advent of COVID-19, when most businesses were forced to shut down and thousands fell ill, our nation's healthcare workers were thrust into the middle of an unforeseen crisis that no one could've imagined or prepared for. They were facing an unknown enemy. Information about the virus and its modes of transmission was still speculative and constantly changing each day.
The pandemic's rapid rise caught our nation's hospitals by surprise and left them crippled as an inundation of patients caused nationwide shortages of basic medical supplies. In the face of this turmoil, most innovators focused on improving the physical wellness of our healthcare workers through initiatives that would increase the availability of personal protective equipment. While that is incredibly important, protecting the mental wellness of our healthcare workers is equally, if not more, important.
I realized that if this problem goes unaddressed there would be long-term, debilitating psychological repercussions. So I quickly shifted Cress Health's product offering into the Cress app, which healthcare workers could turn to for confidential and convenient mental health support. In just a few short weeks, I was able to establish a pilot partnership with AMITA Health, one of the largest healthcare systems in the Midwest with 19 hospitals and over 200 outpatient centers in Chicago. Since then, I've partnered with over four more healthcare organizations nationwide to maximize my product's impact and help as many healthcare workers as I can during this crisis.
International expansion of Cress Health
I was fortunate to receive funding from the Clinton Foundation's COVID-19 Student Action Fund. I've used part of this funding to expand my efforts internationally and have partnered with the United Nations refugee agency (UNHCR), the Jesuit Refugee Service (JRS), and African community partners (Step Up for Kakuma) to provide the Cress app free of charge to individuals in the Kakuma refugee camp, one of the largest refugee camps in the world and home to over 200,000 refugees and asylum seekers based in northwest Kenya. This initiative is a component of Cress Cares, Cress Health's philanthropic arm, and part of my broader mission to destigmatize mental health, provide equitable access to mental wellness resources, and increase mental health awareness in communities around the world.
In the face of the tragic explosion at the port of Beirut just weeks ago, I am currently working with community partners in Lebanon (Uplift Beirut) to deliver the Cress app to local healthcare workers and Red Cross first responders who witnessed unimaginable suffering in the aftermath. In recognition of these efforts, Cress Health was honored as part of Fast Company's 2020 World Changing Ideas.
Expanding access to mental health resources
In line with my original mission, I've now turned my sights on equalizing access to mental health resources for all, regardless of a person's circumstance or personal background. Something that I hear far too often is how difficult it can be for someone to find mental wellness and self-care resources that they can resonate with. Time and cost constraints present logistical barriers to therapy and many digital wellness applications, such as Headspace and Calm, are too one-dimensional to use on a consistent basis.
In light of this, I've worked hard over the past few weeks to create the Callie app, the world's first AI-driven personal wellness companion that helps you keep track of, learn about, and enhance your personal mental wellness, lifestyle, and emotional health. I designed this app with my own needs in mind. As a result of our new post-pandemic "normal," social interaction has become limited and sometimes completely non-existent. It's easy for feelings of loneliness and emotional anxiety to arise, especially given all the uncertainty around us. Feelings are easy to bottle up, but they are incredibly important to release. The Callie app is here to help people do that. It was designed as a companion that's by the user's side 24/7, always ready for whatever they may need. The body is a temple. Callie helps people remember to treat it as such.
Why I'm pursuing an MBA
Over the course of my entrepreneurial journey thus far, I've learned an incredible amount, not just about practical business concepts, but personal insights about myself that I wouldn't have reached otherwise. Above all, this experience has demonstrated that you're never too young to make an impact, no matter how big or small.
As undergraduates, a mentality is often instilled in us that we're too young to make an impact. But I realized that there's no such thing as too young; all it takes is the right guidance from the right set of mentors. Business school can be the perfect environment to nurture such relationships and help you discover not only what you're interested in, but what you're passionate about. That's why I've decided to pursue my MBA at the Kellogg School of Management through their Future Leaders deferred MBA program. As I look to the future, I'm excited by what's to come and look forward to helping others unlock their own potential to make a difference.
Want to learn more about how you can leverage business education to make a real impact? Create an mba.com account to take advantage of resources from top business school experts around the world.
Michael W. Lai is the CEO & Co-Founder of Cress Health. Learn more about Cress Health and their new digital wellness application, Callie, here.