How Business School Clubs Can Help You Enter A Purpose-Driven Business Career
How Business School Clubs Can Help You Enter A Purpose-Driven Business Career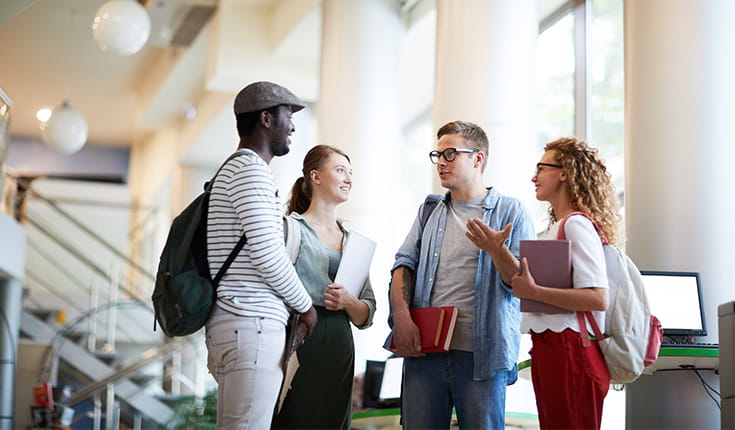 Whether or not you're pursuing an MBA with a focus on social impact, joining a business club could help you find out what it takes to be the leader of a purpose-driven organization
Gone are the days where business schools were only geared to those entering traditional careers in consulting, tech, or finance.
Now, there are a host of MBA programs and masters degrees that take into consideration the fact that many students want to pursue social impact careers such as impact investing, social sector leadership, social entrepreneurship, or environmental governance.
This demand to have a career with a positive impact on society has been driven by Generation-Z and Millennials who demand more from the core curriculum offered at business school.
Here are some of the ways that business school clubs support students when considering a social impact career, helping them to explore what it means to be a social leader in the future business world.
The Gen-Z and Millennial desire to explore social impact
Over the years, political, social, and economic policy and economic development factors surrounding topics such as climate change and mental health have become increasingly important for the Gen-Z and Millennial demographic.
Gen-Z in particular – the generation born between 1995 to 2010 – are concerned with how the future world is being shaped on a global scale by politicians and society today.
This means that the wants and wishes of MBA students or masters students entering business school are likely to be vastly different from those in the previous generations.
Millennials and Generation-Zers are generations that have grown up with social media and digital connectivity, helping to improve their awareness of topics such as climate change and the impact of mental health.
According to a CarringtonCrisp survey, many masters candidates want business schools to help them address global issues in society.
Practice skills needed for social impact careers with hands-on projects
Many business schools are starting to offer more extracurricular activities and clubs for students who want to learn more about social impact and social leadership.
London School of Business (LBS) is one business school that connects students via hands-on projects organized by the business school's Social Impact Club.
The Social Impact Club at LBS was created to strengthen the business school's purpose, which is 'to have an impact on the way the world does business and the way business influences the world'.
Both the school and the Social Impact Club believe that this can be achieved through purposeful leadership.
"The club aims to mobilise, challenge, and inspire the LBS community and its next generation of leaders to integrate social value into any career path," says Alexis Brannan, one of three co-presidents of the Social Impact Club, and who are all MBA students.
The club places an emphasis on helping students practice social leadership, and build upon their personal strengths, by working within a successful team of like-minded students.
The Social Impact Club hosts 30 events across the year, including social impact investing skills building, the MIINT impact investment competition, and even environmental treks to Amsterdam.
Students work to develop skills they can take into their careers, whether this is in the social impact sector, working for public organisations, or within companies that are not strictly purpose driven.
"Social impact is becoming an important part of all industries and, because of this, we think the club is also incredibly helpful for those who aren't entering strictly purpose-driven careers," says Melissa Frio, another of the club's co-presidents.
Throughout events, students learn valuable communication skills such as how to create relationship-oriented connections, develop leadership acumen, and practice management for social change.
Learn about leadership careers in impact investment or public sector work
There are many different social impact roles available. For students who want to learn what leadership and management roles they could pursue in the social impact sector, attending a business school club such as the Social Impact Club at LBS can support students in finding their dream careers.
Aside from offering hands-on projects, the business club facilitates career panels with top companies.
The club's biggest annual event is the Social Impact Signature Conference, which brings expert speakers to LBS to focus on a theme within the social impact world, such as 'the stakeholder economy', which emphasizes how companies can address the needs of all stakeholders.
Companies that attend the latest event include BCG Green Ventures, International Federation of Red Cross, and London Early Years Foundation.
Some of the treks, such as the Impact Investing Trek, also feature companies that are looking to hire social impact MBA students or business masters students.
"The careers and knowledge-building benefits support students with exposure to a variety of different social impact approaches, skills, and companies and support their recruiting journeys in the social impact space," says Cameron Martin, the third of the business club's co-presidents.
Maggie M is a student at LBS and regularly attends the Social Impact Club events. She believes that the club has played a large role in shaping her business career plans.
"I've been able to broaden my definition of social impact. I was planning to continue down the path of impact investing but through my experience in the club, I now want to explore and research other socially impactful roles that I would not have considered otherwise," she says.
Join networking events to boost your social enterprises or social impact career
Business clubs offer an abundance of networking opportunities. The Social Impact Club at LBS is no different and prides itself on how it connects students with one another.
Regardless of gender, age, or career background, attendees of the Social Impact Club are encouraged to share knowledge, success stories, and skills related to working within the social impact business world.
The Social Impact Club offers business networking events that range from peer leader groups, where first-year business students can connect with second-year students, to term-time events with employers and employer fairs.
"Social impact recruiting is extremely unstructured, meaning that companies are all on different timelines, and students need to both use school resources and their own self-driven research and job searching," says Alexis.
One of the ways that the Social Impact Club is making the process easier is by offering support to those who are in the recruiting process and creating a data repository for companies.
The treks are also a great place to network as a team and learn about the importance of social impact and how a focus on social responsibility can help a business become a success in the market.
Maggie is a current MBA student and is part of the team that leads the networking events and networking opportunities within the Social Impact Club. She believes these events help budding social leaders find out about the management skills, strategies, and innovation skills needed to pursue purpose-driven business roles.
"The Social Impact Club has taught me how diverse our members' interests and experiences are and it's given me the opportunity to be the first point of contact for a range of employers," she says.
Develop learnings alongside social impact MBA programs and courses
The idea behind social impact business clubs is that any MBA or masters student can benefit from learning how to be a social leader, whether or not they are pursuing a social impact MBA or masters related to sustainability.
Still, many top schools with MBA programs, including Yale School of Management and Berkeley Haas School of Business, have courses dedicated to learning about environmental, social, and governance (ESG), social responsibility, public policy, and social entrepreneurship.
For example, Yale School of Management offers electives in business and environmental management and strategies, renewable energy system analysis, private and public policy regulation in the modern economy, and a course in financing environmental technologies.
Meanwhile, Berkeley Haas offers courses that can shape students into social leaders by looking at the social, political, and ethical environmental concerns in business, competitive strategies, and renewable energy.
Many schools have other unique models. The University of Southampton offers a Social Impact Lab, which aims to help students practice the skills necessary to become social leaders in areas such as environmental management, human rights, or to help individuals become social entrepreneurs.
Meanwhile, at Indian School of Business in Hyderabad, there is a Public Policy Club and Energy Club, which can help students gain the skills necessary to enter careers that have a positive impact on the planet.
These initiatives are great for helping future business leaders strengthen their communication skills as attendees often work in teams to research, explore, or focus on an issue related to social impact management.
Graduate roles in social impact are a growth area and business clubs offer a great way to practice and explore what it means to be a social leader, or how to run a social enterprise.
"Joining a social impact club has been fundamental to building a strategic network, helping me when reaching out to potential employers or professionals I want to learn from," says Maggie from the Social Impact Club at LBS.