What Tech Companies Think of MBAs
What Tech Companies Think of MBAs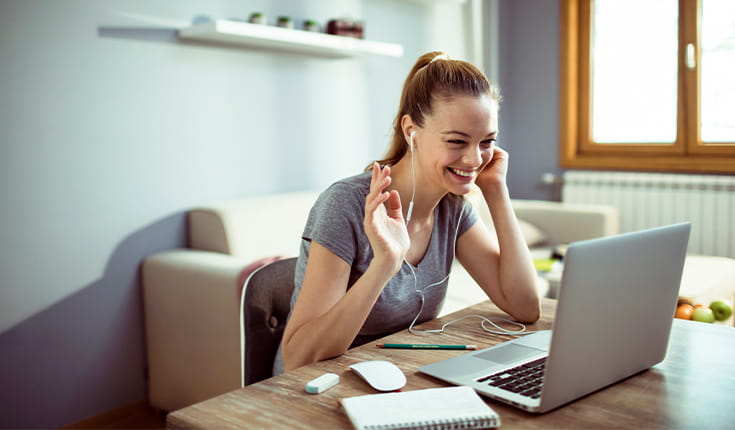 As a person still in the early stages of your career, you want to make career decisions that will set you up for success in the long-term. Part of that is choosing the right industry and roles that will continue to be in high demand far into the future. When it comes to future-oriented sectors, the first that comes to mind for most people is tech—one of the most rapidly growing industries in the global economy.
While coding and other highly technical skills are surely in-demand at large tech companies, a smart move to secure long-term career success at these kinds of organizations is actually to focus on developing the skills most closely related to managing people. Unlike technical skills, which can fall in and out of favor or be replaced by new technologies, human-centered communication and leadership skills tend to stand the test of time and will help you secure ever-higher levels of responsibility.
One of the best ways to gain these skills and grow your professional credibility is through earning a Master in Business Administration (MBA). But you may be wondering, given their reputation for disruptive thinking, what do tech companies think of MBAs? Do they respect MBAs in the same way as traditional MBA hirers in the consulting and finance industries?
To find out, as a part of its annual Corporate Recruiters Survey, the Graduate Management Admission Council (GMAC) asked recruiters at leading tech companies questions about how they view the value of a graduate business degree, what skills seek out most in new hires, and their hiring plans for 2021 and beyond.
How tech companies view MBA degrees
Are MBA graduates respected in the tech sector? Survey responses from the recruiters who make their key hiring decisions indicate the answer is a resounding "yes."
For one, tech companies express a high degree of confidence in business school graduates' ability to succeed. An incredible 96 percent said they are highly confident (48%) or confident (48%) in business schools' ability to prepare graduates to be successful in their companies specifically.
What's driving this assurance are the skillsets business school graduates have always brought to the table for the tech sector. The top three reasons tech recruiters have confidence in business school graduates are their strong communication skills (84%), their versatile skill sets (74%), and the fact that they are strategic thinkers (74%).
"Technology companies are placing a high value on leaders who are not just technically skilled, but also have strong strategic, interpersonal, communication and decision-making skills, as well as an understanding of the importance of diversity and inclusion and sustainability in their organizations—these will be critical to driving organizational growth and innovation," said Peter Johnson, Assistant Dean of UC Berkeley's Haas School of Business.
Leading tech firms identify the following skills as the most important for their current job openings:
Learning, motivation, and leadership (81% of recruiters selected)
Strategy and innovation (81%)
Interpersonal skills (79%)
Decision making process (79%)
"These core skills represent the signature business schools are imbuing in graduates from their MBA and business master's programs," adds Berkeley Haas's Johnson.
More than 2 in 3 recruiters in the tech sector (68%) agree that leaders in their organizations tend to have a graduate business school education. In addition, 54 percent agree that business school graduates tend to have a fast track to upper-level positions within their tech company.
Do tech companies hire MBAs?
Coming out the pandemic, many leading tech companies saw significant increases in demand for their products and services, driving the majority of responding tech recruiters to indicate through the survey that they expect their organizational headcounts to increase in 2021 (68%). An additional 28 percent indicated their headcounts would stay stable, while just 5 percent project headcount declines.
All that growth signals major opportunities for MBA graduates. MBA hiring in the tech sector is projected to see a notable increase from pre-pandemic levels, according to the survey findings. Among responding tech employers, 96 percent expect to hiring MBAs this year, up from 86 percent in pre-pandemic 2020.
But as a current prospective student considering applying for an MBA now, you won't be hitting the hiring market for another year or two. What does the survey findings say about hiring demand from tech companies further into the future?
The majority of responding tech recruiters indicate that they expect demand for business school graduates to remain stable in the next five years, while about 1 in 3 say they expect demand to increase. Just 1 in 10 say they expect demand to decrease (11%).
Translation: the people doing the hiring at the tech firms you want to work for are bullish on hiring more MBA and business master's talent in the years in which you would graduate.
What do MBAs do in tech companies?
What jobs to tech companies fill with MBA and other business school graduates?
According to the survey findings, the most popular jobs they plan to fill with MBA graduates are in highly sought after and important strategy/innovation positions (71% of recruiters).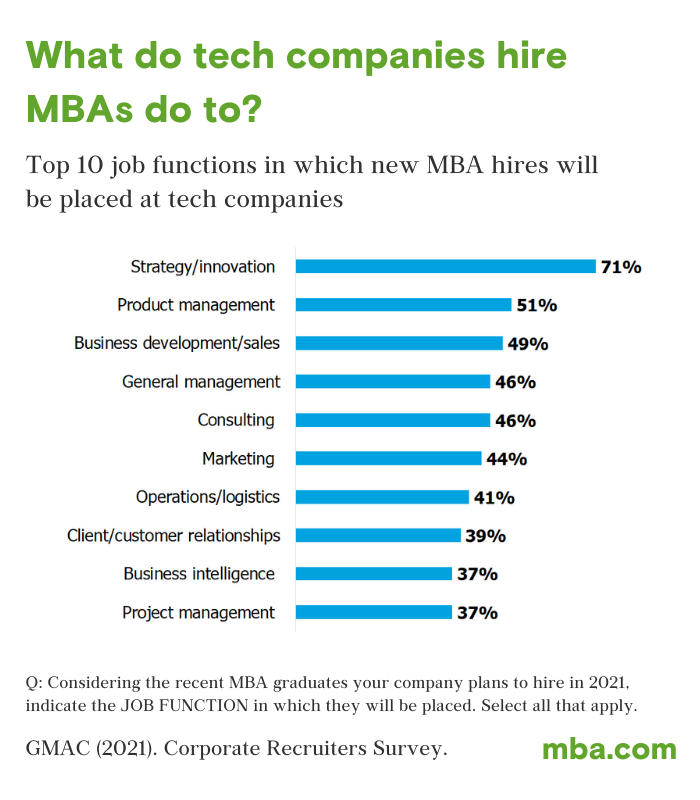 The next most popular roles for MBAs at tech companies are product management (51%), business development/sales (49%), general management (46%), and consulting (46%).
Is it worth getting an MBA for a career in tech?
As the tech sector continues its rapid expansion and growing prominence in the global economy, tech company recruiters are placing increasing importance on hiring individuals with the strategic, interpersonal, and decision-making skills needed to effectively manage organizational growth and drive innovate thinking across departments. These are the core skills graduate business education, and investing in these timeless skills can set you up for a long and successful career in the tech industry.
Are you thinking about the future of your career? Our free Career Planning Guide will walk you through key personal and professional questions you need to explore to set the course for your next steps. This career plan template will help you learn about yourself, understand your responsibilities, identify what you want, and bring your career vision into focus.