Military Experience Plus MBA Equals Force Multiplier
Military Experience Plus MBA Equals Force Multiplier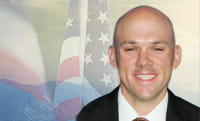 Strategic thinking will set you apart in the corporate world.
I'm Josh Dow. I graduated from the US Naval Academy with a BS in Economics, and from the Eller College of Management at the University of Arizona with an MBA in Operations and General Management. I served as an active duty Marine, spending most of my time in Southeast Asia and the Middle East. I now live in Austin, TX with my wife Amber.
As an aircraft control officer in the Marine Corps I spent much of my non-deployed time training. The training I enjoyed most was the coordination of fires. When a target was identified, the objective was to bring all the tools available together to engage it. The ideal solution combined small arms, mortars, artillery, and close air support. Successful execution was always the result of detailed planning and having the right resources available. Much of what I learned in my military training can be applied to my MBA experience.
Your military experience equals MBA success.
Have a plan. I found the same to be true in the job search while pursing an MBA. In many ways I treated it like any military operation. I started with a plan. Any good plan starts with a mission statement. If you can answer the question of why you are at b-school, then you have your mission. Once clearly defined, you can put a plan around it. If you've done this, without knowing it you've combined the tools you learned in the military to lay the groundwork for a successful MBA experience. This type of strategic thinking and approach will set you apart in the corporate world. Here are a few things to consider as you navigate b-school.
Secure an internship. You can approach the internship a couple different ways – as a springboard into a company or field you know you want to pursue, or as an opportunity to validate something new. Either way, once you make the decision, put your plan together. I started my first week of b-school with a list of "dream" companies I wanted to pursue for an internship and full-time employment. I knew if I wanted to have a chance, I needed to start reaching out. This leads me to my next topic.

Network. Remember back to that deployed time when you absolutely had to get something done – like yesterday! You probably reached out to someone you knew and worked an angle to make it happen. No different here. Connections are important. Use the veteran channels you have available at your school, and look at some of the national efforts centered on veterans. There are resources all over the place. Don't be afraid to reach out! I found that most people like to talk about what they do. A word of caution here, networking activities can completely consume you if you are not prepared. Be disciplined in your approach to networking, if you have a clear plan in place then the networking activities you do should support the overall plan.

Final thoughts. There is a huge push in corporate America to recruit and hire veterans. This makes sense. Your experience and skills set you apart from your civilian counterparts. As a veteran, you've been places and done things, you know yourself. Be true to that and stay genuine to who you are. Do your homework on the offers that will come. If the culture of the company is not a fit, don't let the offer sway you. I promise, you won't regret it. Semper Fi.