Fast Tracking Your Career: A Six Point Plan
Fast Tracking Your Career: A Six Point Plan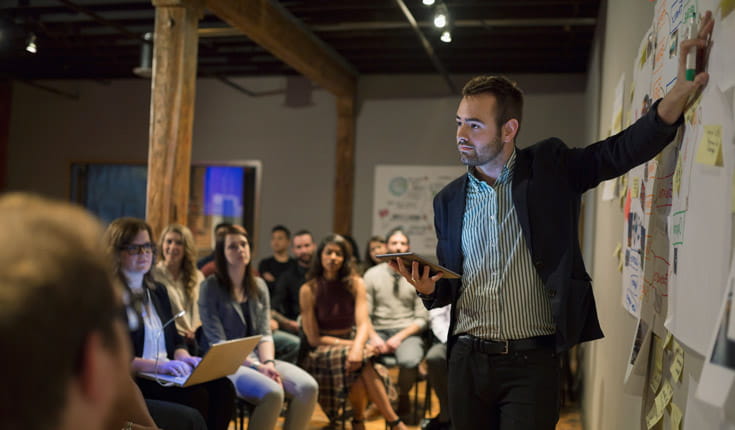 If you're aiming for a successful career in business, investing in a graduate management degree is a pretty good place to start. And the stats stack up convincingly.
Ben Leslie, Finance Careers Advisor, Oxford Saïd Business School
GMAC alumni surveys report that more than 75% of graduates say they wouldn't have secured their job without an MBA. A further 77% report that post-MBA salaries exceed expectations. And a whopping 92% find that job within three months of graduating.
Getting an advanced business degree can be a very smart move.
But in an increasingly competitive business panorama, with more graduates than ever entering the job market than ever, there is plenty more you can – and should – do to really stand out from crowd.
We spoke to Ben Leslie, who is the Finance Careers Advisor at Oxford Saïd. He has put together a six-point plan to fast-track your career prospects before you graduate.
A Six-Point Career Plan for MBAs
Ahead of thinking about jobs, take some time to think about you. Ask yourself: What's important to you in life and in work? Owning your beliefs and values is a key part of understanding your identity and your purpose – and starting to build a personal, professional framework that will help you sustain your future career. Look at Robert Dilts: Logical levels of Change and Influence for insight on the ways that thinking and feeling influence behaviour and outcomes.
Ask yourself another question: What am I good at? Analyse your strengths and those areas that you might want to work on. Are there development gaps you might want to close? Self-analysis is a key function of leadership, and a good habit to get into now.
As many as 80% of jobs are found through networking with others, so you will need to create a plan and a networking strategy. Take a look at The 2-Hour Job Search by Steve Dalton for tips on prioritising and contacting employers and enlisting professional advocates for internal referrals.
Start building your personal brand. LinkedIn is your ally here, but you need to think about how your profile projects. Ensure that your name and photo come across as professional. And think about creating a keyword-rich headline that talks to your skills and strengths – and your location – all in about 110 characters. Storytelling is a key skill in presenting yourself to employers, so work on a compelling narrative about what you have done, why you have made certain choices in the past and what motivates you. Think coherence; you want others to see you as consistent and decisive.
It's important to keep up to speed with current events. Scan papers like the Financial Times, reading the front page for major stories and the Lex Column on the back page for crisp analysis of companies and markets. Check out the editorial and big stories on major issues located two pages in from the back.
Remember to keep the bigger picture first. You'll be hired as a colleague as well as an employee, so bring that to your CV. Include a section on extracurricular or voluntary work that will help distinguish you, showcase initiative, and make for interesting discussion at interview.
Ask most employers and they'll tell you the same – success in today's global business panorama comes down to being a pilot rather than a passenger.
If you've demonstrated the ambition and drive to invest in an MBA, you also have what it takes to seize the reins and be proactive about your career prospects. So go for it. And remember: there's no time like the present to get serious about your future.