How Can an MBA Future-Proof Your Career?
How Can an MBA Future-Proof Your Career?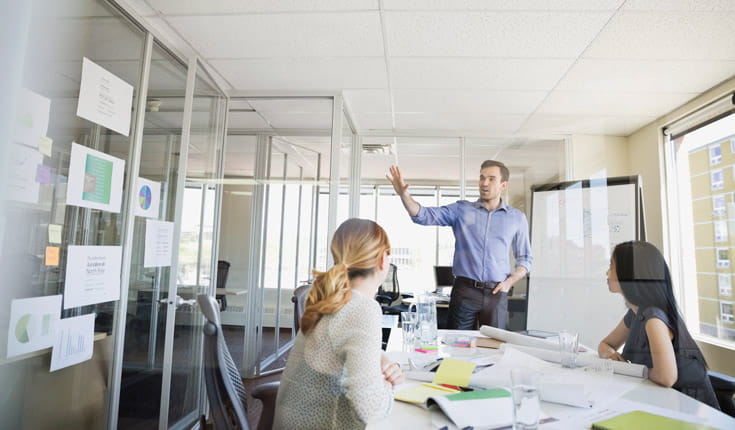 If the COVID-19 pandemic has taught us anything, it's that change happens fast. Remote work has flourished while large swathes of professionals have found themselves without work. Certain industries like the airline sector have scrambled to survive while others like big tech have prospered.
The World Economic Forum's Future of Jobs Report estimates that 85 million jobs may be displaced by technological advances by 2025, while 97 million new roles may emerge at the intersection between humans and machines.
With change happening so quickly, how do you ensure you have the right skillset to thrive?
One way is to look towards business school and an MBA. Here's five ways an MBA degree can help you future-proof your career.
1. Get a holistic business education
An MBA makes you an all-rounder, and "enables significant career transformation", according to Tony Somers, director of employer engagement at HEC Paris' Career Center.
With an MBA you can successfully work across sectors and functions. The degree will give you an understanding of how a business works from top to bottom. You'll also learn to closely manage people. That means you'll be well placed to pivot when change impacts all areas of your business.
"The ability to manage change efficiently and effectively cannot be underestimated. Commercial awareness, communication, entrepreneurship, perseverance, problem solving, project management, negotiation, and leadership are key soft skills developed during the MBA. Mastering these skills can only accelerate one's career," explains Ruth O'Leary, head of postgraduate careers & community team at Trinity Business School.
2. Choose the right career
An MBA plants you in an environment where the network you gain can lead to new career opportunities.
However, if you're unsure in which direction to take your career or feel your development has plateaued, an MBA can also give you the time you need out of the workforce to reassess your plan, learn where your industry is heading, and receive professional careers advice that can help you plan for change.
📗 Free resource: Career Planning Guide
Trinity Business School MBA students reflect on their career plan over the course of the MBA. They are advised on changing career direction based on the new experiences they get during the program.
"The most successful MBAs have thought about their career goals in advance of the program, are ready for the challenges an MBA will present, have an open mind-set, and are proactive in networking and in seeking out career opportunities," says Trinity's Ruth.
3. Build a future-proof skillset
Critical thinking and analysis, problem solving, and skills in self-management like active learning, resilience, stress tolerance, and flexibility are listed among the most important skills for future employers by the World Economic Forum.
"The ideal skillset to aim for is a balance between the ability to analyze and synthesize problems clearly (the 'engineering mindset') combined with the key managerial communication skills—leadership, communication, and empathy," says Tony from HEC Paris.
During your MBA, the case study method demands that you work in diverse teams to analyze company problems and offer up solutions to senior leadership. The fast-paced, intensive learning environment in which you're constantly working to deadline also equips you with strong communication skills, resilience, and stress tolerance, helping you insure your skillset against technological disruption.
Lyla Korhani, the director of Career Services at the Rotman School of Management, says MBA students also benefit from the chance to apply knowledge in real time through internships and company projects.
The Self-Development Lab at Rotman helps students explore leadership beyond the classroom—"timely at a time of crisis when many organizations both private and public are facing questions about the future of their business," Lyla says.
The Creative Destruction Lab at Rotman also gives students the chance to explore their entrepreneurial potential in areas like quantum computing and artificial intelligence. "Equipped with the skillsets business schools are offering, MBA students can expect to future proof their career," Lyla asserts.
4. Access lifelong learning opportunities
One way of protecting your career in the future is to commit to lifelong learning. An MBA will give you a wide, professional network of peers working across all industries, on whom you can draw to keep up to date with the challenges facing modern business.
Some MBA programs also offer alumni the chance to return to school after graduation to top up their knowledge through lifelong learning modules.
Mannheim Business School, in Germany, understood this when it launched its Network Clubs. The Clubs, which focus on areas like consulting, technology, and entrepreneurship, are open to any student at Mannheim and the free membership lasts a lifetime.
Virtual talks, which are usually on campus, bring in members to talk about the business challenges their industry is facing, their daily working life, and career opportunities.
5. Pivot your career to a fast-growing industry
Out of the pandemic could come huge opportunities in healthcare, digital transformation, remote communication technology, and biotech. Tony from HEC Paris also expects there to be growing opportunities in fintech, sustainability, and government services.
"Graduate business schools are tailoring some of their programs to offer specialized master's degrees to address the needs of the market," adds Rotman's Lyla.
An MBA with specializations that tap into current industry demand will allow you to acquire the knowledge and network to pivot your career towards a new industry. Rotman recently launched an MBA/MD program and offers a Global Executive MBA in Healthcare & Life Sciences. The school also offers a Master in Management Analytics and Master of Financial Risk Management.
As we exit the worst of the pandemic and it becomes clear which industries are booming and which are perhaps fading, and digitization and automation continue to disrupt traditional jobs while new ones emerge, professionals will need to adapt the new working world.
Change is here, and an MBA could help you to overcome the challenges modern businesses are facing and future-proof your career.
mba.com's free Career Planning Guide walks you through key personal and professional questions you need to explore to set the course for the next steps of your career.