Tips for B-school Applicants with Military Backgrounds
Tips for B-school Applicants with Military Backgrounds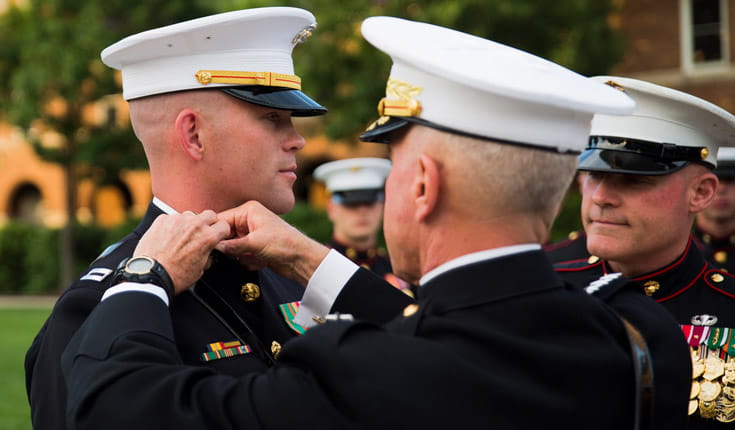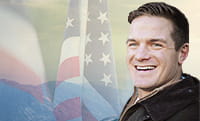 Leverage your military background into b-school success.
Hi, I'm Dave Donahue. I'm from Ashland, MA and graduated from Bowdoin College with a degree in Government and Legal Studies. I was commissioned into the Marine Corps and was initially stationed at Camp Pendleton, CA. From there I deployed to Afghanistan and throughout Southeast Asia and the Middle East as a platoon commander. I was then stationed in Quantico, VA where I taught tactics, leadership, decision-making, and communications to newly commissioned officers at The Basic School and Infantry Officer Course. I'm married to my beautiful wife, Margaret, who works in the Tuck Alumni Giving Office. Together, we have a gorgeous baby girl, Charlotte, and an enormous dog, Brunswick. I enjoy spending time with my family, cooking, and trying new beers. I'm interested in pursuing a summer internship in management consulting.
Going to business school was not even on my radar while I was in the Marines. I didn't know its purpose or who it was intended for. I grew up in a small town west of Boston and attended Bowdoin College in Maine. I studied Government, Legal Studies, and English and spent my summers at a residential fencing company, installing wooden fences. When not digging holes, I attended Officer Candidate School for the US Marine Corps in Quantico. An acquaintance of mine from Bowdoin had participated in the program and said it was one of the "best" experiences of his life. I always believed in the idea of service and thought this would be an awesome and challenging leadership experience.
Start learning to talk about yourself.
After graduation and a short stint in construction management, I went back to the Marines. I spent about a year in schools of different sorts, ultimately ending up as an infantry platoon commander in Camp Pendleton. In my first deployment to Afghanistan, I was responsible for 50 Marines, 40 Afghan National Army soldiers, and about 60 square kilometers of local villages. I did a subsequent deployment as a platoon commander in support of the 11th Marine Expeditionary Unit throughout Southeast Asia and the Middle East. After returning, I spent three years teaching at The Basic School and the Infantry Officer Course.
While I was at the Infantry Officer Course, one of my co-workers was applying to business school. I picked his brain for a while and determined that business school might be a good way for me to transition out of the Marines, learn some new skills, and apply my leadership skills in a different manner. I had no idea what type of industry or company I would want to work for. Business school, I thought, would expose me to industries and companies in the short term as well as give me some long-term flexibility by developing the hard skills needed to be successful later on.
Additionally, I was fortunate enough to lead the design and implementation of exercises that tested current and future Marine Corps equipment for potential future operating environments. The problem-solving skills involved with the exercises and knowing that the work I was doing was going to have an impact on the future of the Marine Corps helped shape my decision to go to business school. I truly enjoyed the problem-solving, working with other motivated people, and knowing that this work was going to help positively impact the lives of Marines. About a year later and after way too many hours practicing for the quant section of the GMAT™ exam, I applied to and was ultimately accepted by Tuck.
Looking back, there are a few tips I would give to business school applicants with military backgrounds.
Start learning to talk about yourself. The school absolutely cares about your leadership skills and your potential added-value to the school but they care about the personal impact that you had. How specifically did you train 100 Marines to get ready for a deployment? What sets you apart from other applicants? It's okay to replace the "we" with an "I" here or there in an effort to really explain your impact.
Determine the learning environment in which you would be the most successful

. Do you excel in large or small classes? Do you like the lecture or case method? Do you like working in groups or individually? Do you want to pick all of your own classes or do you want to be part of a more general curriculum? Understanding the environment in which you would be most successful is crucial to narrowing down the schools that appeal the most to you.

What's your story?

Why did you join the military? Why do you want to go to business school? What do you want to do after business school? Schools put a lot of emphasis on these parts, both with the essays and with the interviews. Spend the time thinking about these questions and make sure you can explicitly answer each of them (and be convincing).
Many of the top business schools offer military applicants the opportunity to visit and learn more about their programs through special programs. Be sure to check with the programs you're most interested in to see what they offer.