30 Most Successful Women Entrepreneurs in India: Part 1
30 Most Successful Women Entrepreneurs in India: Part 1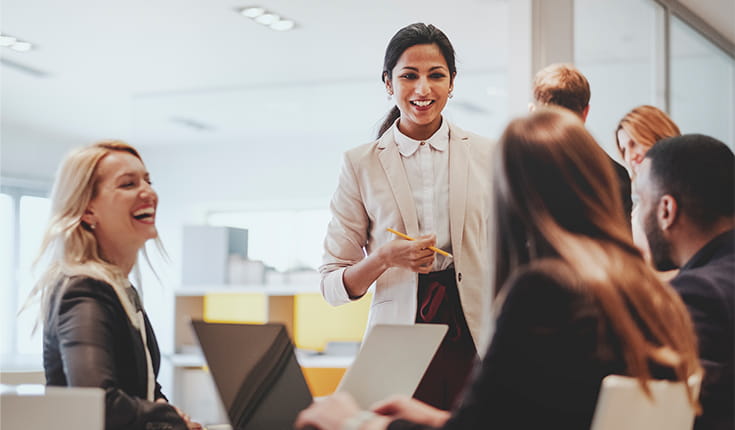 There's a common thread in entrepreneurship across the world: the number of women entrepreneurs is growing. In India, that growth is significant – over the last ten years, the percentage of women-owned businesses has increased from 14% to 20%.
Today, there are approximately 15 million women-owned businesses in the country across industries as varied as travel, SaaS, beauty, and finance. But who are the most successful and influential female entrepreneurs in India?
In this series, we'll introduce you to 30 successful female entrepreneurs in India, all of whom also carry MBAs from business schools around the world. With their business education and passion for their industry, they all possess inspiring success stories.
In each article, we'll present ten of the most successful female entrepreneurs in India, so keep your eyes out for future installments of this series. Without further ado, here's our first set of inspirational Indian women entrepreneurs.
1. Chitra Gurnani Daga, Co-Founder and CEO of Thrillophilia.com
Chitra graduated with her MBA in Strategy and Leadership at the Indian School of Business in 2011 and used her degree to successfully launch her own business: Thrillophilia.com, a platform for travel experiences. She had previously worked as a software engineer for Infosys and SAP Labs, but her love for travel inspired her to start her own travel-focused startup.
Today, Thrillophilia is one of India's biggest travel booking platforms, with an estimated annual revenue of US$74 million. For her services to the travel industry, including in expanding awareness of little-known travel experiences in India and elsewhere in Asia, Chitra has also been recognized by the Ministry of External Affairs in India.
2. Khushboo Jain, Co-Founder and COO of ImpactGuru.com
Khushboo Jain and her husband, Piyush Jain, founded ImpactGuru in 2014, a crowdfunding website that helps patients who can't afford their medical expenses. The company is now the first female-led crowdsourcing platform in India and has helped over 25,000 patients to change their lives with valuable medical funds.
Before that, though, Khushboo spent over ten years in fashion marketing and branding. She gained an MBA from the Welingkar Institute of Management in 2010, specializing in marketing, and subsequently worked for high-profile brands, including Jimmy Choo and Hackett.
3. Farah Nathani Menzies, Co-Founder of The Mumum Co.
Farah pursued her business education in the U.S., graduating with a bachelor's in International Studies and Business in 2001 and subsequently starting a career at Bain & Company. She went on to graduate with an MBA from Harvard Business School and continued to work as a business advisor before launching her startup in 2016.
She launched The Mumum Co. after struggling to find healthy snacks for her children in India. The brand quickly became a success, and in 2020, it was recognized as a Coca-Cola Golden Spoon Most Admired Start-Up. Farah also helped open up the conversation around how women can raise children and be entrepreneurs at the same time.
4. Shreya Lamba, Co-Founder of The Mumum Co.
Before Shreya joined forces with Farah to develop The Mumum Co., she was also working in consultancy. Shreya gained a bachelor's and master's degree from the London School of Economics and started her career working for A.T. Kearney.
In 2008, she decided to pursue an MBA at INSEAD and transitioned into senior management at A. T. Kearney before quitting her job to pursue entrepreneurship. With The Mumum Co., Shreya helped raise multiple investment rounds and, since then, has also launched The Mommy Network, India's largest curated parenting community, which helps give new mothers in India a judgment-free network to ask questions and share advice with other mothers.
5. Sneha Choudhry, Co-Founder of Zolo
Sneha was no stranger to entrepreneurship when she launched ZoloStays (now Zolo) in 2015. She had already founded two companies before she decided to fully focus her attention on her co-living and home rental booking platform. The company offers an alternative to often unaffordable long-term apartment rentals and helps foster local communities by enabling guests and residents to take part in local events.
In 2019, the company secured US$30 million in Series B funding, increasing Zolo's net worth to over US$100 million. Today, the platform is live in over ten cities across India and serves over 50,000 customers.
6. Hemalatha Annamalai, Founder and CEO of Ampere Electric
Hemalatha started her business career in the late 1980s, working as a product manager. She pursued an MBA with a specialization in international marketing at RMIT University in Melbourne in 1995 and spent the next decade of her life writing code and selling software.
It was a phone call from her husband, who attended a conference in Japan in 2007, that set her on the path to founding her own company Ampere Electric, after realizing India needed an electric revolution in personal mobility. The company manufactures electric cycles, scooters, and three-wheelers and, in 2018, was valued at US$16.28 million. As well as providing cleaner mobility to people living in rural locations in India, Hemalatha is also empowering women with her work: Ampere Electric's Trisul three-wheel vehicle was built specifically for the needs of women mill workers in Tamil Nadu.
7. Sayli Karanjkar, Co-Founder and CBO of PaySense
Fintech entrepreneur and angel investor Sayli started her professional career as an intern for Hewlett Packard in 2000 but has since worked for A.T. Kearney and AT&T. In 2015, she founded PaySense, a fintech startup that uses data science to help improve accessibility to loans in India. In particular, PaySense is helping young women in India get access to services like credit cards and loans in order to achieve career aspirations or help support their families through difficult periods.
Sayli gained her MBA degree from Kellogg School of Management at Northwestern University in 2009 and specialized in strategy, international business, and marketing. Since founding PaySense, she has also invested in Indian startups such as Zimyo, FloBiz, and Wint Wealth. She also uses her status as an investor to talk about the difficulties and discrimination women solo entrepreneurs face in India.
8. Aditi Balbir, Founder of V Resorts
Aditi started her career in the finance sector, working in private equity and M&A. In 2008, she pursued a postgraduate degree in management at the Indian School of Business, where she also spent time studying at Duke Fuqua School of Business. In 2012, she founded V Resorts, an innovative travel company that provides unique holiday experiences across India.
V Resorts quickly became a famed startup in India and was awarded the Best Upcoming Resort Chain award by Lonely Planet in 2016. In total, the startup raised US$17 million in seed funding. Today, Aditi is also the founder of EcoRatings, a website that helps consumers make decisions about the sustainability of products, which is empowering Indian consumers to live more ethically.
9. Pranshu Patni, Co-Founder of Hello English
In 2012, Pranshu launched Hello English, an online platform for language learning that, today, is one of India's leading educational apps, with over 50 million users. The platform won awards such as India's Best Mobile App and Google's Best of 2016 Apps, while Pranshu was awarded a Forbes 30 Under 30 title.
Pranshu started her career as a management trainee and business analyst and studied for an MBA with a specialization in finance at SVKM's Narsee Monjee Institute of Management Studies. For her services to education and improving English proficiency in India, Pranshu has also been awarded a Women Transforming India award from the United Nations.
10. Roshni Nadar Malhotra, Chairperson of HCLTech
HCLTech is one of India's largest IT and consulting services firms, and today is worth US$12 billion. When Roshni took over the chairperson role from her father in 2020, she became the first woman entrepreneur to lead a listed IT company in India. Roshni is also a trustee of the Shiv Nadar Foundation, an education NGO that helps establish programs and institutions related to rural education.
Roshni graduated with her MBA at Kellogg School of Management at Northwestern University in 2008 before returning to India to join her father's company. Within a year, she was made executive director and CEO of HCL Corporation, a role she held until her promotion to chairperson. In 2022, Roshni placed number 53 on Forbes' World's Most Powerful Women ranking.