What Salary Can I Expect With My MBA or Business Master's Degree?
What Salary Can I Expect With My MBA or Business Master's Degree?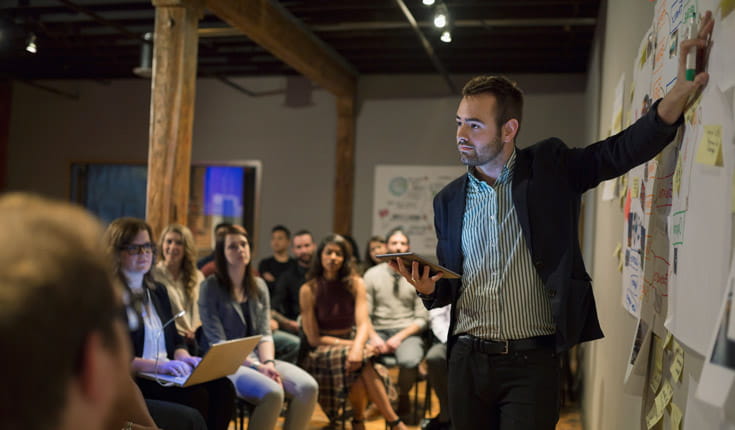 Wondering what your salary might look like while you decide between an MBA or Specialized Business Masters?
The skills acquired through a master's degree in business increase your marketability to employers, and also position you for higher starting salaries. According to the Graduate Management Admission Council's™ (GMAC™) 2018 Corporate Recruiters Survey Report, the number of companies that plan to hire b-school alumni is on the rise, and with it the earning potential for new graduates.
MBAs
Around the world, MBAs continue to command higher salaries relative to direct-from industry and bachelor's degree hires. In 2018, US companies planned to offer a median starting base salary of US$40,000 above those offered to bachelor's degree holders, and US$20,000 above those for direct-from-industry hires. Median starting base salaries will vary based on your industry and location, with hiring demand for MBA talent strongest among companies in the healthcare, technology, and energy/utilities industries.
2018 MBA Median Starting Base Salaries
United States
Asia Pacific
Latin America
Europe
US$105,000
US$35,000
US$45,000
US$65,000
Specialized business master's degrees
More than 7 in 10 responding companies planned to hire talent from a variety of other business master's programs with business development, data analytics, and marketing being the top three job functions employers planned to fill. Median starting base salaries for these degrees also vary based on industry and location as well as the degree type you select. In-demand specialized business master's programs, such as Master of Data Analytics, are gaining popularity and the survey results show that companies are willing to pay a premium for these skills.
2018 Specialized Business Master's Median Starting Base Salaries
Master in Management
Master of Data Analytics
Master of Marketing
United States
US$85,000
US$95,000
US$75,000
Asia Pacific
US$35,000
-
US$25,000
Latin America
US$45,000
-
-
Europe
US$25,000
US$35,000
US$25,000
Don't forget about the signing bonus!
Although most common in the United States, new b-school hires are typically offered signing bonuses that further elevate their compensation package. Among US companies, 56 percent planned to offer signing bonuses to new b-school graduates. Across the globe, 36 percent of Asia-Pacific companies, 30 percent of Latin American companies, and 20 percent of European companies made similar plans.
2018 Median Signing Bonuses for B-School Graduates
United States
Asia Pacific
Latin America
Europe
US$10,500
US$3,500
US$3,000
US$9,500
Different b-school degrees command different salaries. Try out mba.com's interactive salary calculator to estimate your future earnings. Then, be sure to research the specific job functions and industries you're considering to better understand what your salary expectations should be. Discuss your intentions with school representatives and ask for information about alumni trends in similar roles and fields. Also, consider the impact that financing your degree will have on future earnings. Click to learn more about the ROI of a master's degree in business.