Seven of the Best Podcasts for Business-Minded People
Seven of the Best Podcasts for Business-Minded People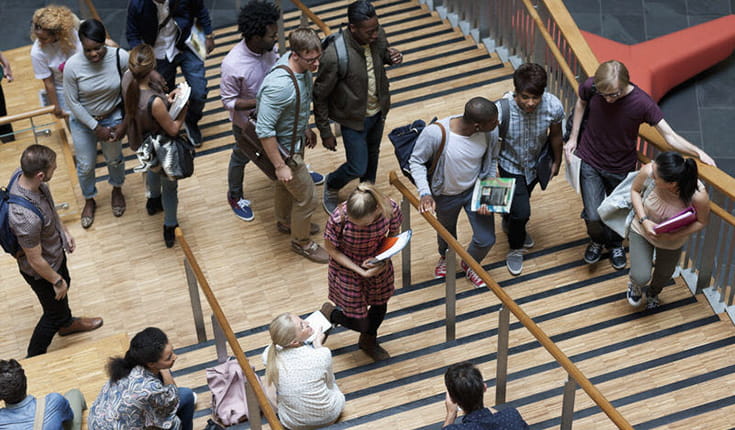 Name a better way to learn about success from brilliant minds than listening to a podcast, we dare you.
Get b-school advice and advance your career with these seven must-listen podcasts all while you drive, cook dinner, or workout. Tune in to gain insights on everything from completing your b-school application and rocking your admissions interview to making a career change and starting your own company. Start listening today!
1. The Business School Question: If you're considering applying to b-school, you'll want to tune in to The Business School Question podcast. This podcast helps prospective students navigate their journey to b-school. Each episode features an interview with an expert from the business school world who answers your burning admissions questions and offers advice for crafting your best b-school application.

2. The Touch MBA Admissions: Former MBA Admissions Director Darren Joe gives MBA applicants the inside scoop on how to craft a successful application for top-ranked schools. In The Touch MBA podcast, Jones interviews admissions directors and students from around the world who offer their opinions and advice on how to get accepted to programs like Wharton, MIT Sloan, INSEAD, London Business School, and more.

3. Harvard Business School Cold Call: "Cold Call distills Harvard Business School's (HBS) legendary case studies into podcast form." Explore real-life case studies in leadership, globalization, social enterprise, and negotiation, among others, with the HBS faculty that write and teach them. Hear what life is like at HBS and understand what you can expect during its MBA program.

4. TED Talks Business: Each TED Talks Business episode showcases influential presentations from a range of business leaders, researchers, and innovators. With talks that examine nearly every aspect of business and the workplace, you can learn about productivity, management, creativity, communication, and much more.

5. Pivot with Jenny Blake: Former Google Career Coach Jenny Blake helps professionals identify their next big move with the Pivot podcast. Whether you're unsatisfied in your current role, looking to change jobs or industries, or considering starting your own business, Blake shares strategies for getting inspired and taking action, and offers advice for navigating all your major career transitions. Blake's motto: "If change is the only constant, let's get better at it."

6. How I Built This with Guy Raz: If entrepreneurship is your end game, you'll find inspiration in the compelling stories of how today's biggest companies got their start. Each week, NPR's Guy Raz interviews the visionaries behind the companies who are revolutionizing our modern world, such as Bumble, WeWork, and Lyft. Listen to How I Built This to dive into "a narrative journey about innovators, entrepreneurs, and idealists—and the movements they built."

7. The School of Greatness: If you're looking for some serious motivation, consider tuning in to The School of Greatness hosted by former professional football player turned entrepreneur and New York Times bestselling author Lewis Howes. The goal of the podcast is to, "share inspiring stories from the most brilliant business minds, world-class athletes, and influential celebrities on the planet to help you find out what makes great people great." Join Howes and his guests as they discuss everything from business and entrepreneurship to health and relationships.
Clearly there's no shortage of inspiring content to help you navigate whatever is next; whether that's a new business venture, a career change, or graduate business school. Looking for more? Check out content on today's most powerful women in business, how entrepreneurs are tackling ocean plastic pollution, and why self-aware people make better leaders.