Discover Who's Applying to Business School
Discover Who's Applying to Business School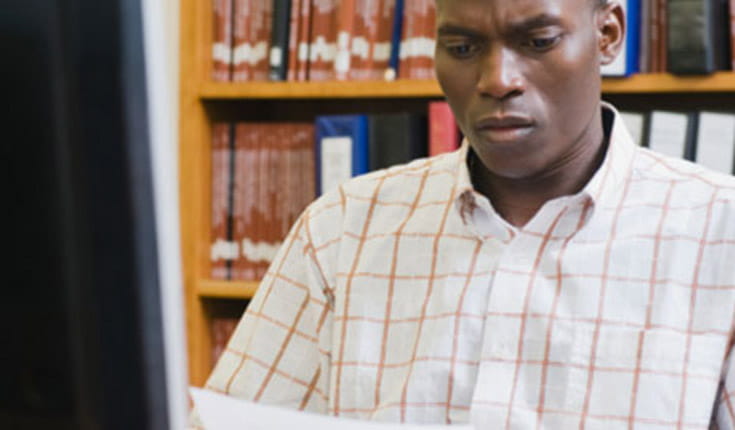 Graduate business candidates are finding more program options to help them fulfill their career aspirations.
What Does Application Volume Mean for You?
Based on recent GMAC research conducted at more than 300 universities worldwide in June and July 2015, the majority of full-time MBA programs saw higher volumes of applicants for the incoming class compared with last year. Fifty-seven percent of full-time two-year MBA programs and 51 percent of full-time one-year programs not only attracted more candidates in 2015 compared with last year but received more applications than they did 10 years ago—as reported by 60 percent and 53 percent, respectively, of full-time two-year and one-year MBA programs.
Many professional MBA and specialized master's (non-MBA) programs also received more applications this year than they did in 2014, including flexible MBA (54% of programs), online MBA (50%, US only), Master in Marketing and Communications (75%), and Master in Finance (60%). Application volume growth for Master of Accounting (40%) programs was weaker this year than in 2014; however, master's programs in data analytics, new to the mix of specialized master's programs, benefited this year from strong candidate demand as well.
For you, this means estimated class sizes for most programs this year are comparable with the class of 2014, but schools are holding academic standards as high as ever for you and your classmates. The vast majority (77% and upwards) of MBA programs and specialized master's programs said the academic qualifications of this year's class were equal to or stronger than those of the 2014 applicant pool.
Applicant Work Experience Varies by Program Type
Applicants to MBA programs and specialized business master's vary considerably in the amount of work experience they have prior to applying to b-school. Globally, 40 percent of applicants to full-time MBA programs (one-year and two-year combined) have between three and six years of work experience, compared with a majority of candidates for business master's programs who tend to have less than one year's work experience upon entering their programs.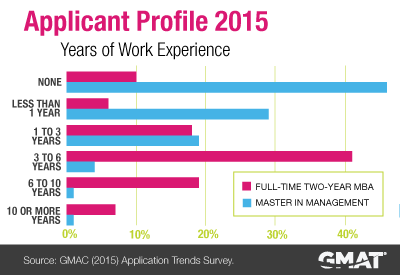 Quick Facts About Who's Applying
International candidates. They account for a significant portion of applications to many MBA and specialized master's programs in 2015, including Master in Data Analytics (81% of programs), Master of Finance (82% of applicants), and Master in Marketing and Communications (70%), and more than half of full-time two-year and one-year MBA and one-year MBA programs.
Female applicants. The representation of women in the applicant pool for graduate business programs has increased three to eight percentage points over the last five years for all programs surveyed, with the exception of Master of Accounting, which maintains a majority level of women applicants (57%). More than half of the following programs report growing application volume for women in 2015: full-time two-year MBA (51% of programs), full-time one-year MBA (50%), executive MBA (50%), online MBA (55%), Master in Management (55%), Master of Finance (56%), and Master in Marketing and Communications (60%).
Full-Time Programs Remain Competitive
The median number of applications to full-time two-year MBA programs was 360 applications per program—the highest among all MBA programs. Program selectiveness remains as competitive as ever—the acceptance rate for full-time two-year MBA programs was 39 percent.
Other MBA Programs Expect Higher Acceptance Rates
In 2015, expected acceptance rates for other MBA programs ranged from 51 percent for full-time one-year MBA programs to 75 percent each for part-time MBA (lockstep and self-paced combined) and 84 percent for executive MBA programs, making these options less competitive.
Finance and Data Analytics Programs Most Competitive
Master of Finance programs continue to be the most competitive program type for b-school applicants based on having the greatest number of applicants per seat (median of 5.2 applicants); however Master in Data Analytics programs, the newcomers to the specialized business master's arena, are the most selective in terms of acceptance rates, taking in a median of only 29 percent of candidates who apply.
Expand Your School Search Efforts
The vast majority of b-school programs, MBA and non-MBA alike, conduct all kinds of special recruitment activities to attract the right kind of candidate that will be the right fit for them, both academically and personally. Make it easy for schools to find you by
signing up with GMAC™ GradSelect
, your connection to business schools. You'll learn about targeted recruiting events, enabling only the best-fitting programs to find you.