School Expert Q&A: LM Thapar School Of Management
School Expert Q&A: LM Thapar School Of Management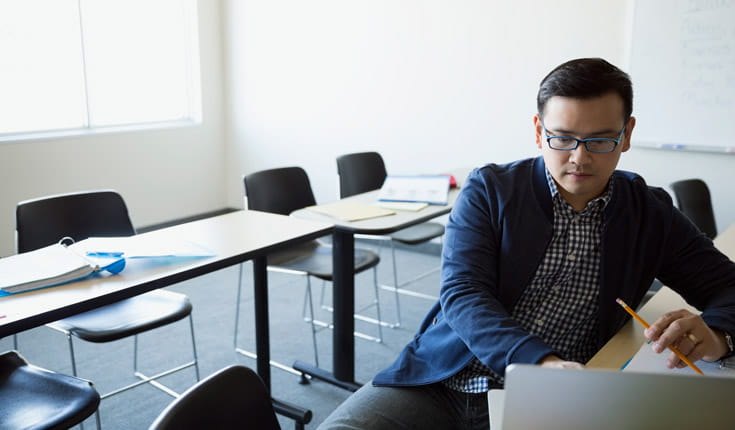 LM Thapar School Of Management answers questions about their program.
About the Program
Name of the school: LM Thapar School of Management
School location: Off Derabassi-Barwala Road, District Mohali-140507
Year school started: 2007
Any global ranking?

1st in Global sensitivity
13th Ranked amongst top business schools (Non-IIM's)
21st rank amongst the top business schools (Business India B-School survey Dec 2016)
Top 15 Higher Education Institutions in India (by U-Multirank)
In Top 100 B-Schools in India as per NIRF 2017

Name of the programs: Master of Business Administration (MBA), MBA in Business Analytics and Big Data
For GMAT accepting programs,
click here
NMAT
Admission Criteria
NMAT score range : The cut-off is decided on the number of applicants applying through NMAT scores every year. NMAT score should be above 125 composite scores.
Work Experience requirement, if any? Candidates does not need to have a work experience although it gives advantage during the admission process. Candidates who have their graduation scores lesser than 50% shall need to posses work experience.
Interview Process: We conduct Interviews for all the shortlisted candidates
Group Discussion process: We conduct Group Discussions for all the shortlisted candidates in a group of 10-12 candidates.
Application Process
The stepwise application process is mentioned below:
Step 1: Visit the official website (www.lmtsm.thapar.edu)
Step 2: Click on the 'Apply' button under MBA Admissions.
Step 3: Register online by filling in the valid information, including email id, contact information, and other relevant details.
Step 4: Pay the application fee.
Step 5: Fill in the details, such as residential information, personal details, educational details, and entrance exam score, and submit the form.
How does one apply for the programme?Candidates need to apply online for MBA admission. The online application form is available at the official website

What is the Application fee? To complete the application process, candidates are required to pay INR 1100 as an application fee.
Where do I get a copy of the Application form? Application forms are available on the official website of the institute
When does the application process start ? The application forms for 2022 Admissions will start in November 2021.
Admission Process
What was the NMAT score cut-off for accepted students? 125 Composite Score.
Who should I contact if I have a question regarding my application? Please share the contact person name and email.
For any query, write to us at mba_admission@thapar.edu or reach our Admissions team at 8288026129/ 8288026130.
Fees and Other Expenses
What is the estimated cost for the entire program for a student? The fee for the MBA and MBA (Business Analytics and Big Data) program is payable in 4 instalments in 4 semesters. The total cost of MBA (regular) can be viewed at the official website
What is the cost of living for the duration of the programme?
The AC hostel fees is INR 45,500
The Non-AC hostel fees is INR 34,500
The hostel rooms are double seater.
The mess cost is INR 17,500 per semester.
Financial Support Options Available to Students
Financial support in the form of scholarships is extended by our school. We award a number of scholarships on our MBA programme to applicants who have achieved excellence in their prior academic studies.
There are 75 Merit scholarships available under this category.
What are the options of availing a loan? The Institute does not provide the loan by itself.
Curriculum/Faculty/Student Exchange/Hostel Accommodation Facilities of the School/Other Details
How many intakes in a year and when? 3 Intakes – March, May, July
Size of the intake? 200 Students.
What are the specializations available?
1.

Business Analytics and Big Data
2.

Marketing
3.

Finance
4.

Information System
5.

Operations
6.

Human Resource Management
8.

Entrepreneurship and Innovation
9.

Energy and Sustainability
10.

Education Management and Leadership
11.

International Management and Strategy
What is the geographical representation of the candidates at your school? Any student exchange programs available at your school?
Available in previous question.
What % of the batch finds jobs within 3 months of graduation? 90%
What is the mean starting salary of a class after graduation? INR. 6.21 Lacs p.a.
What are the key sectors represented in recruiters for this programme? BFSI, Logistics, FMCG & Retail, Analytics, Manufacturing, Education Services.
Share with us the names of some top recruiters for this programme: American Express, Deloitte, Ernst and Young, Wipro, Hyundai, Nestle, TCS, MRF, Indusind Bank, Xebia, HDFC Bank.