School Expert Q&A: T A Pai Management Institute
School Expert Q&A: T A Pai Management Institute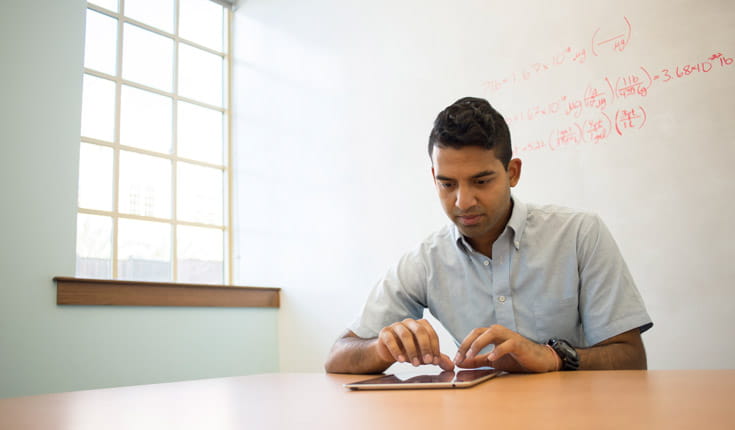 About the Program
Name of the school: T A Pai Management Institute
School location: Badagubettu, Manipal
Year school started: Batch started at 1984.
Any ranking of the school: AACSB, AMBA, PRME CHAMPIONS, AACTE, NBA, BGS, GRAP, B-School Rankings 2020.
Name of the program: MBA
Admission Criteria
NMAT score range: 190 and above
Work Experience requirement, if any: 0-4 Years
Interview Process : Moderated Group Discussions (MGD)&Personal Interview (PI)
Group Discussion process : Yes

What is the Application Process?
How does one apply for the programme? https://www.tapmi.edu.in/programs/mba-ib/
What is the Application fee ? No Application fee
Where do I get a copy of the Application form ? https://www.tapmi.edu.in/programs/mba-ib/
When does the application process start? Apply Now
What is the last date to apply? Applications are open
What is the Admission Process?
Applicants will have to go through the following process.
Profile considered for shortlisting consists of valid NMAT/CMAT/GMAT/CAT&XAT scores (whichever is higher), academic profile (10th, 12th, Graduation), work experience (type of company, total experience, etc.), foreign language abilities, International Projects/ Certification, extracurricular achievements, if any.
The Statement of Purpose plays an important role in shortlisting candidates.
Shortlisting will happen on the basis of the overall strength of the application and the strong motivation of the applicant to pursue a global career.
Shortlisting on a profile basis. Apply Now
Stage II: Admission Process
The stage II of TAPMI admission process consists of Moderated Group Discussion (MGD) and Personal Interview(PI).
Moderated Group Discussions (MGD): Moderated Group Discussions aim to evaluate the ability of the applicant to interact within a group and enrich the discussion. MGD aims at evaluating the applicant's skills in Problem Solving, Confidence and Assertiveness, Persuasion, and Communication. Topics for MGD will be based on international current affairs/ issues debated in the last few years.
Personal Interview (PI): The PI is aimed at assessing the applicant's motivation toward a career in Global Business Management. The final selection of the candidate is based on NMAT / CMAT / CAT / XAT / GMAT (Overall Percentile) + Verbal Ability Percentile + Academic Profile + Work Experience + MGD Score + PI
What constitutes work experience? 0-4 Years of Full-time employment in any sector.
When should I expect an invitation] for an interview? If shortlisted within 24 hours
Who should I contact if I have a question regarding my application?
Program Head: Prof. Ishwar Haritas Phone (91-820-2701027)
Email: ishwar.haritas@manipal.edu
chairmib.tapmi@manipal.edu
Co-Chairperson: Prof. Vishnu Chandar Venkatesh Phone (91-820-2701085)
Email: vishnu.cv@manipal.edu
cochairmib.tapmi@manipal.edu
Chairperson-Admissions: Prof. Aniruddha Chatterjee Phone (91-820-2701423)
Email: aniruddha.chatterjee@manipal.edu
mibadm.tapmi@manipal.edu
Program Support: Ms. Latha Takur M Phone (91-820-2701474)
Email: latha.takur@manipal.edu
infomib.tapmi@manipal.edu
Fees & other expenses
What is the estimated cost for the entire program for a student? Tuition fee – INR 8.00 lakhs for the year(2022-23)+INR 8.00 lakhs for the year(2023-24)
The hostel fee for the batch 2022-2024:
Academic year 2022-2023: INR 1.65 lakhs | Academic year 2023- 2024: INR 1.80 lakhs
Alumni lifetime membership fee - INR 20,000
Caution deposit (Refundable) - INR 40,000
International Immersion Program - INR 75,000
What is the cost of living for the duration of the programme? 8-12K/Month
Are there other costs to be taken into consideration? If yes, what? 8-12 K are inclusive, expenses depend on Lifestyle
Financial support option available to students
What are the scholarship options available for NMAT by GMAC students?
TAPMI appreciates and values merit and awards scholarships to meritorious students. For aspiring students, under Dr. Ramdas Pai Merit Scholarship Scheme, TAPMI provides a fee waiver of 30% of the total tuition fee.
One student amongst every ten from across all programs gets funding through Dr. Ramdas Pai Merit Scholarship Scheme.
Other Scholarships/ Academic Awards
Other Scholarships/ Academic Awards
| | | |
| --- | --- | --- |
| Particulars | Eligibility | Amount |
| Dean's Roll of Honour | Dean's Roll of Honour | INR. 2 lakhs each |
| TAPMI MBA-IB Foreign Language Scholarships | All eligible students of MBA-IB* | * See Below |
| TAPMI GARP Scholarships | All eligible students of MBA-IB** | ** See Below |
| YLP Stipend | All eligible students across Programs | Up to INR. 6 lakhs |
*Full Cost of Foreign Language Exam Certification will be reimbursed to MBA IB students who clear the stipulated levels from a recognized Language Training Organisation such as the Alliance Française, Goethe Institute or other such, as decided by TAPMI.
**Cost of GARP SCR Certificate will be reimbursed to all students who successfully clear the exam.
What are the criteria for determining scholarship applications? Merit come need-based
What are the options of availing a loan? Education Loan Support TAPMI has associated with several banks to ensure quick financial assistance for students interested in availing of educational loans. Please get in touch with the TAPMI Admissions teams for further information and support. List of Associate Banks: Canara Bank, State Bank of India, HDFC Credila, Indian Bank, ICICI Bank, Axis Bank, HDFC Bank. The interest rates and other details are subject to change as per the discretion of the banks. Please contact the respective banks for further details.
What is the amount of loan that a student is eligible for and what are the documents required? Please call TAPMI Admissions for information &support.
Tel: +91 820 2701010/1070/1080/1090 Fax: +91 820 2570699
Email: admissions.tapmi@manipal.edu
At what rate of interest is the loan available? What is the date from which loan repayment begins? What is the maximum period in which a loan is to be repaid? Please call TAPMI Admissions for information &support.
Tel: +91 820 2701010/1070/1080/1090 Fax: +91 820 2570699
Email: admissions.tapmi@manipal.edu
Does the Institute/School help in getting loan? Yes. Contact Admissions.
How many intakes in a year and when? Intake annually February to June
Size of the intake? 517
What are the specializations available?
What % of the batch finds jobs within 3 months of graduation? 100%
What is the mean starting salary of a class after graduation? 11 Lakh (2020-2022 Batch)
What are the key sectors represented in recruiters for this programme? IT/ITES, Manufacturing, BFSI, FMCG retail, Consulting Health Care, Hospitality, Automotive, Real Estate, Education and Logistic, Import & Export.
Share with us the names of some top recruiters for this programme? Deloitte, JP Morgan, Accenture, Capgemini, E&Y, HCL, ICICI Bank.
Does your school run any initiatives to promote classroom diversity? Yes. Each classroom has promoted diversity in Gender, Qualification, Work experience, and State.