School Expert Q&A: ISBR Business School
School Expert Q&A: ISBR Business School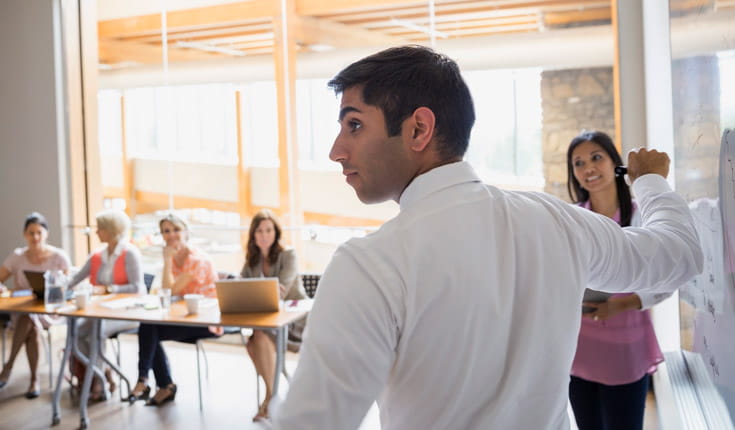 About the Program
About the Program
Name of the school: ISBR Business School
Location: ISBR Business School, #107, Electronic City-Phase 1, Behind BSNL Telephone Exchange, Bangalore - 560100
Year school started: 1990
Name of the Program: PGDM, MBA
Any ranking of the school: Platinum Rated B School by AICTE for 6 consecutive years; Best Industry Linked Institute - AICTE CII Survey of B School, 2022
For GMAT accepting programs, click here
NMAT
Admission Criteria
NMAT score range: 210 and above
Work Experience requirement, if any: No
Interview Process: Written Ability Test, Micro Presentation, Personal Interview
Any other requirement in the admissions process: Consistency of academic merit, versatility and achievements, work experience, if any
Application Process
How does one apply for the programme? Candidates are advised to share their scores with ISBR Business School through NMAT by GMAC
What is the Application fee? INR 1000.00
Where do I get a copy of the Application form?www.isbr.in
When does the application process start?
Early Round- August 2023- December 2023 ;
Regular Round 1 - January 2024 - February 2024;
Regular Round 2 - March 2024
What is the last date to apply? 31st March, 2024
Admission Process
Share NMAT Score through NMAT by GMAC
Call letter for shortlisted applicants
Written Ability Test
Micro presentation
Personal Interview
What was the NMAT score cut-off for accepted students? 210
What constitutes work experience? Relevant, full time work experience of a minimum of 12 months (excludes internships)
When should I expect an invitation for an interview? Interviews will be scheduled between January 2023 – March 2023
Who should I contact if I have a question regarding my application? Office of Admissions - 080 40819500
Fees & Other Expenses
What is the estimated cost for the entire program for a student? Tuition Fee - INR 10 Lakhs
What is the cost of living for the duration of the programme? Double Occupancy - INR 2 Lakhs / academic year; Single Occupancy- INR 3.36 Lakhs / academic year
Are there other costs to be taken into consideration? If yes, what are they? Examination Fee | Convocation Fee | Alumni Association Fee
Financial Support Options
What are the scholarship options available for NMAT by GMAC students? Merit Scholarship | NMAT Scholarship | Industry Sponsored Scholarship | Sports Scholarship | Scholarship for EWS category
What are the criteria for determining scholarship applications? Academic Merit | NMAT Score | Work Experience | Any other achievements
What are the options of availing a loan? Education loan can be availed through National Banks & NBFCs
What is the amount of loan that a student is eligible for and what are the documents required? ISBR provides all documentation support required to apply for education loan. Loan amount is the sole discretion of the bank
At what rate of interest is the loan available? What is the date from which loan repayment begins? What is the maximum period in which a loan is to be repaid? As per bank's policies
Does the Institute/School help in getting loan? Yes
Curriculum/Faculty/Student Exchange/Hostel Accommodation Facilities/Other Details
How many intakes in a year and when? One intake. June 2024
Size of the intake? 360
What are the specializations available? HR, Finance, Marketing, Operations, Business Analytics, Data Science, Product Management, Fintech & New Age Financial Services, Retail, International Business, Information Science, Travel & Tourism, Health Care Management, Sports Management, Supply Chain & Logistics, Banking & Insurance, Small Business Management and Business Entrepreneurship (SBM&E)
What is the geographical representation of the candidates at your school? Any student exchange programs available at your school? Every cohort has an average of 25 states representation. Student exchange is available to study one / two semester abroad with international partner universities What % of the batch finds jobs within 3 months of graduation? 98%+
What is the mean starting salary of a class after graduation? INR 7.5 Lakhs
What are the key sectors represented in recruiters for this programme? Banking, E Commerce, Manufacturing, BFSI, IT, ITES, Edu-tech, Automobile, Consulting, Hospitality, Logistics & Supply Chain, FMCG
Share with us the names of some top recruiters for this programme: Gartner, PWC, Grant Thornton, Flipkart, Federal Bank, Fedex Deloitte, Tredence, L'oreal , Wipro Consumer Care, Britannia, IBM, Dell, TCS, Hexaware Technologies & more
Does your school run any initiatives to promote classroom diversity? If yes, please share details: Yes. Scholarships & preferential treatment in admission selection process.