School Expert Q&A: Indian School of Business
School Expert Q&A: Indian School of Business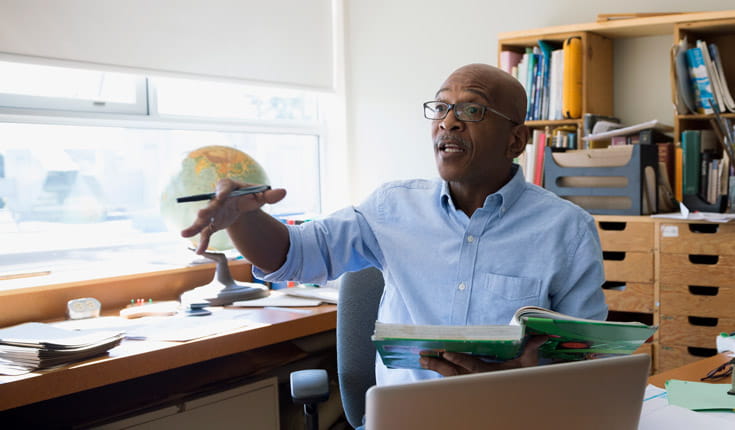 Rupesh Bisht answers your questions about the Indian School of Business.
Rupesh Bisht is an associate director, with the Admissions and Financial Aid Department at the Indian School of Business (ISB). An alumnus of the ISB class of 2009, he handles International Marketing and the Young Leaders Programme (YLP) at ISB. He answers your questions below.
---
About the School
Name of the School: Indian School of Business
Name of the Program: Post Graduate Programme in Management
School Location: Hyderabad (Telangana) & Mohali (Punjab)
Year School Started: 2001
Global Ranking: Consistently ranked by Financial Times in Global MBA Rankings
Admission Criteria

GMAT™ Score: Yes; no cut off for GMAT.
Work Experience Requirement: Preferably two years of full time work experience post graduation (deferred admission is offered to those with less than two years work experience under the early entry option).
English Proficiency Requirement: TOEFL /IELTS /PTE score is required only if language of instruction during undergraduate education was not English.
Letters of Recommendations: Two LOR's are required from current or previous work place.
Interview/Group Discussion: Personal interview only, there is no group discussion.
Others: A bachelor's degree in any discipline.
Application Process
How does one apply for the programme? Applicant has to submit the online application which comprises of essays, recommendation letters, and mark sheets.
What is the range of GMAT scores for accepted students? In the past we have accepted profiles with scores ranging from 600 to 780, the average GMAT score for the current class is 710.
Is there a requirement of 16 years of study prior to applying? No.
What constitutes work experience? Any full-time work experience after graduation is considered toward eligibility criteria.
Is there a minimum cut off for TOEFL/IELTS/PTE test scores? We do not have any cut off score, however we recommend a score of 100 for TOEFL and for IELTS 7 on a scale of nine.
Who should letters of recommendation come from? LOR's from the workplace may be given by anyone who can comment on your professional work (e.g. supervisor/senior colleague, or client).
When should I expect an invitation for an interview? In case an applicant is shortlisted, he/she will be invited by email a week to 10 days in advance of the scheduled interview. Non-Indian passport holders can expect an early decision within six weeks of submitting a completed application.
Who should I contact if I have a question regarding my application status? Please call Team Admissions at 04023187403/74 or email at: intladmissions@isb.edu.
Fees & Other Expenses
What is the estimated cost for the entire program for a foreign student? Approximately USD40,000.

What is the cost of living for the duration of the programme?

The fee includes the cost of living. PGP is a residential programme.

Are there other costs to be taken into consideration? If yes what?

Books and meal plan would be approximately USD2,750.

Are there any job opportunities on campus that can be pursued while the programme is on, to lower the overall cost impact?

None, PGP is a rigorous course and the students need to focus on various activities simultaneously. Each year ISB awards approx 100+ scholarships ranging from USD6000-USD30,000 depending on the merit of the application. For details please visit: www.isb.edu/pgp/fees-financing/Scholarships.
Financial Support Options
What are the scholarship options available for the students? The scholarship amount ranges from USD6,000 and USD30,000 depending on the merit of the application. This would cover approximately 15-80 percent of the total programme cost. There are various other geographic-specific scholarships as well. Visit: www.isb.edu/pgp/fees-financing/Scholarships for more information.
What are the criteria for determining scholarship applications? Scholarships are both need- and merit-based. Recipients are selected on the basis of exceptional academic and professional performance, as well as personal qualities such as leadership and community service. Corporate scholarships are also offered and you may apply after you have commenced the programme.
What are the options of availing a loan? Indian students can avail loans up to 90 percent of the programme cost through various leading banks. For a complete list visit: www.isb.edu/pgp/fees-financing/loans. There are no loan programs available for international applicants except Nepalese applicants.
What is the amount of loan that a student is eligible for and what are the documents required? Empanelled banks provide loans to cover 80-100 percent of the fees payable. These loans are collateral-free and do not attract any processing charges. The offer letter from ISB is all a student needs to apply for the loans.
At what rate of interest is the loan available? What is the date from which loan repayment begins? What is the maximum period in which a loan is to be repaid? Interest rates and repayment tenure vary from bank to bank. For complete details visit: www.isb.edu/pgp/fees-financing/loans.
Does the Institute/school help in getting loan? All admitted students are eligible for loans. Once they accept the offer, they are provided with further details on how, when and whom to apply for loans.
Curriculum/Faculty/Student Exchange/Hostel Accommodation Facilities

How many intakes in a year and when? Only one intake in April every year.
Size of the intake? 770
What is the percentage of foreign students in an average class/intake? In any given year the average intake of students having international exposure is 20 percent of the batch.
What are the specializations available? Operations, Marketing, Strategy & Leadership, Entrepreneurship, Finance, IT, Healthcare & Manufacturing.
What % of the batch finds jobs within 3 months of graduation? 100 percent.
What is the mean starting salary of a class after graduation? INR 1741081 for Co2013.
What are the key sectors represented in recruiters for this programme? Consulting, General Management & Strategy, Sales & Marketing, IT, Product Management, Pharmaceutical & Healthcare, etc. Please find more info at: www.isb.edu/pgp/careers/placement-highlights.