The Rise Of Women's Leadership Summits
The Rise Of Women's Leadership Summits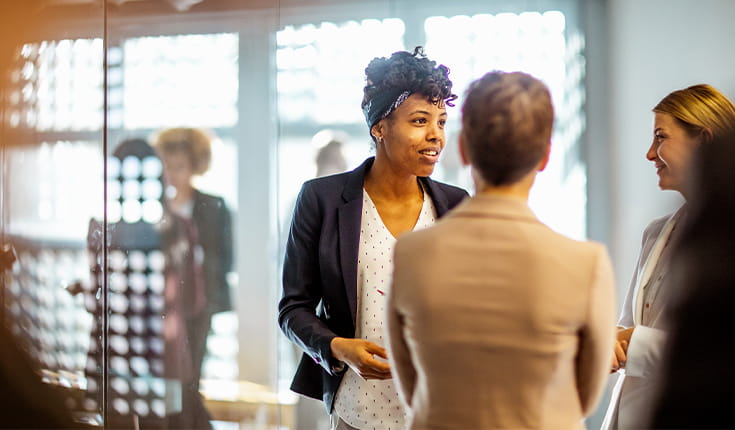 Across the globe, women face social, cultural, and economic barriers to reaching leadership positions. Focused events – such as women's leadership summits – can help to overcome such challenges by informing and inspiring young women about senior roles in business and beyond.
Leadership summits facilitate access to educational resources, development, and mentorship opportunities, which encourage and equip women to access top leadership positions.
What are women's leadership summits?
Women's leadership summits are events specifically designed to strengthen the leadership capabilities of women of all ages.
The summits provide platforms to successful businesswomen, allowing them to impart insight into what leadership skills and strategies women in leadership can employ.
Such leadership summits are an opportunity for women to develop their interpersonal skills and strengthen their management knowledge base.
People attending these summits can get involved in workshops and listen to talks held by guest speakers which will equip them with the tools needed to become an effective leader.
The range of summits available – both virtually and in-person, often for free, and across the globe – make them a great way to build a network and to connect with some successful female business professionals.
Generally, people of all gender identities can attend the summits to learn about the diversity issues faced by women in the business world.
What are the benefits of young women's leadership summits?
Many companies and universities host summits with a goal of inspiring future generations of female leaders.
These events target younger women and girls, giving them the chance to hear from aspirational women working in management.
Typically, large groups of students will gather together and participate in team-building and leadership development training.
"Leadership summits set the stage for the next generation of female entrepreneurs and leaders by not only providing inspiration for those with ambitions to excel, but also through access to role models and mentors," says Katty Hsu, a senior researcher and startup facilitator at the Erasmus Centre for Entrepreneurship in partnership with Rotterdam School of Management Erasmus University.
"Research shows that negative gender stereotypes can be broken simply through intergroup connections and communication, including access to role models and mentors," she adds.
Why are women's leadership summits taking place?
The rise of women's leadership summits taking place globally are due to a lack of women in the C-suite and in senior leadership positions around the world.
In recent years, the number of women pursuing leadership positions has increased. In 2023, women hold 23% of executive positions, 29% of senior management positions and 37% hold managerial positions globally.
There is still a disparity between the amount of senior-level positions held by men and women in leadership, however. The goal of women's leadership summits is to help overcome these gender inequalities in the workplace.
Lisa Umenyiora, executive director for careers and student life at Imperial College Business School, and recent speaker at a panel hosted by Women In Leadership Events, explains that women's leadership summits are "an important way to increase the proportion of women in leadership in business and society.
"The goal is to help build confidence in women by showcasing role models to them that they can relate to, and to connect them with a female support network," says Lisa.
By enabling successful women in business to speak with other women in their community, women and girls can benefit from a sense of increased empowerment.
"These sessions offer more than just practical tools and hands-on skills. The sessions offer a psychological support for women which comes through knowing that a community is out there," says Lisa.
So, how could you benefit from attending a women's leadership summit? Find out about summits taking place around the world:
Women's leadership summits in Canada
In Canada, women currently make a third of management occupations and 30% of senior management level occupations.
Women's leadership summits have been taking place across Canada for the past 20 years, aiming to promote the voices of women leaders and gender equality.
Evnoia Group is a corporate institution that specializes in leadership development. It hosts an annual platform for established chief executive officers (CEOs), senior vice-presidents (SVPs), managers and heads of departments to discuss their own leadership journeys and advice.
Milachia Group also hosts its Global Women in Leadership Hybrid Summit in Canada, Europe and the US. The goal of this summit is to highlight how gender equality for women in leadership positions is on the rise across places in Canada, the US and Europe.
By speaking with a wide range of successful businesswomen, it provides insight into the contemporary challenges faced by women in top leadership positions.
The Public Sector Network is another organization that has also hosted a number of women in leadership summits in Canada. Previous speakers at the summit have included members of the House of Commons Canada, and the Director of Gender and Race Equity, Inclusion, Indigenous Relations and Social Development at the City of Ottawa.
Women's leadership summits in the US
In the US, women account for more than half the workforce, but hold 35% of leadership positions. Out of all Fortune 500 companies, 8.8% have female CEOs.
To challenge this, women's leadership summits are taking place across the States.
OPTIMA is a talent optimization conference that brings business leaders together to discuss developments within the business world.
The annual eWomenNetwork ICON conference, based in Dallas, attracts female business owners who want to learn from aspiring women in leadership. The event helps women to connect with a community of female business owners in the US.
Other events include the women's leadership summit held by Prime Global in New Orleans, which provides attendees with sessions which focus on developing the confidence to go after their career goals.
The Women in Tech Summit (WITS), provides an all-female panel of successful women in tech. The summit focuses on providing a platform for women and marginalized minorities who work in tech.
WITS summits take place in Washington DC, Philadelphia, Chicago, Denver and Raleigh. Each summit enables guests to connect with other women working in business or technical roles within the technology sector.
Women's leadership summits in India
The number of women taking up senior leadership positions in India has grown steadily in recent years.
There has also been an emergence of women's leadership summits taking place in India.
The Future Woman Leader Summit and Award event has been celebrating the achievements of women leaders in India for the past five years. The event, has been held in Delhi, Mumbai and Bengaluru, and aims to celebrate female leaders from across India.
The annual World Women Leadership Congress Awards commemorates the achievements of Indian, female leaders involved in business organization, technology, and government.
Also UBS Forums hosts the Women Empowerment Summit and GIWL awards to bring in business leaders to share advice on how they as women managed to overcome social and cultural barriers and succeed in their chosen fields. Speakers in 2023 included the chief technical officer of Microsoft, and director of Bengaluru Digital Sales Centre & Digital Sales Centre Growth at IBM.
Women's leadership summits in the UK
Around 45% of senior roles across the UK are held by women – but only 30% of leadership jobs.
Although the number of women steadily stepping into senior-level leadership positions in the UK is rising, fewer women make up higher ranking senior positions compared to men.
Leadership summits or events curated for women taking place across the country seek to redress this.
Events such as Women Into Leadership offer hands on advice and career coaching. This particular summit helps women to navigate the challenges they may face as female leaders. The summit is held in London, Liverpool, Cardiff, Birmingham, Manchester, and Belfast.
The Women of the Future Summit puts young leaders who are making meaningful contributions to society in the spotlight and gives them the chance to share advice and tips related to their leadership styles. Previous speakers have included the founder of The Women of the Future Programme, executive producer of BBC Three, and a diverse range of journalists and activists.
In the business school sector, the Women in Leadership Summit in February 2023, saw business schools across Europe coming together to discuss the practical ways in which women can progress their careers.
Panelist Lisa Umenyiora, representing Imperial College London, says that the event was a chance "to showcase how business school can help women achieve their goals."
The future of women's leadership summits
Women's leadership summits continue to rise in popularity worldwide, as women continue to advance into leadership positions, and progress into senior-level roles across a wide range of sectors.
"Women are reaching leadership positions in politics, policy-making, education and business. Enough so that they can gather and organize these summits with the purpose of mentoring and supporting diverse talent," says Andreea Gorbatai, professor of entrepreneurship at Vlerick Business School.
"These initiatives are important because they offer women a space to be seen, heard and supported. These summits also offer women a space to air issues that disproportionately affect women and minorities," she adds.