GMAT™ Examinee Spotlight: Ni Yang
GMAT™ Examinee Spotlight: Ni Yang
Name: Ni Yang
Undergraduate university: University of Pennsylvania
Program Enrolled/Business school attending: University of Washington, Foster School of Business
What's your background?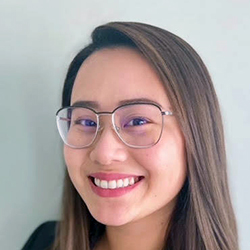 I spent the first three years of my career as an engineer but pivoted to product management because I wanted to get closer to the consumer. Working on consumer behavior problems is always exciting to me because I love digging deep to uncover latent needs and using data to understand why people spend their money the way they do.
How did your GMAT journey begin?
I started studying for the GMAT in 2020 using the GMAT official guide prep books. Over the last two years, I've taken the test four times to reach my target score.
What additional resources did you tap into on your journey?
I took a Manhattan Prep course and had a subscription to TTP for a few months.
What were your admissions outcomes?
I received offers of admission from Georgetown McDonough, CMU Tepper, and UW Foster all with significant scholarship offers.
What advice would you give to others?
Lean on those who have gone through the process already and find a community of other applicants to bounce ideas off of.
Get your personalized GMAT prep plan
One size does not fit all when it comes to GMAT™ exam prep. In less than a minute, find out which GMAT™ Official Prep fits your personal study style and exam score goals by taking our quiz.