GMAT™ Examinee Spotlight: Alfonsina Hernandez
GMAT™ Examinee Spotlight: Alfonsina Hernandez
Making the most of the resources available to you and finding the right mentors can make all the difference in your GMAT exam journey.
mba.com is teaming up with Admit.me Fellows, a free comprehensive admissions support resource for under-resourced underrepresented minorities and women, to highlight the stories of GMAT examinees from underrepresented backgrounds.
Meet Alfonsina Hernandez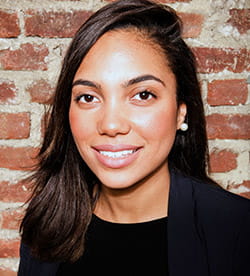 Alfonsina (Alfy) Hernandez is an Admit.me Fellow and the daughter of Dominican immigrants from New Jersey.
Read on to hear about Alfy's GMAT journey and her advice to prospective applicants beginning their own journey to business school.
What's your background?
Alfy Hernandez: I'm the daughter of proud Dominican immigrants. A New Jersey native, I went to Rutgers University where I double-majored in Communication and Psychology.
I've spent most of my career post-graduation working in sales/sales adjacent roles, most recently in a partnerships manager position at a nonprofit startup. My work in the nonprofit space over the past couple of years had solidified my passion for diversity and inclusion, and my confidence that an MBA will allow me to scale my impact.
How did your GMAT journey begin?
AH: I began studying for the GMAT in 2018 on and off. I was extremely intimidated by the GMAT since I didn't have a strong quantitative background. I used the Magoosh platform to study and purchased a few tutoring sessions through the site. I did not take my first official exam until December 2019 in which I scored 540.
Even though I felt discouraged, I was lucky to have my amazing mentors, Eric and Kofi, who continued to push and assured me that I just needed to stay consistent. With that said, I signed up for a January - March 2020 Manhattan Prep GMAT course. It was helpful to reinforce some of the concepts I learned via Magoosh. I also started to better understand the nuances of the exam.
Ultimately, I took the exam in October and scored a 620 and again in early December and scored a 660.
What additional resources did you tap into on your journey?
AH: I would say the Admit.me fellowship was a turning point. In joining the fellowship in June 2019, I gained a community of peers that were on the GMAT journey and so willing to share resources and time. I was introduced to the Target Test Prep program and realized there were some holes in my basics. I was also lucky enough to be tutored by an Admit.me fellow weekly who continued to support me throughout the entire process.
What were your admissions outcomes?
AH: I applied with the 660 score to five schools and received interview invites for all. I'm now enrolled at Columbia Business School and received a Columbia Fellowship!
What advice would you give to others?
AH: Firstly, focused study is imperative, the GMAT is not something you can "kind of" be preparing for, it needs to be a concerted effort.
Secondly, start at the beginning, I would recommend Target Test Prep for those needing to brush up on the basics. Finally, find a support system. Studying with others and having people I could lean on throughout the process that understood how hard it was helped a lot!
Get your personalized GMAT prep plan
One size does not fit all when it comes to GMAT™ exam prep. In less than a minute, find out which GMAT™ Official Prep fits your personal study style and exam score goals by taking our quiz.