Co-Founders of MarketSnacks Balance Graduate School and a Successful Acquisition
Founders of MarketSnacks Balance Grad. School & Acquisition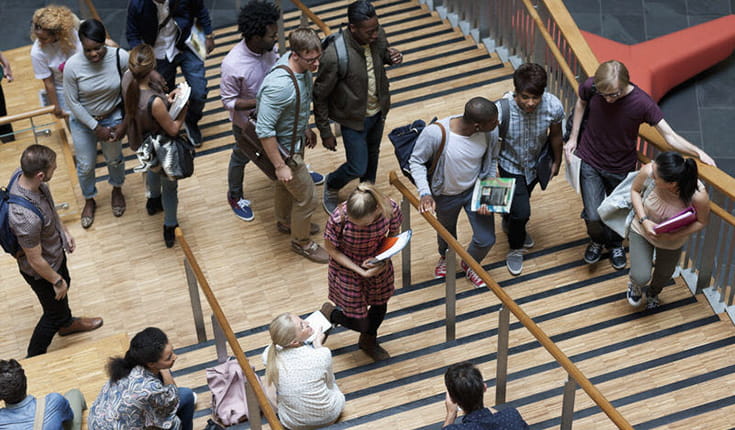 Since we last talked to Jack Kramer and Nick Martell, Co-Founder of MarketSnacks, they've been busy. In a little over a year, they've scaled their company, launched a newsletter, and negotiated an acquisition by Robinhood. On top of becoming Robinhood Snacks, Jack and Nick both made big decisions when it came to their MBA programs. Learn the story of their acquisition and how business school helped them get there:
What's the story of your acquisition?
Nick: This is all rooted in our first year of business school, which was a wild ride. Jack was at Ross, I was at Wharton, and we were growing the company on a daily basis with our newsletter. Then we got the honor of being named to the Forbes 30 Under 30 list, which was fantastic exposure for us. We decided to then launch a daily podcast, which became MarketSnacks Daily. That took off and we were partnering every week with exciting new brands to promote in the podcast, and one of those companies was Robinhood.
How did that partnership grow into an acquisition?
Jack: It came down to mission alignment. It started with a week long sponsorship, but we suspected there was a little more up their sleeves. Robinhood is this amazing investment platform that eliminates commissions to make investing more accessible. Their mission is to democratize the financial system and one challenge they were having was finding a way to democratize financial news. They loved the way MarketSnacks was creating digestible content for everyone, so the mission alignment was really clear.
Nick: The whole process was a wild start to our second year. Jack and I flew out to meet with the co-founders of Robinhood, and we felt an incredible connection. They have a similar background story, being college freshman roommates like Jack and I. They also had a vision of connecting with a wider audience. Jack and I had to make big life decisions with our MBA programs. I was supposed to go to Harvard Kennedy School for a dual degree, so I put that on pause and flew out to San Francisco, where Wharton has a campus. I continued taking Wharton classes during the fall, as we continued the negotiation process. It was a bit of a surreal experience because I would be in a class where we'd be learning about negotiations, and then we would jump on a phone call with Robinhood to go over the acquisition. It was this incredible combination of putting our MBAs into action while we were not only scaling the company, but also selling the company.
Jack, what decision did you make with your MBA program?
Jack: Nick and I had conventional MBA internships last summer at awesome companies, but Nick and I got together and decided that we had reached a moment of inflection for MarketSnacks. We turned down our internships and jumped into MarketSnacks full-time for the summer. We put all our heart, all of our sweat, and everything into MarketSnacks and saw what it could become. I had plans to go back to Michigan, but the deal looked really good with Robinhood. As an entrepreneur timing isn't always perfect. Robinhood saw our pitch deck to investors to scale the company, loved what we were doing, and we thought the acquisition was a once in a lifetime opportunity. Just as I was deciding to pause my MBA, I got a message from Dean DeRue at Michigan about a new, part-time online MBA and thought that's perfect for me. I'd spent a lot of time on campus already and the prospect of finishing things up one class at a time, when convenient for me, was too good to pass up.
Before this acquisition even started, how did business school help you scale MarketSnacks?
Jack: The way that we had monetized MarketSnacks, prior to joining Robinhood was through sponsored newsletters. We had been selling our sponsorships one day at a time and we would have tons of availability because we publish a newsletter every day. One thing we learned from a pricing class was it's all about leverage, when it comes to negotiating the price of something. We got a recommendation to tweak how we propose sponsorships from sponsoring a day to sponsoring a whole week. Suddenly we had scarcity in our advertising space and that helped us gain some leverage in the conversation.
Nick: It was a powerful combination of learning about businesses every day and then Jack and I would get on the phone after class and implement what we had learned, right away into the company. And then on the resources side, we were at the Wharton campus almost every day, at the end of the acquisition process and Jack had advisors from Michigan, who were incredible resources all summer long.
Jack: Josh Botkin and Sarika Gupta were my entrepreneurship coaches at Michigan Ross. They provided me with not only strategic advice on the acquisition and transition, but they also provided me with emotional support. We were selling our company, and I was moving from Vermont to California. My coaches were my closest confidants and allies besides Nick and my family.
Nick: Jack and I also had the benefit of our fellow business school students being an incredible resource. They were excited about their peers founding a company, so we got support from them reading, listening, and sharing.
Want to learn more about Robinhood Snacks? Sign up to receive their daily newsletter simplifying financial news here or listen to their daily podcast, Snacks Daily, on Spotify, iTunes, or wherever you get your shows.