10 Inspirational Black Business Leaders with MBAs
10 Inspirational Black Business Leaders with MBAs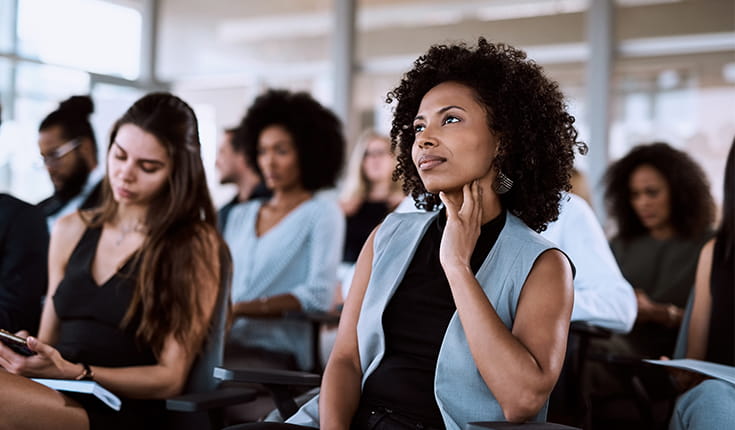 Undertaking an MBA program is a great way for aspiring business leaders to develop the knowledge and network it takes to thrive in the world of business—but Black professionals are underrepresented in the classroom.
According to the Wall Street Journal, just 10 percent of US MBA students are Black. However, there are plenty of trailblazing Black MBA graduates to celebrate, who've used their degree to advance exceptional careers and lift up other Black professionals
Here are seven notable Black business leaders who've earned an MBA.
Ramona Hood, CEO of FedEx Custom Critical
Weatherhead School of Management Executive MBA, class of 2016
Ramona Hood is the CEO of FedEx Custom Critical—the expedited and specialized shipping division of delivery giant, FedEx. Ramona has worked with the organization for almost 30 years, joining aged 19 as a receptionist.
Over the years, Ramona worked her way up through the company, taking on leadership roles in departments ranging in scope from marketing to operations. In 2016, she earned her Executive MBA degree from the Weatherhead School of Management at Case Western Reserve University.
Robert F. Smith, CEO of Vista Equity Partners
Columbia Business School, class of 1994
Robert Frederick Smith is the founder and CEO of investment firm Vista Equity Partners. He started his career as a chemical engineer, but after a decade pivoted into the world of business by enrolling in the MBA program at Columbia Business School.
During his MBA, Robert was president of the Black Business Students' Association. After graduation he launched an exceptional career in investment, working with giants like Goldman Sachs overseeing US$50 billion worth of mergers and acquisitions.
In 2000, he decided to set out with his own investment management firm and formed Vista Equity Partners. Today, his firm manages more than US$77 billion worth of assets.
Randal D. Pinkett, The Apprentice
MIT Sloan School of Management MBA, Class of 1998
Randal D Pinkett is best known as the first Black contestant to win reality show, The Apprentice. Following his 2005 victory, Randal undertook the show's prize of a year-long apprenticeship with Donald Trump, working on a US$110 million renovation project that encompassed several hotels and casinos. He has an MBA from the MIT Sloan School of Management.
Prior to the show, Randal was already a successful entrepreneur, having co-founded a consulting startup called BCT Partners. After his apprenticeship ended, he returned to his own company.
Alfred C Liggins III, CEO of Urban One
Wharton School of Business MBA, class of 1993
Son of radio station entrepreneur Cathay Hughs, Alfred C Liggins III had an early introduction to the world of business. As a teenager, he was already hosting a talk show on his mother's radio station, WOL.
Alfred spent his early career in the record industry, working in sales and management, but after a job fell through returned to the family business. Over the next few years, Alfred and Cathy acquired several more FM stations in Washington, DC, and Baltimore, beginning the Radio One empire.
In 1994, Alfred took over as CEO of Radio One, now Urban One Inc., and earned his MBA degree from The Wharton School the next year. In 1999, Radio One went public and became the first company owned by an African-American woman to be floated on the stock exchange.
Willie Woods, Co-founder of ICV
Harvard Business School MBA, class of 1993
Willie Woods is the co-founder of private equity firm, ICV—which today manages more than $1.4 billion worth of capital.
Throughout his career, Willie has played an important role in diversifying the financial services landscape by recruiting more African American managers.
Before founding ICV, he was a vice president in the investment banking division of Deutsche Bank. He graduated from Harvard Business School with an MBA in 1993, and also holds a bachelor's degree in accounting from Morehouse College.
Michael Tefula, Head of Finance, CIRCA5000
Oxford Saïd Business School MBA, Class of 2017
Michael Tefula is the head of finance at CIRCA5000, a British impact investing app that aims to make the practice more accessible. He's a published author, having written three books aimed at business savvy university students, including Graduate Entrepreneurship.
He also works with the non-profit Diversity VS, which aims to foster greater diversity in the venture capital landscape. Michael graduated from the MBA program at the UK's Oxford Saïd Business School in 2017.
Lillian Lincoln Lambert, the first Black woman to study the Harvard MBA
Harvard Business School MBA, Class of 1969
As the first Black woman to complete the Harvard Business School MBA, Lillian Lincoln Lambert is a trailblazer.
While studying business at Howard University she met H. Naylor Fitzhugh, one of the first African American men to attend HBS.
Sensing her aptitude, he encouraged Lillian to apply to Harvard herself. During her time at HBS, Lillian co-founded the African-American Student Union—which remains active to this day.
She graduated in 1969, and went on to launch her own building services company, Centennial One, growing its revenue to $20 million. In 2001, Lillian sold Centennial One, and has since enjoyed a speaking career, alongside penning books about her life experiences, in the hope of inspiring other Black women.
Thasunda Brown Duckett, CEO of TIAA
Baylor University MBA, Class of 2001
Thasunda Brown Duckett, is an American businesswoman who serves as the president and chief executive officer (CEO) of TIAA (Teachers Insurance and Annuity Association of America). She is also a member of the board of directors of Nike.
She was previously CEO of Chase Consumer Banking, a division of JP Morgan.
She has an MBA from Baylor University and attended the University of Houston, receiving a Bachelor's degree in Finance and Marketing.
Alicia Boler Davis, first Black woman named to Amazon's senior team
Indiana University MBA, Class of 2015
Boler Davis joined Amazon in 2019 and in August 2020 made history in her appointment as Amazon's vice president of global customer fulfillment, when she became the first Black woman to join Amazon's prestigious S-team, a group of executives that advise CEO Jeff Bezos.
Previously she served over 25 years with General Motors, where she became the first Black woman to run a manufacturing plant at the company, the senior vice president of customer experience and later executive vice president of global manufacturing.
She completed a master's in business administration at Indiana University.
Jason Wright, first Black president of a NFL team
Chicago Booth MBA, Class of 2013
In August 2020, Jason Wright became president of the Washington Football Team, making him the National Football League's first-ever Black president. At 38, Wright is also currently the youngest president of an NFL team.
He earned his MBA at the University of Chicago and previously spent seven years at McKinsey & Company.
Personal branding for MBA applications
Are you ready to write your own incredible MBA success story?
Our free guide, Tell Your Story: Personal Branding for MBA Applications, provides you with step-by-step, expert guidance on how to position your personal brand in your applications to ensure you tell an authentic and compelling narrative that differentiates you from other qualified applicants and sticks in the minds of the admissions committees.
Get insider advice on how to:
Reflect on your personal journey and express who you are
Clearly articulate your goals in a way that will check the boxes admissions staff are trained to look for
Have a rock-solid answer to the key questions of "why an MBA?" and "why now?"