What Does the First Week of Grad School Look Like?
What Does the First Week of Grad School Look Like?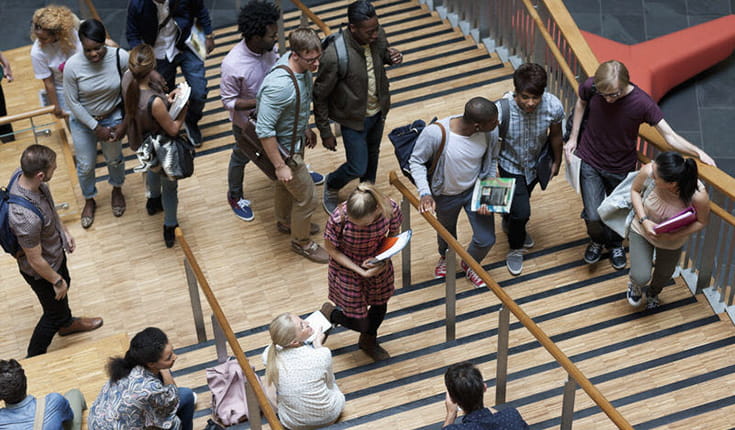 It's been awhile since undergrad, so I was nervous for my first day of grad school. I had been out of school since 2013 and I forgot what it was like to be a student. Do I have to go school supply shopping? Did I remember how to do homework? Do grades matter? Will I make friends? Do adults still wear backpacks? I had no idea how to answer any of these questions, but the time had come. My first day at VCU Brandcenter was here.
I decided to pursue my Master's at VCU Brandcenter because of the unique experience the school provides. You receive a Master's in Business with a concentration in branding and a portfolio full of projects and work samples. You apply to a track (copywriting, art direction, strategy, creative brand management, or experience design) and spend two years tackling real world branding problems. Think of it as a combination of a business school and a creative studio.
But during my first week, I wasn't thinking of any of that. I was instead trying to flip the school mode switch in my brain back on and figure out how to tackle the challenge of grad school. Here are some lessons I learned during my first week:
School supply shopping is still a thing. You know how in an office most everything is provided to you? That's not the case for grad school and I forgot what supplies you need. Most of my first week was spent realizing there was a need for pencils or folders and frantically ordering them from the internet. By the end of the first week, everyone was discussing the deals they got on printers to avoid the school printer bottleneck and sharing staplers. No matter what types of supplies your graduate studies require, always come prepared.
Everyone is different. This has been one of my favorite parts of grad school so far. Everyone has such diverse backgrounds, interests, and experiences. In undergrad, I felt like everyone I met followed the same path. They graduated high school, went straight to college, and pursued their major without really understanding the industry. That's not the case in grad school. Grad school attracts people from everywhere. There are people in my class who are pivoting their careers after multiple years in another industry, just starting their careers, raising families, and managing successful side hustles. One of the track heads describes a great class like a great dinner party where everyone has their own unique story to share. Your differences become your strengths.
You're in control. I know they say there is no hand holding once you get to college, but I definitely experienced some. Whether it was reading guides, study sessions, or extra credit, my undergrad professors provided that little extra help to make sure you were working. There is no hand holding in grad school. In fact, I'm only in class about 12 hours a week. The rest of the time is for me to work on projects, learn required skills, and pursue other interests to complement my studies. The professors are willing to help you, but only if you want their expertise. They're not there to listen to how your C should be an A. You'll get as much out of grad school as you put into it.
Get ready for group work. Only having 12 hours of class means I have a lot of free time right? Wrong. I quickly learned that countless hours of my week would be taken up by group projects. While group projects in my undergrad career were a once in a blue moon thing, now they're everywhere in every class. After all, you won't produce a ton of things independently in the real world. You'll be collaborating and learning together. Get ready to spend just as much time learning how to work in teams as you do on the actual project.
It's all about the real world. I chose my Master's to help take my career to the next level. And there's a good chance if you decide to go to grad school, that'll be your reason too. Grad school takes this desire to be applicable to a future career to heart. Every single thing I've talked about in class so far is about what real companies are doing. My classes feel more like a creative playground where you play with business challenges than traditional classrooms. Prepare to say goodbye to Scantron tests and essays, and hello to projects that mimic the real world.
My first week left me tired, overwhelmed, and incredibly excited about what's to come. Armed with my new lessons (and a new stapler), I'm ready to take on my first semester of grad school!
---
Michelle McGuire is a freelance writer and current graduate student at the Virginia Commonwealth University (VCU) Brandcenter. For the past year, she has worked with the Graduate Management Admission Council (GMAC) to chronicle working life for recent graduates in our Post College Professional Blog. She will continue to write about her experience of returning back to graduate school (and other work and career-related topics) on an ongoing basis.