Understand All of Your Options for GMAT Exam Prep
Understand All of Your Options for GMAT™ Exam Prep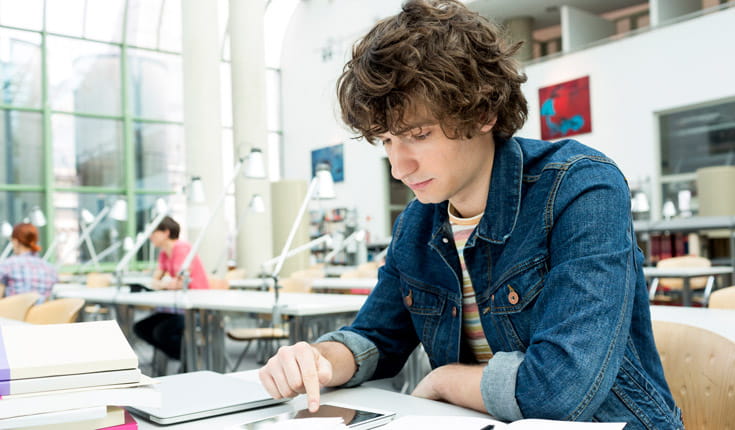 It is generally understood that the more time a candidate spends studying, the more prepared they will be for the GMAT™ Exam. However, many candidates are unaware of all of the options they have for preparing beyond self-study. The first step to creating a solid study plan is taking the time to research and learn about which GMAT prep options are right for you. Read on for tips on how to prepare for the GMAT.
What is the Best Way to Begin the Prep Process?
Though it can be tempting to dive head-first into prep products and courses, GMAT experts advise against it. One of the biggest mistakes candidates make is assuming they need prep help on every area of the test.
Instead, begin by trying the free Official GMAT Starter Kit, created by the makers of the GMAT exam. You should complete the practice questions in the starter kit first, and after finishing other practice questions from other products, return to the starter kit for the practice exams. This will help you establish a baseline for which areas you are strong in, and which will require more practice. This information will serve as a roadmap for the rest of your test prep.
Once you have completed the starter kit, you should explore other Official GMAT prep products on mba.com. First, look into official products that help you prepare for specific sections of the exam, such as the Official Guide of Verbal Review, the Official Guide of Quantitative Review and more. Next, check out GMAT practice exams 3 and 4 and 5 and 6. Remember, you should prioritize completing practice questions first, and once you feel comfortable move on to the practice exams. Find more resources on how to access GMAT Official Prep materials here.
Should You Spend Money on GMAT Prep Products?
There is no universal recommendation as to whether candidates should spend money preparing for the GMAT or not. What works for some people may not work for others, so the goal is to find out what makes the most sense for your personal situation. Following is a comprehensive guide of all the GMAT prep options, organized by free and paid resources. Read on to discover which study options are best for you.
Free Options for GMAT Prep
Fortunately, there are several ways to prepare for the GMAT that are completely free of charge. As mentioned above, all prospective test-takers should begin with the Official GMAT Starter Kit as a means of establishing their baseline and focal areas. The Starter Kit includes two practice exams and simulates the real GMAT test with 90 free questions: 30 are Quantitative, 45 are Verbal, and 15 are Integrated Reasoning. Plus, the Starter Kit was invented by the makers of the GMAT, the Graduate Management Admission Council, so the practice questions closely resemble what might appear on the real exam.
Community Resources for GMAT
After you have an understanding of which areas you want to practice most, look to your immediate community for prep resources. Many college students are unaware that universities often offer GMAT-prep materials completely free of charge. Check with the head of your academic department or career advisor to see whether any professors guide GMAT-prep practice sessions on an unofficial basis, or would agree to review a study strategy with you.
If you're not a college student, you can still reference your local community for GMAT-prep support. Check your city's Meetup page to see whether there are any GMAT study group Meetups in your area. Collaborating with other people is a great way to make the process more fun and social and can offer new perspectives on study methods and ideas. If you can't find an organized Meetup in your area, consider checking Facebook groups (or creating your own) to see if you can form more informal GMAT study sessions with like-minded test-takers.
Though it may seem old fashioned, heading to your local library is one of the best ways to access a wealth of free GMAT prep materials. You may even discover that the library atmosphere is one of the most relaxing environments for studying!
Online Resources for GMAT Prep
As always, you can find a trove of resources available for GMAT prep online. Many Prep companies offer free resources which include unproctored online classes, lessons and study events. Some websites help you create a personalized map of your study plan, or include free flashcards that you or other students have created.
Most Prep companies include a "Free" section on their website that offers general strategy for approaching GMAT prep as well as tactics for excelling in each of the individual test sections--writing, reasoning, quantitative and verbal. Always make sure that the online resources you reference are generated by reputable companies rather than individuals.
Paid Options for GMAT Prep
Other options for GMAT-prep are also available for purchase. You can find thousands of lessons, tests, and practice questions available online for a fee. In addition, several companies offer relatively inexpensive apps that can help you plan for the GMAT, guide your study, reference resources and more. Furthermore, several companies promote annual study plans that include additional practice questions, video lessons, and even slight point-increase guarantees.
With so many resources available to help you prepare for the GMAT, you should feel supported and that you have several options to help you achieve success. Take advantage of everything that feels right for you, and explore related articles on GMAT study tips and test prep.