Women in Business: An MBA Alumna's Perspective
Women in Business: An MBA Alumna's Perspective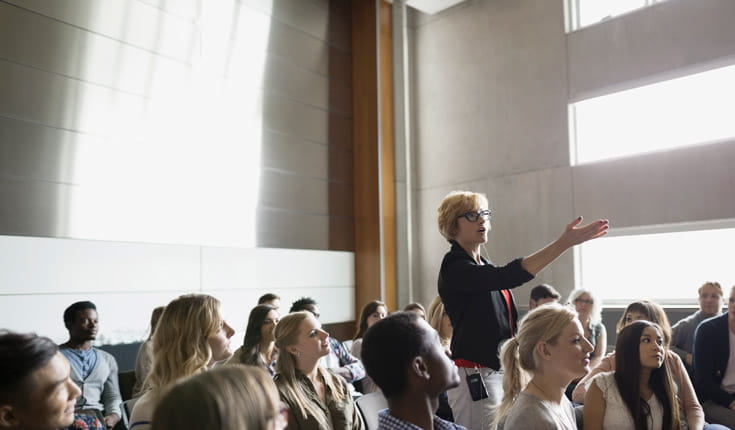 Why aren't more women pursuing an MBA?
Few topics are as "hot" in the business school world than women and the MBA. And rightfully so. There are countless examples of research highlighting the benefits of having women in the classroom and the boardroom, while schools desire diversity in their class profiles. Of course this begs the question why aren't more women doing their MBA?
Recently, I had the opportunity to pose this and other questions to Morgan de Koning-Ward, who is an entrepreneur, woman business owner and Rotterdam School of Management Executive MBA alumni. Morgan is the founder of MDKW Impact. MDKW Impact develops and manages sustainability strategies of fashion & lifestyle brands and garment producers. Morgan has an engineering background in textiles and has developed experience in other companies alongside her own.
She shared some of her views on programs, the classroom experience and women in business in general.
Brandon Kirby: Do you think that more or less women consider on getting an MBA? If yes, why?
Morgan de Koning-Ward: I think that more women are considering getting an MBA. Studies show a slight increase in women at corporate level and in leadership. I think it's an excellent step that more women are considering getting an MBA. A more diverse leadership landscape is the future.
BK: What should schools, companies, etc., do in order to better present the value of an MBA to female candidates?
MKW: It's not just about talking the talk, but walking the walk – do it, don't just say that it's "an important cause" – make that change happen! It is important for companies and schools not only to "talk" about women in leadership roles, but also to "show" that they actively facilitate and support creating more gender-balanced teams with women in leadership roles, with a plan, targets, and deliverables for creating a gender-balanced leadership culture that actually IS gender-balanced at all tiers in the hierarchy, even beyond the glass-ceiling.
BK: The glass-ceiling has existed for quite some time, what are your thoughts on starting to remove that barrier for all those who it exists?
MKW: The glass-ceiling needs to be broken, but to do it, we all need to stop talking about the issue, but actively solve the issue and make the shift to gender-balanced environments that facilitate that as the "new normal" and not the exception. Actively teaching and training students and teams how to facilitate women in leadership roles and how to achieve gender-balanced teams would facilitate their existence and proliferation.
By just talking about women in leadership, we are not making any progress. It is important to develop a vision and implement it, in which curriculum, policies, training and programmes actually cultivate work and study environments that are conducive to women in leadership. It would help if more business schools and organizations had a gender-balanced leadership team in place.
BK: Great point. Having gone through an MBA program yourself, how do you think business schools can have a positive effect on removing the glass ceiling?
MKW: Business schools will need to change their selection of business cases, as well as the vocabulary of teaching to match the new demographic. More women in leadership situations and roles would make the curriculum more relevant to women. Terms or phrases such as "businessmen," or "The leader, he...," are outdated and don't fit our current business landscape.
BK: What benefits has the MBA provided you as a professional?
MKW: The Executive MBA opens doors and has given me a new set of skills to run my business with. It is also given me the confidence to set a new paradigm in business models. This year I am pivoting my company to take on a gender balanced team with 80% female shareholders / co-owners. The EMBA has developed and encouraged the skill to be creative and think bigger in terms of business.
BK: How did your MBA experience differ, if at all, than your male colleagues?
MKW: In most ways, I think that my Executive MBA experience was generally the same as my male colleagues. The male colleagues were also very encouraging and fair in a way that I felt to be an equal. Much of the curriculum and teaching material at business schools is still gender biased and portrays men as leaders and in business. This is evident in all of the cases that were used during my time in the program as well as much of the Visual presentations sludge such as PowerPoints. Hopefully, at some point these teaching materials will be updated to be more gender and ethnicity balanced.
Many of my male colleagues went ahead with family planning during the MBA. This was difficult for them, but manageable. In my case, to complete the MBA within the two years family planning would have been near impossible. My experience differs because there is more for women to sacrifice and consider when taking an MBA. Of course, the program offers the ability to pause the program for reasons such as these.

BK: As more women continue to assume leadership positions, it's my hope that more and more case studies are developed and utilized to learn from the experiences, viewpoints and actions of businesswomen. What is the one thing you'd say to a woman considering pursuing her MBA and might be reluctant?
MKW: An MBA experience is one that each student fully personalizes. I would tell her that an MBA program is completely worth it and is facilitated in such a way that supports whatever her life choices opportunities. These make it possible to complete the program, including if she chooses to pause for family planning, career developments, etc. At RSM, there are also special master classes and keynote speaking sessions geared toward women and particular issues that our male colleagues do not struggle with in the same way such as salary negotiations, and career development that is conducive to pregnancies throughout the career. In my circumstances, my partner was very supportive of me participating in the program and the classmates are supportive and understanding of each other as well. This made it easier to succeed in the program.
I might also say that as a woman it is her duty to pursue her endeavors and goals. Generations of women and men have dedicated their lives and careers to opening doors for future generations so that men women and men can have equal opportunities and fair treatment among genders.
BK: How have your female colleagues reacted to you getting an MBA? What kinds of things to do hear from them when you share this information?
MKW: In my previous job, the women thought that I was an ambitious career climbing women and reacted with respect and intrigue in what I was achieving though the saw it as a difficult feat and one that they would not want or dare to start themselves, claiming that it would be "too hard". Even so, they applauded the fact that I was getting and MBA and were interested in hearing about my progress. In my new role, fully focused again after two years on my own company, I have created a setting of diverse and highly educated colleagues. Fifty percent of my team has or is getting her/his MBA. We have an encouraging, flexible and open atmosphere toward each other – both the women and the men. I am excited to prove how a new more agile, accepting and gender-balanced paradigm will prove to be successful and facilitate more gender-balanced career growth.
BK: Morgan, thank you so much for being willing to share your thoughts and insights on your MBA experience. Is there anything else you'd like to share with us in closing?
MKW: Women would benefit from encouragement to support each other, as well as each others' ideas and work. Encouraging young girls in high school to explore leadership and business would be an excellent place to start to create the new gender balanced normal.
It's clear that businesses and business schools need to continue improving the environment and opportunities for women. My view is that for real change to occur, educational and corporate entities must work together to create a better environment for women while facilitating open dialogue between both women and men on women in leadership roles. However, as Morgan points out talking about these challenges is a good start, but it's the actions that will really make the difference.