School Expert Q&A: IIM-Calcutta (IIM-C)
School Expert Q&A: IIM-Calcutta (IIM-C)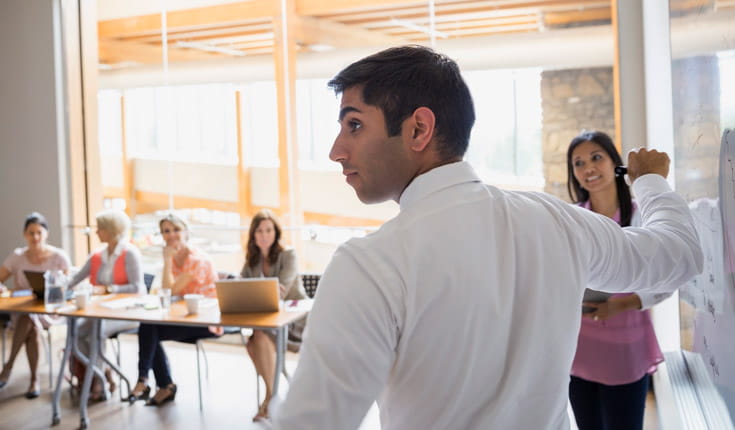 IIM-C answers questions about their program.
1. About the Program
Name of the school? Indian Institute of Management Calcutta
School location? Kolkata, West Bengal
Year school started? 1961
Any global ranking? In FT MIM B-School Ranking 2018, IIM Calcutta was ranked at 23 rising from 28 in 2017. In the FT MBA Ranking 2019, the MBAEx programme was "Up 29 places from 78th to 49th, IIM Calcutta made the biggest leap this year".
Name of the program? Master of Business Administration for Executives (MBAEx)
2. Admission Criteria
GMAT­™ score: A valid GMAT™ score (taken within last 36 months of application date).
Work Experience requirement: Minimum 5 years of post qualification managerial/professional experience.
English Proficiency requirement: Proficient in English.
Letters of recommendations: Recommendations from two referees holding senior managerial positions.
Interview/Group Discussion: Personal Interviews.
Others: Minimum 10+2+3 years of formal education or equivalent in any discipline.
3. What is the Application Process?
How does one apply for the programme? Online/Hard copy
What is the Application fee? INR 2000/- (Non refundable) for Indian nationals and US$100/- for NRI/Foreign Nationals/Applications sent from outside India.
Where do I get a copy of the Application form? From our website: www.iimcal.ac.in/programs/pgpex/download-centre
When does the application process start? June 1, 2019
What is the last date to apply? September 15, 2019 (round 1); November 15, 2019 (round 2).
4. What is the Admission Process?
What is the range of GMAT scores for accepted students? Varies every year but the average is usually 701 and above.
Is there a requirement of 16 years of study prior to applying? Minimum 10+2+3 years of formal education or equivalent in any discipline.
What constitutes work experience? Minimum 5 years of post qualification managerial/professional experience.
Is there a minimum cut off for TOEFL/IELTS/PTE test scores? N.A.
Who should letters of recommendation come from? Recommendations from two referees holding senior managerial positions.
When should I expect an invitation for an interview? Tentatively second half of September 2019 for first round applicants and second half of November 2019 for second round applicants.
Who should I contact if I have a question regarding my application status? MBAEx Office (pgpex@iimcal.ac.in)
5. Fees & other expenses
What is the estimated cost for the entire program for a foreign student? Indian Rupees 27,00,000/-(non-refundable) or equivalent US$ for one year, payable in four installments.
What is the cost of living for the duration of the programme? Programme fee includes accommodation costs.
Are there other costs to be taken into consideration? If yes what? Students will have to bear the expenses for food, personal travel, electricity, cable TV, other utility and misc. expenses and any other expenses of personal nature during their stay in the campus or during their immersion abroad.
Are there any job opportunities on campus that can be pursued while the programme is on, to lower the overall cost impact? While it is difficult for the student to pursue a job due to the rigours of the programme, the spouses residing on campus with the students might find jobs within campus such as sometimes part-time teaching assistantship, research assistants, etc.
6. What is the financial support option available to students?
What are the scholarship options available for the students? N.A.
What are the criteria for determining scholarship applications? N.A.
What are the options of availing a loan? Programmes are available from leading nationalized and commercial banks. Loans are also provided by the State Bank of India branch located at IIM Calcutta campus itself. For further details please contact: The Manager, State Bank of India, IIM Joka Branch (IIM Calcutta, Joka), Diamond Harbour Road, Telephone: (033) 2453 1060, Kolkata 700 104, Fax: (033) 2467 2357.
What is the amount of loan that a student is eligible for and what are the documents required? Though the amount of loan eligibility varies between banks and are subject to individual applicants credit and financial background, it is possible to get full amount of programme fees as loan.
At what rate of interest is the loan available? What is the date from which loan repayment begins? What is the maximum period in which a loan is to be repaid? Interest rates are as governed by individual banks & RBI but generally it is around 9.25 percent for the current year. Maximum period allowed is 12 years. Again, whichever bank you choose would share their document checklist & rate, tenure details as well.
Does the Institute/School help in getting loan? Institute is helpful in providing you documents, information etc. with regard to availing loans. Also, if students avail loan from SBI on campus, the loan application process becomes very seamless.
7. Curriculum/Faculty/Student Exchange/Hostel accommodation facilities of the school
How many intakes in a year and when? Only one intake, batch starts in April
Size of the intake? Maximum 70.
What is the percent of foreign students in an average class/intake? N.A.
What are the specializations available? Elective courses in Finance, Marketing, Strategy, Economics, Operations, MIS, Behavioural Sciences, Public Policy and Management and HRM are offered.
What percent of the batch finds jobs within 3 months of graduation? 100%
What is the mean starting salary of a class after graduation? 27.18 Lakhs
What are the key sectors represented in recruiters for this programme? IT and IT consulting, E-commerce, Analytics, KPO, Power, BPO and Real Estate.